Good bedding is paramount when spending the night in nature. It provides a comfortable sleep, guarantees the necessary rest and most importantly – insulates from the cold earth. Generally, you could use any bedding when sleeping outdoors, but in practice, it is wise to consider the type of bedding you will spend the night with and the way you will get there. What matters is the way you sleep, especially if you sleep sideways. To enjoy nature, choose the best backpacking sleeping pad for side sleepers for yourself.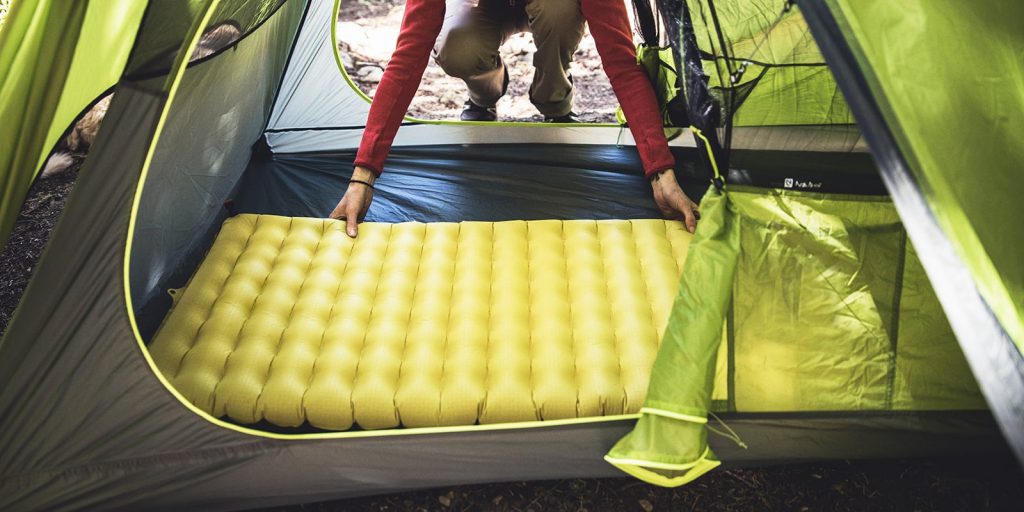 Factors to Consider Before Buying Backpacking Sleeping Pad
Before buying a sleeping pad for backpacking, it's a good idea to try a few different options to find out which one is best for you – how soft, how long, how wide, how much weight, and if so inflatable, how fast it inflates, etc. Below are the key factors to consider to make sure you choose the best backpacking sleeping pad for side sleepers.
Dimensions
When choosing a sleeping mat, the least you need to consider is that its length is no smaller than your body. Your feet, especially your feet, do not fit outside the mat, as this will create discomfort, especially on the colder nights of the seasons. Also, you should remember that the body begins to cool from the limbs, so it is extremely important to provide them with the necessary heat by isolating them as much as possible from the cold surface of the earth.
Almost every single bed and tent bed offers a minimum width of 50 cm. If you tend to spin a lot at night or sleep sideways, you may need a wider bed, for example, about 65-70 cm.
However, when choosing a sleeping pad for backpacking, you should also consider the width of the tent you are using. Calculate its width so that two mats of this size can fit in. Mummy or semi-rectangular mats are smaller in volume when folded, and are also lighter.
Purpose
If you are going camping for a long time and are planning to get to your chosen location by car, then you have the option of choosing a lighter and heavier mat. It will give you more comfort, softness and a sense of home solace. It is also much better suited for long holidays and rest. These include inflatable pads, thicker self-inflatable mats (7-10 cm), as well as hiking beds and lounges.
If you plan to travel with your backpack or sleep in a tent, then it is better to choose lightweight and compact inflatable pads. They weigh 0.5 kg. up to 1 kg. and fold down so that they are packed in a backpack and do not take up unnecessary space.
Camping in the snow requires better insulation. If you are hiking in the mountains, the smartest option is to use two mats – a bottom layer of thermoplastic foam that is waterproof and will not get wet from the snow, and a top layer of self-inflatable or inflatable mat that provides comfort and warmth.
External material
If you are planning on using a vacation camping mat, you will probably prefer a soft mat that is comfortable with direct contact with the body and does not make your body too hot. Most inflatable beds and double inflatable beds for holiday camping are soft polyester or suede and can be used without sheets, even when using a rectangular sleeping bag for a blanket.
If you plan to use a sheet, re-select the mossy cover to prevent the sheet from slipping. With mats for transitions, the outer matter is not very important, unless you are one of the people who spin a lot while sleeping. Smooth-coated bedding can be slipped from the sleeping bag and if you are placed on a slight incline you may experience nighttime sliding discomfort.
It is also important to choose the outer fabric of the mat according to whether it may be possible to get wet during your vacation. In practice, the only waterproof mats are thermoplastic foam mats.
Type of pad
An inflatable pad is the most common choice of campers who are stationary in a tent. It is also the most affordable and easy choice. It can be purchased anywhere, not just from a specialist camping store. It's easily inflated with a pump. Usually, such pads are made of nylon and/or polyester and have no thermal insulation layer. Some models have the textile lining of artificial material.
Inflatable pads are lightweight and suitable for hiking. Most of them are made of nylon and polyester and have a thermal insulation layer. Some models incorporate reflective materials that repel the cold. These shuttles usually inflate with the mouth because their internal volume is small and not worth carrying a pump. Of course, some brands come with an integrated pump.
Self-inflating mats offer a combination of thermal insulation foam to retain heat and soften the air. They are the best choice when it comes to stationary camping. Fast and easy to stretch, they are also lightweight. They also offer better thermal insulation. Self-inflating mats are the best combination of warmth, rigidity, comfort, and affordability.
Best Backpacking Sleeping Pad for Side Sleepers Review
A good camping experience requires good planning, stable and proper equipment preparation and some luck. So before heading to your chosen place, consider our suggestions for the best backpacking sleeping pad for side sleepers.
WELLAX UltraThick
Everyone wants maximum comfort even though they spend the night in a tent or outdoors. This is what WELLAX self-inflating pad offers. With a pleasant thickness of almost 8 cm, you will not even feel a hard surface. The secret lies in its memory foam, on which the cameras are automatically filled with air as the sleeping mat unfolds and the valve opens.
For added comfort, WellaX is very long and wide for people who need more space. At the same time, the thickness of the pad provides better heat insulation. Even picking up WellaX requires very little effort: just roll it to the open valve and the foam compresses into a packing size.
With its small packing size of only 10" x 7" and 5.95 pounds, the wrapped WellaX sleeping pad is not heavy to carry, even for longer hikes or cycling tours and once home you can easily store it.
Therm-a-Rest
This extra-thick and large sleeping pad for backpacking with rugged construction is very comfortable and will be perfect for camping, unexpected guests or just relaxing in the garden, patio, etc. The plush surface of this sleeping pad helps to maintain the linen is spot on and very comfortable.
With a length of 77 inches, it can be inflated to a height of 8 cm, giving you a good night of sleep. The mattress structure also provides excellent thermal insulation. And when you leave, it becomes compact and easy to carry in seconds. Her weight is only 4.25 pounds. It is self-inflating and you do not require any energy for it.
Let's not forget that the pad is a luxury type. Its manufacturers use advanced variable-density pressure mapping technology and innovative foams to provide comfort and support in all the right places. This is what makes Therm-a-Rest one of the best backpacking sleeping pad for side sleepers.
Trekology Inflatable Sleeping Pad
When we talk about the best backpacking sleeping pad for side sleepers, we should not neglect the water-resistance of the material from which they are made. Trekology pays attention to just that. They are made from a very good waterproof material and premium nylon, which is extremely durable in time. They will give you comfort and warmth even when it is raining or it is cold outside.
The design of this sleeping mat is compact, making it easy to carry. Its lightness also helps. The weight is only 670g. And when it inflates, the height reaches as much as 8 cm. This height will also protect you from the cold on the ground. This way you can safely camp not only in summer but also in spring and autumn. Rain and cold will not be a problem for you.
The pump included will save your breath and inflate the mat. Just a few seconds and you're good to go! Your full-sized bed with a size of 6 ft * 1.96 ft * 3 inches (183cm * 60cm * 8cm) will be ready for you. And all of these for less than $ 30. Doesn't it sound good?
Deerfamy Sleeping Pad
Anyone who sleeps sideways knows how important the size of a sleeping pad is. If we are talking about the best backpacking sleeping pad for side sleepers, sizes are as important as the material of the pad. With the size of Deerfamy you don`t have to worry that when you wake up, you'll be on the cold ground. The mat is long and wide enough for you to lay on it, no matter how you sleep and how much you spin.
In order not to tire further, the manufacturers here have made the litter self-inflating. And the foam filling will make you comfortable, no matter what surface you sleep on. It will also protect your lumbar spine. There is no need to worry about the leak air pad that can hurt your back.
One of our favorite best sleeping pads for backpacking, because thanks to the button on its side you can pair your bed with that of your loved one. What's better than that? Better is the fact that Dreefamy includes a 1-year warranty and a lifetime customer service.
Klymit Insulated Static Pad
As many people camp during all the seasons, the best sleeping pad for backpacking should be tailored for year-round use. Klymit has such characteristics. It is thick enough to give you warmth and comfort even in winter. And its new model is 20% lighter, so it's easily portable too.
The synthetic insulation material and the v-chamber body-mapped design prevent air movement and heat loss. At the same time, the side rails will keep you on the pad, whether you sleep on your back, belly or side. The material is a 30D polyester that provides a balance between lightweight comfort with puncture and abrasion resistance.
The sleeping mat can inflate quickly – with only 10-15 breaths. This will allow you to control the height and dimensions. It also folds easily for storage or transport when not in use.
Frequently Asked Questions
What is the best sleeping pad for side sleepers?
The best backpacking sleeping pad for side sleepers should be light, wide, made of suitable material, compact and thick. Choose a memory foam mat that is high enough to protect you from the cold on the ground.
Keep a close eye on the size of the mat. It should be wide and long enough so that you do not find yourself on the ground, no matter how much you rotate or in what position your body is while you sleep.
What is the most comfortable backpacking sleeping pad?
When it comes to the best backpacking sleeping pads, convenience always comes first. For you to feel good when sleeping, the bedding should be made of a material that is consistent with your body shape and your sleeping position. Such material is memory foam for example.
At the same time, comfort during camping also means warmth. Make sure your sleeping mat is high enough to give you softness and keep your body warm.
Also, look at the outer material that covers the mat. It is nice to make your skin feel comfortable with the mat.
How should I sleep comfortably for backpacking?
When you are camping and want to feel comfortable, this means that the sensations and conditions of sleep are not very different from those of your home.
Manufacturers of sleeping pads have taken care to create mats that are made of the same materials as the most comfortable mattresses, sized enough to fit even the tallest person and easily portable because of their compactness. Read: Best Ultralight Sleeping Bag Under $100 Review & Buying Guide
Our advice here is to choose the camping sleeping pad to be treated in the same way and with the same seriousness as you choose when choosing a mattress for your bed. Comfort, sizes, workmanship, purpose – think about these things before you buy.
Is a sleeping pad necessary for backpacking?
When we go camping, the equipment is of the utmost importance. Remember that good preparation will give you a wonderful and hassle-free experience.
Camping sleeping mats perform these two very important functions: it softens and protects against cold and moisture. It also takes care of your restful sleep, your comfort at night and during the day. They will keep your body warm and your back straight.
The best backpacking sleeping pads are comfortable and lightweight. Most are suitable for hiking and backpacking. They absorb the irregularities of the terrain perfectly and provide a comfortable sleep. Models with high-quality insulation can be used year-round.
Conclusion
The best backpacking sleeping pad for side sleepers is one extremely good solution for any avid tourist who plans to spend the night outdoors or in his tent while sleeping in this position. They can turn a seemingly rough terrain into a comfortable place to sleep. Besides, these types of mats also serve as insulation against cold.
Another advantage of these mats is the ease with which they inflate. Of course, collecting them is also extremely easy. Once they regain their compact appearance, they can easily find a place in the backpack. In addition to the mountains, to the river, and anywhere in the wild, litter can be found on the beach or even at home.