There's something extremely exciting and satisfying about surviving in the wilderness. The adrenaline rush, really working for shelter and basic things like food and water can make you appreciate life a lot more. But to do this on the regular you have to have good gear and a knife just isn't enough. If you're looking to take up this kind of lifestyle, you'll need to get a good bushcraft axe. Keep reading if you'd like to find the best bushcraft axe for your future adventure.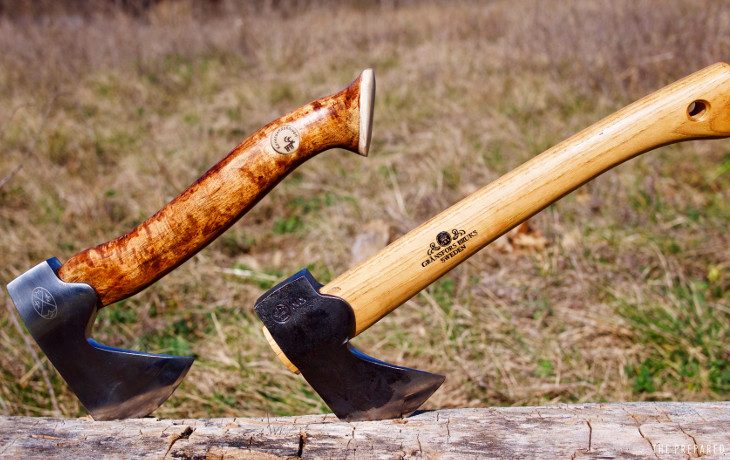 Must-Have Bushcraft Gear
Bushcrafting is the art of surviving in nature. Using your hands and instincts to find or make shelter, water and food. To be able to do this you'll need some knowledge but most importantly good gear. The must-have bushcraft gear consists of a good knife, a compass, a flashlight and a bushcraft axe.
You might think that a knife would cut it (pun intended) but being in the wild asks for so much more than a knife can handle. You need a bushcraft axe, especially if you consider yourself a serious bushcrafter.
Why Choose a Bushcraft Axe?
Bushcraft knives are amazing, powerful tools, but they can not do the job of an axe or a hatchet. While in the wild, you will need to chop wood, fell trees, cut notches to build a structure, dig, butcher games and hammer posts. All of these are jobs for a bushcraft axe. A bushcraft axe can come in a lot of variation from different handle styles to ergonomics. The best thing is that a bushcraft axe is a lot cheaper than you'd imagine.
How to Choose a Bushcraft Axe
If you've been out there, you've probably realized that what we're saying is true. And if you're a beginner, trust us – you need a bushcraft axe to be a good bushcrafter. Everyone is different, has a different body type and strength, so not all axes are good for everyone. But how do you choose from the various axes on the market? It would be stupid to just buy a bunch and try which one works best. We've got you covered! Keep reading our bushcraft axe review and you'll find all you need to know.
Best Bushcraft Axes Review
Gransfors Bruk is one of the best bushcraft axe manufacturers. They are a Swedish company that creates incredibly quality axes. The first fact that makes it one of the best bushcraft axes is that it is from Sweden, the land of top quality steel and iron. The axes, as all of their axes is handcrafted and you can find different variations based on your needs. We recommend the Gransfors Hunters Axe that is made especially for hunters. It excels in chopping wood and meat. The flay poll is rounded to reduce damage if you use it for skinning. The handle has good length and circular grooves so it doesn't slip if your hands are sticky and wet. The axe comes with a leather sheath and is a pure woodsman.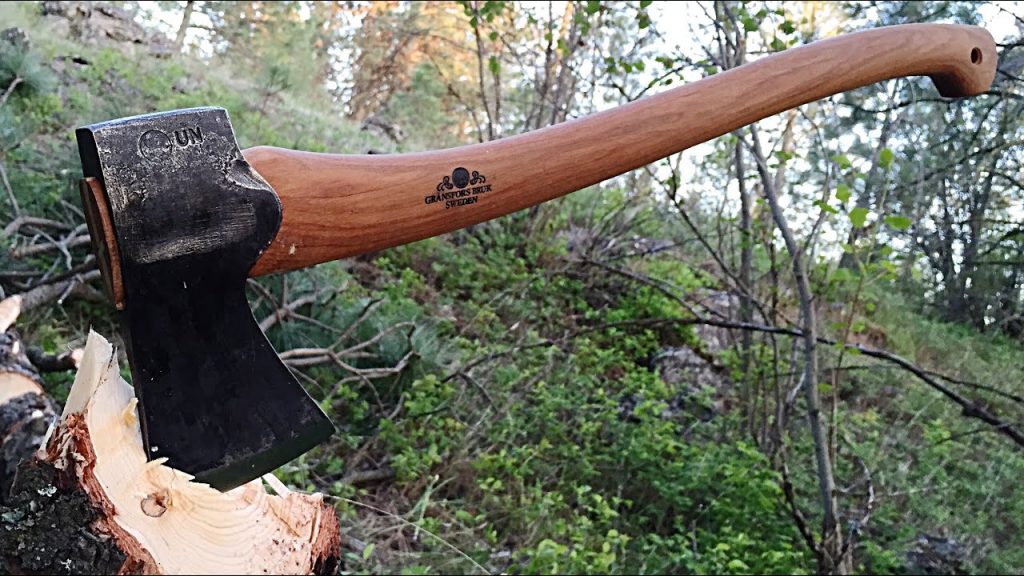 Helko is a German high-quality company and this bushcraft axe is one of the best ones. It is made out of German c50 carbon steel. The handle is made of American hickory and has slight curves that make it feel good when you grip it. It's a long axe that has the Rheinland pattern and that allows the cutting edge to be larger but weigh less. This axe is perfect – the length, weight, materials and design are top-notch. You can use it for almost anything, from chopping wood to building a shelter! It's probably the best bushcraft axe out there. It is also the best budget bushcraft axe of this quality. Must check our list of the best bushcraft knives!
Once more, this is a Swedish axe made from a company with a long tradition and rich history. It is a heavier axe made out of the best Swedish steel. The handle is made out of American hickory. Handle alone is 20″ long and the head only weighs 2lbs. Therefore it is made for heavier tasks like chopping firewood, felling trees, carving and cutting. The poll is rounded which makes it easier to use it for skinning. If you are a camper you will definitely make the best of this axe. It comes with a very nice leather sheath.
The axe is shaped so that the force is directed i to a smaller area on its edge. It is small and very light, but because of this design, it can be very powerful. The handle is designed so that you can hold the right to the base of the head and use it for carving. You can also use it for woodchopping or to accomplish other, smaller tasks. This axe is 100% American. There was a period where the previous owner used China-made heads, so make sure to look for a sticker that says "100% made in the USA".
It is made by Council Tools, a company that has a 500-year-old tradition in making tools. This axe is bigger than the rest on this list, it might not be suitable for every bushcrafter, especially for those of you who like to keep it on the go. But it is an amazing axe for those who set camp and sort of settle.  The handle is 24″ long and the head weighs 2.75lbs. This axe is not too large to carry around in your backpack either. You can use it to chop, cut, shave, carve and even hammer. If you prefer a larger tool this is the right bushcraft axe for you.
As we mentioned before a bushcraft axe is an important part of your gear. However we all have different needs and preferences, so there's no one axe we'd call THE bushcraft axe. These five come close though. Each of these will be an amazing companion on your bushcraft adventures. Hopefully, we have helped you find what you were looking for with our reviews.