If you are a nature enthusiast and enjoy spending your time hiking, camping and exploring the wilderness, you know that a good knife is key. Surviving in nature without a knife is very hard. People who really enjoy spending their time in nature use bushcraft knives. If you're a beginner or someone who's trying to up their game, keep reading because we've reviewed the best bushcraft knives.
What Is a Bushcraft Knife?
 Bushcrafting is a term used to describe one's ability to survive in the wild. This is considered a hobby or a lifestyle choice for some. The basic bushcraft gear consists of a bushcraft knife, a compass, a firestarter and a tactical flashlight. The equipment shouldn't be heavy but very efficient. This is why bushcraft knives are a popular choice, as they are, versatile, easy to use and maintain.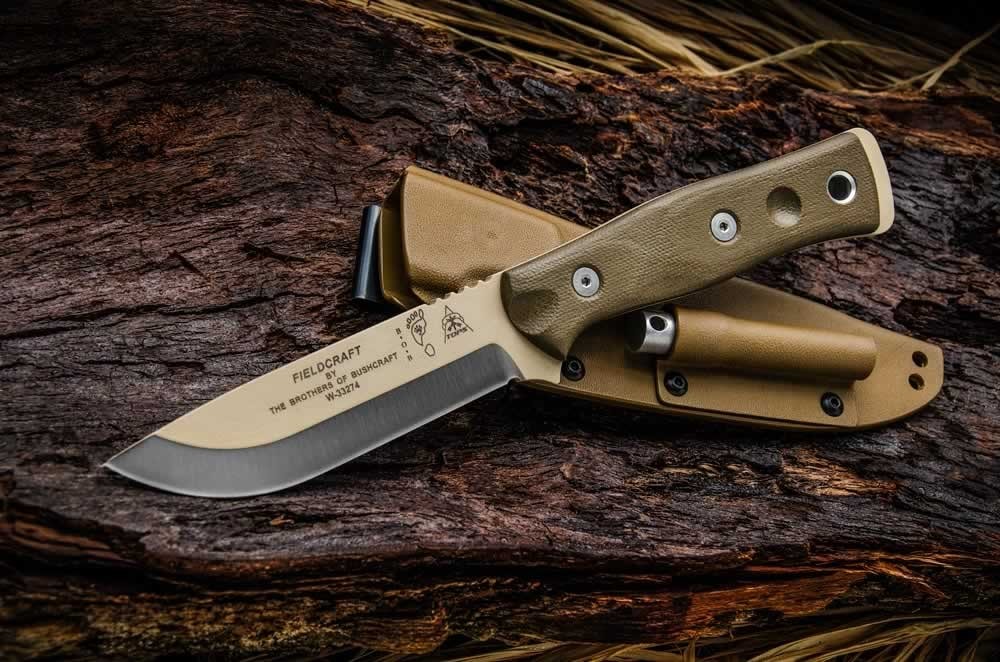 How to Choose the Best Bushcraft Knife?
When choosing the best bushcraft knife there are six things to consider that are a must for bushcraft knives:
The size of the blade. This is probably the most important thing you need to consider when choosing a bushcraft knife. The perfect size that makes the knife easy to operate and most efficient is between 3″ and 6″.

The sharpness of the blade. Bushcraft knives with a fine-edged blade are great for skinning meat and slicing it. 

The blade's design is what depicts the best bushcraft knives. You should be looking for a flat cutting edge, a flat grind and a defined drop point.

The grind of the blade. The most common grinds for bushcraft knives are a flat grind, hollow grind and a convex grind.

The material the blade is made of. The best bushcraft knives are made of either high carbon or stainless steel. 

The material the handle is made of. There are numerous variations, but we recommend more durable materials.
Bushcraft Knife Variations
As you can probably tell there are many variations to bushcraft knives and choosing the best bushcraft knife for your needs can be a real task. For example, if you're looking to build a fire, you should choose a knife with a sharp spine. If you want to use it to prepare food, choose one with a thin blade. We know what you're thinking – But there are so many to choose from. Yes, there are, but don't worry because we've reviewed and made a list of the twenty best bushcraft knives on the market.
The 10 Best Bushcraft Knives:
Morakniv Bushcraft Carbon Fixed Blade Knife
This is one beauty of a bushcraft knife that has a 4.3″ carbon steel blade, a contoured handle and it's not heavy at all. The blade itself is amazing for wilderness survival and you can use to create shelter, find and serve food, start a fire, etc. This knife's edge of the blade is as sharp as a razor. It's fixed which makes the knife easy to control and it gives a great performance. The technology used to help protect the blade from corrosion and other influences make it extremely durable. This is one of the best bushcraft knives out there.
C

ondor Walnut Handle Bushlore
Even though it has a more vintage look, this is in the first class of bushcraft knives. It is amazing for cutting and chopping as it is very precise because of its carbon steel blade. The knife is a bit heavier than standard bushcraft knives but if you have a solid grip, you can easily control it. The blade itself is big and it's meant to be used for whittling, cutting, cleaning games and chopping wood. The spine of the blade is sharp, so you can use it as a firestarter. If you're an eager camper and nodded at all of these things, this is definitely the best bushcraft knife for you.
Ka-Bar Becker BK2 Campanion Bushcraft Knife
Just the name Ka-Bar speaks volumes about the quality of this knife. The blade is very functional and efficient for both skinning and wood chopping. This blade can perform any task needed to survive with extreme ease. Its weight is just right – not too heavy but not too light. You can easily hang it from your belt and have it at your reach at all times. As are all of the best bushcraft knives this is a knife that can do it all. It's definitely the right companion for a trip in the wild.
Fallkniven F1 Bushcraft Knife
It's a Swedish knife that was designed for their army. The blade is very tough, designed to handle any situation. Af the same time the knife is light and just the right length, so it is very easy to handle. It was designed for survival and it will most definitely come handy in various situations. If you are an adventurer and tend to take on more dangerous survival tasks, this is the best bushcraft knife for you.
Benchmade – Bushcrafter 162
The knife has a full tang blade made from stainless steel, four and a half inches long. It will make sure that you handle any situation mother nature throws at you. The blade is a drop point, which makes it perfect for chopping, whittling, gutting or skinning. It can do it all! If you are looking to make sure you have the best chances of survival out there, this is at the top of larger bushcraft knives. The materials used to make it are high quality and very durable, meaning the knife will have a great life. It is, however, on the more expensive side of bushcraft knives.
Morakniv Craftline Pro S
It's a small utility knife, but don't be fooled by its size – in the wilderness, it is extremely useful. The blade is a bit over 3″, made of stainless steel, it has a rubber handle and has amazing grip. It's loved by hikers, fisherman, mountain rescuers because of its effectiveness and size. It's extremely easy to use and very, very safe to carry around as it has a hard plastic sheath. This is one of the most fairly priced bushcraft knives out there.
Schrade SCHF36 Frontier Fixed Blade
This is for sure the best looking blade out there. It has a high carbon drop point blade that has the finest textured handle you've ever seen. It is one of the longest bushcraft knives that in combination with the amazing handle is very easy to grip and control. Not only it is easy on the eyes it is very effective and will be able to complete any given task. It is, however, a heavy knife, so it takes some getting used to.
Spyderco Bushcraft G-10 PlainEdge Knife
It's made of high-quality materials that ensure its durability but is also very pretty. The blade is just the right size, full tang made out of high carbon steel. The handle is made to fit the human hand perfectly and allows for a good grip at all times. It will help you perform any survival task out there. The lightness and durability make it one of the best bushcraft knives out there. And the price is right up there too. But if you choose to get this knife, you'll definitely be paying for quality and functionality.
Schrade SCHF9 Extreme Survival
As the name suggests, this bushcraft knife is made for extreme situations. The blade is made out of high carbon stainless steel and is a drop point blade. This makes it easy to handle all kinds of tasks in extreme circumstances. You can use it to split logs, take down branches and even fence off animal attacks. It is one of the biggest blades on the market and it is meant to be used for heavy-duty tasks. If you're into extreme survival, it should definitely be a part of your gear.
Buck Knives Selkirk
The blade is a drop point high carbon stainless steel and it's quite big and heavy. You can use it to cut wood, skin games or conquer whatever comes your way. It is designed to handle hard tasks with ease and it is extremely durable. The handle is contoured and has a built-in firestarter. It is absolutely made for tough love and definitely deserves to be on our list of best bushcraft knives. On top of everything, it comes at an incredible price.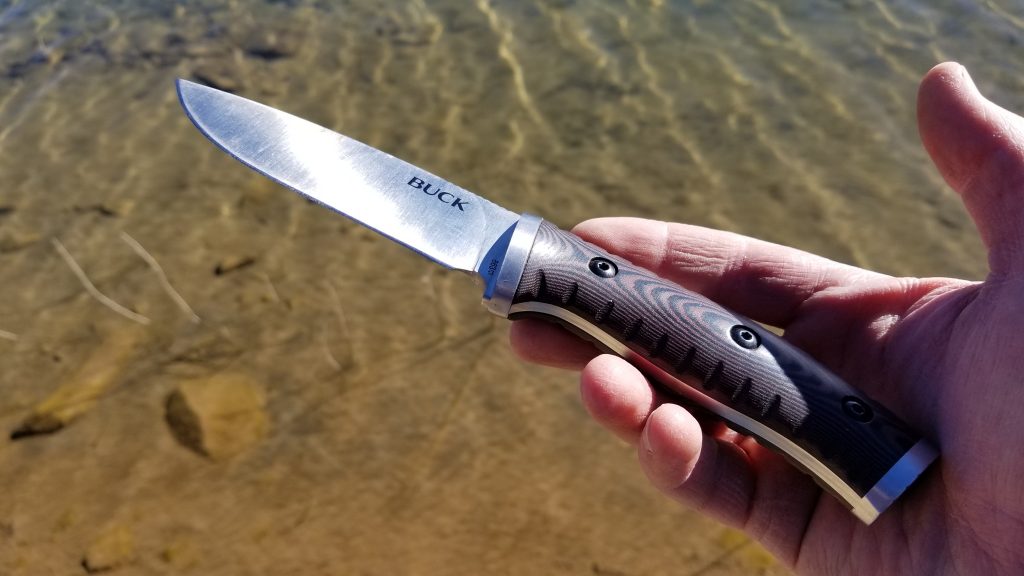 Conclusion
There you have it. Our list of the top 10 bushcraft knives at the market right now. As a nature lover or an extreme wilderness survival enthusiast you will most definitely find something here that will satisfy your needs. Bushcraft knives are a must-have if you are planning to go camping or are living this sort of lifestyle.
Even though it might seem like bushcraft is made for passionate nature lovers, it is great for everyone who spends time in nature. It's fun and will help you learn new things about the wilderness and survival. It can be a great change from your everyday life in a crowded city far from the mountains.