Most people do not usually look for buying guides every day to purchase a ceiling fan. This is because a ceiling fan is a long term investment and a lot of thought and research needs to go into purchasing one. This article will help you look at the best ceiling fans for large rooms and will also help you make the right decision.
Purchasing a ceiling fan can be very tricky especially ceiling fans for large rooms. While some people just decide to purchase large ceiling fans, this will defeat the purpose of the motor is not that strong. With this article, you will be able to understand how to make the right choice and make the right pick from the best ceiling fans.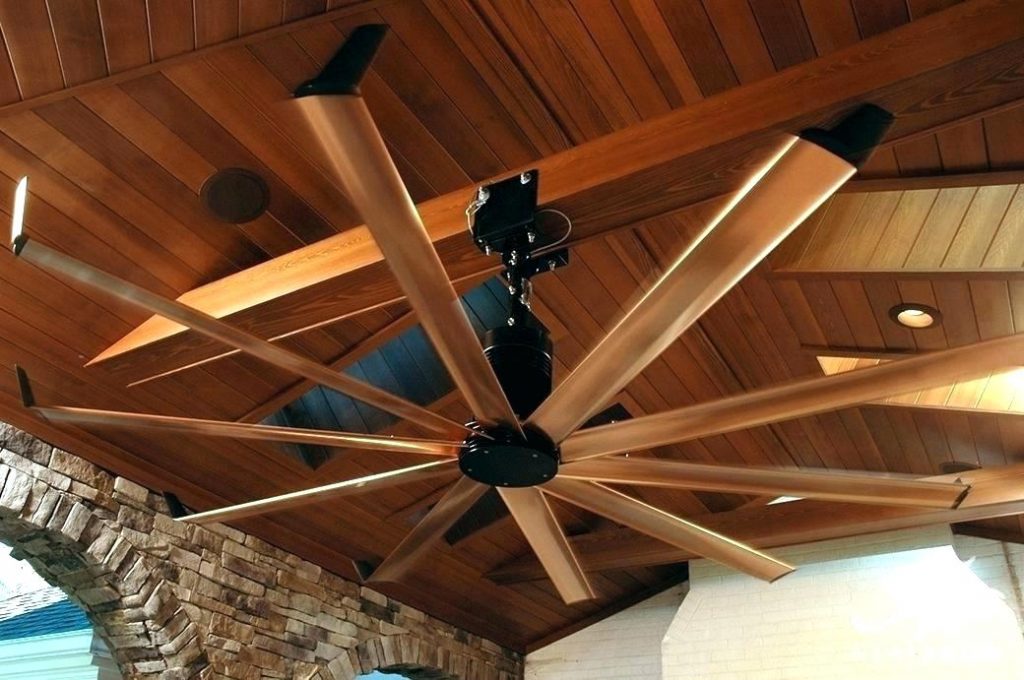 Factors To Consider When Purchasing A Ceiling Fan For A Large Room
Size Of The Fan
While logic states that larger rooms need larger fans, this may not always be true. Picking the right sized bedroom ceiling fans are important. The blade span starts from 29 inches and goes right up to 54 inches and sometimes even larger. If your room is long (rectangle-shaped) then it would be wise to consider fitting two ceiling fans on either side rather than relying on one ceiling fan in the center.
If your ceiling is high then you need to install an extension so that the ceiling fan is as close to the floor as possible (about 8 to 9 feet).
Energy Consumption
Modern-day ceiling fans are amazing at providing comfort while not burning a hole in your pocket. You need to look at the energy-saving benefits when purchasing the best ceiling fans for large rooms.
Blade Pitch
The pitch is the angle at which the fan blades are fitted. The ideal pitch should be between 12 and 15 degrees. This helps with optimum circulation. If the fan blade is fitted at an angle lesser than 12 degrees, the circulation will be inefficient. If you want to increase the circulation on your bedroom ceiling fans, you can choose to go above 15 degrees as well.
Picking The Right Motor
The motor is extremely important when it comes to picking the best ceiling fans for large rooms. Always look for motors that come with permanently lubricated bearing and high-end wingdings. If you compromise on the motor there is a chance that your large ceiling fans will be noisy and the operating temperature will also be high.
Installation
Another factor to look at is the installation of the ceiling fan. If your ceiling is too high, then as we stated, you will need an extension. This is something that can and should only be done by a professional. However, certain ceiling fans are easy to install and you will not have to shell out a lot for seeking professional services.
Wiring is also something that you need to look at. If there is no wiring on the ceiling, you can go ahead and replace the lights with a ceiling fan. Your electrician will be able to suggest the best possible solution.
Warranty
This is probably one of the most important factors to consider when purchasing the best ceiling fans for large rooms. Certain manufacturers offer a warranty for life while others provide free services for a limited time. If you are getting ceiling fans for large rooms with a large motor, it is advisable to opt-in for a fan with a longer warranty.
Matching Your Decor
Several people ignore this however your ceiling fans should also match the decor for the rest of the house. These days the best ceiling fans come with different LED lights fitted on them. These styles will also match the lighting style in your house. You can pick from many ceiling fan designs, namely, spotlights, light bowls, glass shades and so on.
CFM
Not many people know this but the acronym CFM stands for cubic feet of airflow every minute. This is an important factor to look at, especially when picking the best ceiling fans for large rooms. It's best to pick a ceiling fan that has at least 7,000 CFM. However, you need to keep in mind that if the CFM is higher, the motor will be more powerful. This means that the ceiling fan will cost more and the energy consumption will be slightly higher. This may be a small price to pay for comfort.
Best Ceiling Fans For Large Rooms Review
Hunter Ceiling Fan (With Remote Control)
The Hunter ceiling fan comes with a very powerful and quiet motor. The motor is built with advanced technology that also allows you to reverse the direction of the blades based on your requirements. This is an 'easy to mount' large ceiling fan that comes with one of the longest blades in the market.
Pros
52-inch blades
13-degree pitch
Lifelong warranty
Reversible motor
Remote controlled
Cons
Five blades make the fan look a bit bulky
Hunter Ceiling Fan (With Pull Chain)
This is another amazing ceiling fan brought to you by Hunter. This ceiling fan is specifically designed for large rooms and is the number one choice for offices and homes. The motor comes with the advanced whisper technology for a quiet experience and the reversible technology allows you to enjoy a warm draft during winters.
Pros
Reversible motor
52-inch blades
Exclusive motor technology that prevents the fan from wobbling or making any sound
Pull chain function makes it earn to switch on or off
Comes with three LED lights that add class to the ceiling fan
Cons
One year limited warranty
Hunter Low Profile Ceiling Fan
When it comes to the best ceiling fans for large rooms, this low profile ceiling fan is one of the best. Similar to other models by Hunter, this ceiling fan also comes with a quiet motor and reversible functionality. However, what sets this ceiling fan apart is it is made for houses that have a low ceiling. This ceiling fan has no rod and looks very compact and elegant.
Pros
Perfect for ceilings lower than 9 feet
13-degree pitch for amazing circulation
Lights can be dimmed via remote control or the wall control
Harvest Mahogany reversible blades
Cons
Height is not adjustable because of the absence of a rod
Hunter 70″ Ceiling Fan
This ceiling fan is another amazing product from the house of Hunter. This ceiling fan comes with massive 70-inch blades that allow for amazing airflow. This also comes with the trademark motor technology that keeps your fan wobble-free and sound-free for life.
Pros
70-inch blades
Swift airflow efficiency
Lifetime motor warranty
Cons
13-degree pitch may not be efficient for such long blades
Minka-Aire F844-DK
Another amazing ceiling fan that you should consider is the Minka-Aire F844-DK. This ceiling fan comes with a sleek design and amazing Koa finish. This ceiling fan also comes with a manual reverse switch that provides comfort all year round. This is what makes it one of the best ceiling fans for large rooms.
Pros
52-inch blades
Three-speed fan with a fully equipped handheld remote
Cons
Frequently Asked Questions
Are more blades better on a ceiling fan?
The number of blades is directly related to the power of the motor. If the motor is not that powerful, then smaller blades or lesser blades will provide better airflow. A powerful motor combined with more blades is perfect for your large home.
How many blades on a ceiling fan make the best airflow?
The number of blades depends on the power of the motor. If the motor is powerful then the optimum number of blades should be four. This will ensure maximum airflow and air efficiency.
What size ceiling fan do I need for a room?
The size of the blades is directly correlated to the size of your room. If your room is between 70 and 140 square feet, you should pick a ceiling fan with blades between 36 and 42 inches.
If your room size is above 200 square feet, you need to pick a ceiling fan that has at least 50-inch blades. If your room is smaller than 75 square feet, you can pick a ceiling fan that has a maximum of 36-inch blades.
What are the top-rated ceiling fans?
All of the fans mentioned above are top rated. These ceiling fans are the best in class and deliver amazing air efficiency.
Conclusion
Picking the best ceiling fans for large rooms can be tricky. We hope that the factors mentioned in this article will help you make a decision. These are critical factors that will help you understand what needs to be looked at when purchasing a ceiling fan. A ceiling fan is a long term investment and this is the reason it needs to be purchased after proper research.
Apart from the models mentioned above, there are several other high-end models that you can pick from. However, the models should serve as a benchmark when it comes to picking the best ceiling fans for large rooms.