Have you ever wondered what are the best compact binoculars for bird watching? If you occasionally enjoy this hobby, then this thought probably crossed your mind at some point. Well, there are many options available if you want to get yourself the best birding binoculars. That's why you must have all the information about compact binoculars before you decide to make a purchase.
Do you like to spend your free time watching birds and simply enjoying the nature that surrounds them? Then you should have a pair of binoculars, so you can fully enjoy this activity.
Through our extensive guide on the best compact binoculars for bird watching, you will be able to find all the information that you need to know. We also reviewed the top 5 the best budget binoculars for birding available out there. You are sure to find the best one for yourself on this list. Let's check them all out!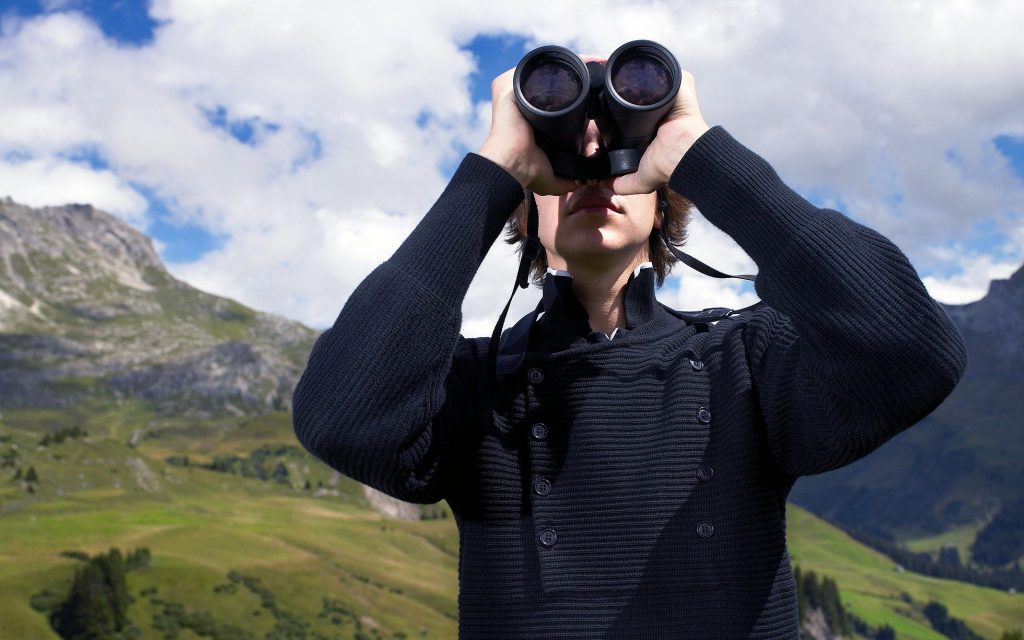 Factors to Consider Before Buying Binoculars for Birding
Magnification
The magnification of a binocular is the number that is written alongside the  x.So if the binocular says 10x, it means it magnifies the subject ten times. It is often suggested for regular use to pick the ones which are between 7x and 12x.
Lens Coating
The lens coating is very important because it reduces the amount of light reflected and allows maximum amount of light to enter. The quality of the lens, meanwhile, ensures the image is aberration-free and has better contrast. Usually, the best lenses work better in low light conditions as they are then able to transmit more light. They will also ensure that the colors are not washed out or distorted.
Weight & Eye Strain
The weight of binoculars should also be taken into consideration. Using binoculars for a prolonged time can make you feel tired. It can be difficult to use regular binoculars continuously for a long time. However, if you go with the high-end ones, you can use them for a long time without facing any issues.
Waterproof
Since binoculars are essentially outdoor products, they must have some degree of waterproofing. That is usually denoted as "WP" on binoculars. You might consider this if you plan to watch birds during the rain.
Best Compact Binoculars for Bird Watching Review
Wingspan Optics FieldView 8X32
The main advantage of these binoculars is that it can fit in your pocket, and they are very lightweight. With these binoculars, you will be able to view an entire field of action perfectly from 1000 yards out. Its magnification is 8×32, which is just about enough to see every detail perfectly when it comes to the birds that you are watching.
An additional advantage of these binoculars is that they are waterproof and fog proof. With these binoculars you will also receive neck strap, nylon mesh carrying case, eyepiece and lens protection covers and non-abrasive microfiber lens cleaning cloth.
Pros
Budget-friendly
Close focus
Waterproof and fog proof
Cons
Too small for some people
Professional Binoculars for Bird Watching
The first most important advantage is rubberized armor which covers these binoculars completely. As an additional advantage, apart from bird watching you can also use them for sightseeing, stargazing, and hunting. They have a magnification of 10×42 in a long-range, so they can provide you a clear sight to tiniest details.
Designed with a roof prism system, these birding binoculars are compact and very easy to carry. With a slim shape and weighing only 1.2 pounds, they can be handled with one hand. You can use the bird binoculars with or without your eyeglasses.
The package includes one pair of powerful binoculars, 2 removable protective eyecups, a cleaning cloth designed to keep your best birding binoculars clean, a carry-on bag and easy to follow instructions.
Pros
Lightweight
Waterproof
Great magnification
Cons
Eyeskey Compact 10X42
It is often suggested that the best compact binoculars for bird watching have FMC lens, like these. With 18.4mm eye relief, it will help you to reduce eye strain and improve your viewing comfort. One of the best things about these binoculars is that they are designed in such a way that you won't have to worry about weather changes while using them.
With their 10×42 magnification, you will have an insight into the smallest details while you're enjoying bird watching. The image will not appear shaky if you can't hold the binoculars still without a tripod. This combination of magnification, optics, objectives, plus a wide viewing angle of 5.6° makes the Eaglet ideally suited for most outdoor activities. Also, with binoculars in the package are included rain guard, tethered lens covers, a neck strap, and a soft carry case.
Pros
Great magnification
Waterproof and fog proof
Cons
Noptix Compact Binoculars 10×42
This is one of the best budget binoculars for birding because of its amazing additional features that you will receive with the binoculars. With the purchase of these compact binoculars, you will also get attachable lens caps, a smartphone adapter, a tripod and bracket mount, a comfortable neck strap, carrying case, cleaning cloth and an easy-to-follow user manual.
With these compact binoculars for bird watching that are made by NOPTIX, you will have a high definition FMC(fully multi-coated) anti-reflective lenses with 10x magnification power, a 42mm objective lens diameter, and adjustable eyecups. This gives you the sharpest vision binoculars out there that are easy to hold steady with maximum eye relief from fatigue.
Another additional advantage of this binoculars is a smartphone adapter. Just attach your smartphone directly to the binocular eyepiece and you will finally be able to take close up birding photographs with your phone, instead of investing in a fancy or expensive long-distance camera lens.
Pros
Additional features
Waterproof
Lightweight
Cons
CrazyFire HD Compact Binoculars
Firstly, these CrazyFire binoculars are the best budget binoculars for birding. They have full 10× magnification and 50mm objective lens diameter which will provide you a clear sight from more than 650 feet away.
The main disadvantage of these binoculars is that their design could have been better. But, with their HD vision and high-quality optics, they are truly a great choice. Designed with multi-coated lenses and glass, they have a light transmission of over 99.5%, which provides a brighter and more stable image. Because of the materials, they were made of, they are also waterproof.
Another additional advantage is a smartphone adapter, which can help you capture all the sights in detail. With these binoculars, you will also receive a portable bag, anti-lost strap, cleaning cloth, 2 eyepiece cover and 2 objective lens covers.
Pros
Waterproof
Smartphone adapter
Budget-friendly
Cons
Frequently Asked Questions
What size binoculars are good for bird watching?
Pick a good magnification. You can either go for 8x or 10x depending upon your requirements. In general, 10x are better at distance birding. But it usually also means a narrower field of view, a slightly darker image in low light, and a more noticeable hand-shake.
What binoculars should I buy for bird watching?
If you decide to get yourself the best compact binoculars for bird watching, you won't go wrong if you decide to get one of these 5 compact binoculars.
How do I choose good binoculars?
A lot of people prefer binoculars with larger objective lenses, as they have wider fields of view, which makes them a better option to go with. It's also important to pick a price range that you feel comfortable with and don't feel compelled to go beyond. Don't forget to choose how heavy a pair of binoculars you can handle, because some of them can be too heavy for you to hold.
What should I look for in birding binoculars?
Objective lens size of 30mm is the smallest any bird watcher would want to go for. If you often use your binoculars for viewing birds in low light conditions (dense, dark woods or at dusk & dawn), you should try to go for a bigger objective lens. Read: Best Magnification Binoculars for Hunting
Can you use binoculars to see stars?
These 5 binoculars are all designed to help you see the stars too. They can introduce you to many members of our home galaxy if you ever decide to go stargazing.
Conclusion
Deciding which are the best compact binoculars for bird watching is a tough job. Especially if you enjoy bird watching a lot, then every detail is important. You must consider multiple factors like weight, eye strain, waterproof, design, lenses and magnification, so you can find the perfect compact binoculars that will satisfy your needs. These 5 binoculars are specially designed for bird watching, so if you decide to get yourself one of these, you won't regret your decision. With our extensive guide, we are only here to help you choose the best bird watching binoculars and to keep you informed about all the details of these magnificent compact binoculars.