Nowadays, many people are getting into archery. No one blames them for starting this sport because it is enjoyable and fun. For starters, they need to acquire the best compound bow for target shooting. They need to know certain aspects like their dominant eye, draw weight and length, and many more.
Remember, each of these compound bows answer to a specific style. This means a bow that works on another person may or may not work for you. This buyer's guide will help you in gaining that information so that you can freely choose what you like. Check this guide first before you go bow hunting.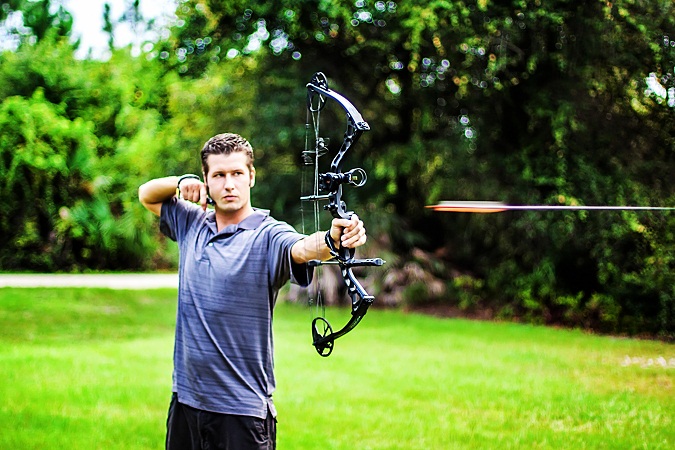 Best Compound Bow for Target Shooting Review
RAPTOR Compound Hunting Bow Kit
When getting a compound bow, you have to consider if you will be comfortable in using it. It has to have the ability to adjust at certain times. This Raptor compound bow's draw length and weight are adjustable without the help of a draw press.
The numbers for the draw length is 24.5 to 31 inches and the draw weight is 30 to 70 lbs. What separates this bow from other compound bows is that it is entirely made of machined aluminum; meaning no parts of the bow are made from plastic.
Pros
Very smooth pulling and fast shooting bow
Used for target practice and hunting
Any user of this bow can make adjustments even without the bow press.
Cons
Some users find the bow quite fragile
Leader Compound Bow and Archery Hunting Equipment
One should check first if the compound bow that he is buying is included in a package that is full of accessories. That would enhance the overall value of the product. Take for instance this compound bow package from Leader. Its package includes paper targets, arrows, an optic sight, a quiver, an arm guard, a stabilizer, a bow release, and much more.
It is also adjustable with regards to its draw length and draw weight. You only need an Allen Wrench and you are good to go. Absolutely no bow press is needed with this bow.
Pros
Accessories are included in the package
Adjustable even without a bow press
Riser is made from aluminum
Cons
According to a user, not all arrows can be used by this bow
iGlow Archery Hunting Compound Bow
If you are a person who likes to have a variety of colors to choose from for your compound bow, then the iGlow bows are the ones for you. Of course, these bows will not only amaze you with the various colors that it has but also with its ease of use. Deemed as one of the best compound bows in the market, the iGlow compound bow has an aluminum riser which makes it strong yet light.
Adjustable draw weights will not hamper the arrow speed and you can still hit your target with pinpoint accuracy. When using the bow, 30-inch carbon arrows are recommended.
Pros
Nicely polished; elegant-looking and performs well
Lightweight at 3.3 lbs.
Can draw back up to 80 lbs.
Cons
Some users experienced the fragility of the bow after a few uses
Topoint Archery for Women, Package M1,19"-30"
One must accept the fact that women could not use specific types of compound bows. Topoint understands this so they made a compound bow specifically for women. However, adults and children can still use the bow with ease.
Sporting a bright pink and black color, this bow is simply the best compound bow for target shooting because of many reasons which include its aluminum riser, bow limbs, adjustable draw length and weight, and accessories. To top it all off, you get pink and black-colored arrows to use.
Pros
Has a very nice color scheme for the bow and arrows
The bow's limbs came from Gordon Composites
The bow's string uses a BCY material
Cons
According to a user, you need to air the bow out when it first comes out of the box because of its smell
Genesis Bows Original Youth Bow
Teaching your child to do archery is a good way to bond with your kid and for them to have a fantastic hobby. You will need to find the most accurate target compound bow in this scenario and what better bow to get than one that is deemed as the official compound bow of the NASP.
You and your kid will surely like this bow because you have a variety of colors to choose from. The arrows come in various colors as well. It has an aluminum riser, strong composite limbs, easy-to-draw bowstrings and more.
Pros
Children can use this bow as they grow up
Starter bow for kids and beginners
The Single-Cam technology provides more precise shooting
Cons
Some colors are not available when ordered
Frequently Asked Questions
What is the best compound bow for target shooting?
The answer will depend on the user. A compound bow must be versatile, easy to adjust and use, and can be used by people of all ages. In addition, the best bow for target shooting should have features that can increase the accuracy level of the user.
To kill a deer, how much draw weight is needed?
The compound bow needs to have a draw weight of at least 40 lbs. to take down a deer. Whitetails will fall when hit by an arrow shot from a 40 lbs. bow while larger targets like bears and elks need at least 50 lbs. of draw weight. Read: Best Bow Sight for Target Shooting Review
What compound bow is best for a beginner?
Any compound bow that does not have a specific draw length would be a good bow for beginners. Using smaller draw weights, beginners can practice easily and then, it can slowly increase depending on the skill of the user.
Conclusion
That concludes this buyer's guide for the best compound bow for target shooting. Each of the bows presented here has special features and all you need to do now is to check each one on a field test to see what fits you best.