Border collies, simply stated, are fur balls with a lot of energy. They are dogs that are specifically bred for intelligence and obedience. To meet their nutritional requirements, it is imperative that you choose only the best dog food for Border collies. But the market is flooded with dog food options and how do you know which one is the right fit? It does take a lot of research and knowledge to look for the best one.
However, to make it a smooth ride for you, we have already reviewed the best ones and presented them in this guide for your convenience. Additionally, we will also educate you on the factors that you need to look for when picking the right dog food. A little knowledge is all you need. So read up on our dog food buying guide and show your dog that you care.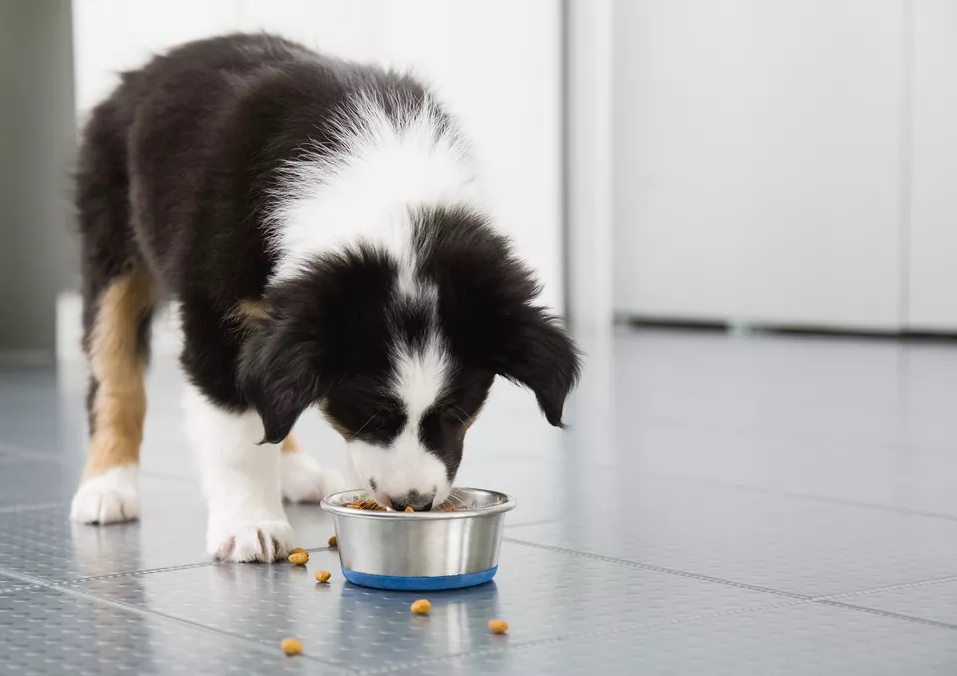 Factors to Consider Before Buying Dog Food
Protein
This is, perhaps, the most important thing to look for when choosing what dog food to feed a Border collie. Protein usually comes from meat, but there are also a few vegetables and legumes that contain good amounts of protein. However, protein coming from meat tends to be the most desirable kind for Border collie nutrition.
You can check the amount of meat in dog food on the list of contents. Be sure that the meat source is mentioned and expect to find products that list deboned chicken, turkey and more. Stay away from animal by-products as they have low-quality protein, which does not guarantee enough nutrition. You will easily get animal by-products in most of the dog food brands.
Free from fillers
Fillers in dog food are commonly found in low-quality brands. There are ingredients added for volume and they do not contribute to the nutritional quality of the food. Examples of fillers you want to avoid are corn, soy, white rice, and wheat. Neither of these is necessarily bad or harmful for dogs, but the issue is that they do not get much out of eating it. A low-quality dog food is not great for an active dog like the Border collie.
Fiber
Another component to look for in a Border Collie dog food is fiber, which is usually found in wholesome vegetables, fruit, berries, and legumes. A good rule is that the darker a vegetable is, the higher the fiber content tends to be. Fiber will help your dog to feel full and satisfied for longer.
Best Dog Food for Border Collies
Rachael Ray Nutrish PEAK
This is the cheapest option on our reviewed list, but it doesn't mean that it doesn't have quality. In a 40-dollar range, you get a 23 lb bag of dog food. And that makes it one of the best dog food for border collies in this price range.
Border collies need a good amount of protein in their diet. And this dry dog food provides 30% of protein which is considered pretty impressive. This food is free from fillers, colors, artificial flavors, by-product meals, and artificial preservatives. The food also doesn't contain any grains or gluten, so that won't be a problem.
This dry food has farm-raised beef as its primary ingredient. Other ingredients include lamb and various vitamins and minerals. The extensive ingredient list is mentioned on the food packet which helps you determine if your dog is allergic to anything. Some of the things that are mentioned include dried beet pulp, cranberries, fish meal, niacin, lamb meal, etc. All these make the food delicious and nutritious for your furry baby.
Nutro Wholesome Essentials
You want your fur baby to stay healthy and so does Nutro. To make this happen, Nutro has come up with one of the best dog food for border collies under 50 dollars.
A 30 lb bag of wholesome food contains farm-raised chicken, sweet potato, and brown rice. In addition to that, it contains minerals and vitamins as well. This is great for improving your border collie's immune system as it is brimming with essential fatty acids. Not only that, but the essential antioxidants and fatty acids also make sure that your dog's fur stays shiny and strong.
The presence of natural fibers in the food promotes healthy digestion. This product does not contain GMO ingredients, wheat, soy protein, chicken by-product meal, or corn.
Merrick Grain Free
Have you been looking for high-quality food for your border collie puppy? Here is a great option by Merrick that you can get in less than 60 dollars. This dry puppy food is free from things like corn, soy, gluten, grains, or wheat. This is great to prevent common Border collie food allergies.
The first ingredient of this food is real deboned chicken. With 381 kcal per cup, your puppy is sure to stay satiated and full for longer. The other constituents of this food include peas, sweet potatoes, and blueberries for nutrition and taste.
Diamond Naturals
Here is one of the best dog food for border collies who are in their old age. Diamond Naturals provides a holistic formula to enhance your senior dog's health.
The digestive support is provided by the probiotics, fibers, and superfoods added in this product. Your aging fur baby is sure to love this egg, chicken, and oatmeal formula. The food contains generous amounts of chondroitin and glucosamine which help in supporting joint health and mobility.
There is a detailed list of ingredients made available by Diamond Naturals for your reference. Some of these include chicken meal, rice bran, flaxseed, oranges, ascorbic acid, biotin, blueberries, pumpkin, etc. All these are healthy natural food products that must be included in your dog's diet for smooth aging.
Royal Canin Breed Health Nutrition
This is the most expensive product on our list and hence is of premium class. This is formulated by Royal Canin keeping in mind the nutritional needs of puppies.
The tailor-made kibble is easy to pick up and chew which helps the puppies eat properly. There is high-quality prebiotics included in this food which help the intestinal flora flourish. Puppies tend to have a weak immune system which is taken care of by the exclusive blend of antioxidants. Other than that, this food ensures good bone health of your pup in their growing stages with the added calcium. Their border collie pup feeding guide states that this food is only fit for puppies 15 months and younger.
Frequently Asked Questions
What human foods can Border collie eat?
You can give your Border collie vegetables and fruits to eat along with some dairy products like milk. Eggs are also good for a Border collie. Vegetables that benefit your Border collie are carrots, broccoli, green beans, yams, squash, zucchini, and spinach. A mix of good dry food, with meat and vegetables is considered the best dog food for Border collies.
How much dog food should my Border collie eat?
Border Collies need high-quality food because of the amount of energy they expend during the day. The quantity of dog food for your Border collies depends on many factors. First, it is important that you follow the recommendations from your vet. Your vet might give you a diet chart formulated for your dog with a specified Border collie food amount. Labels on food packaging also show the number of cups of dry dog food you should give to your dog. Related: Best Dog Food for Pitbulls | Top 5 Picks | Buying Guide
Most doctors recommend two feedings per day, once in the morning and again in the early evening. The amount of dog food is also dependent on the weight of your dog. 2 or 3 cups of dog food is recommended for dogs who weigh around 40 pounds.
What do Border collie puppies eat?
You just need the right quantity of vitamins, minerals, antioxidants, amino acids, carbohydrates, fats, give keep your Border collie puppy healthy. Puppies are in their growing stage so they need extra nutrition. They also need about twice the amount of calories per pound of bodyweight than adults. For young Border collies, three meals in a day have been considered sufficient.
How much should a Border collie weigh at 4 months?
The weight of Border collie dogs depends on the speed with which they are growing. According to the size, the weight of the Border collie female at 4 months should be between 5.1 and 7.6 kg. And the weight of the Border collie male at 4 months should be between 5.8 and 8 kg.
Conclusion
Dog's are not only our pets but our family members once they come into our house. We are supposed to take care of our dogs just like we take care of our kids. They need to be fed the right kind of food so they can maintain a healthy stature. However, it can be a tough task to find the right kind of food, especially when you have a new Border collie at home. Border collies are high-performance and intelligent dogs and that requires highly nutritious food. So, here is our compact buying guide to help you pick the best dog food for Border collies.