An electric saw is a popular tool that makes cutting trees, sawing wood and designing handicrafts an easy task. There are various kinds of electric saws available in the market that work well to suit a specific need. If you are looking for the best electric saw to cut tree branches, then we've got the top products covered for you.
It's essential to understand what features the saw has to offer and the various advantages and disadvantages that you need to take into consideration before investing in it. Let us take a look at some of the factors to consider before you check out these tools to cut trees and find your perfect saw.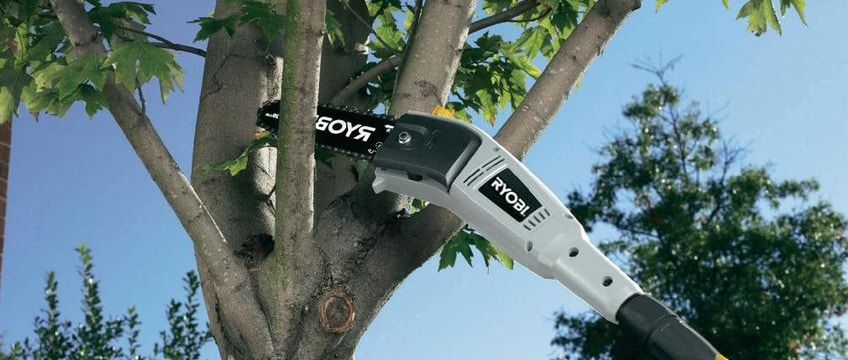 Factors to Consider When Buying an Electric Saw
Ease of Use
The best electric saw to cut tree branches should be convenient and easy to use. There is no point in investing in a high-end tool with complicated functions. When looking for the best electric saw to cut tree branches, make sure you check ease of operation. Always remember that the simpler, the better.
If you can switch on the saw with a simple power button and effectively slice through a tree, then it makes perfect sense to invest in that particular electric chainsaw.
Budget-Friendly
Electric saws come at various prices. Finding one that fits your needs perfectly is not always going to be easy. For you to find the best tree trimmer, try to figure out the features you would like in the saw and see which one is closest to your budget. Related: Best Hand Saw for Cutting Logs Review & Buying Guide
Types of Saw
The electric chainsaw comes in two variants – one that runs on electricity while the other runs on battery. Both these choices are a better replacement for fuel charged saws. The battery saw will have lesser pressure in comparison to one that is electrically charged.
Noise
Electric chainsaws are usually quieter than other chainsaws available in the market. Different models, however, have different noise levels. If you spend a lot of time chopping trees, you may want to consider a less noisy option from the different types of saw.
Best Electric Saw to Cut Tree Branches
Now that we've got you covered on the basics of the chainsaw, let us take a look at the top five electric saws to cut tree branches.
Hooyman 655236
Chopping trees is an outdoor task however electric chainsaws have limited mobility because of the cable that connects the saw to the electric circuit. If you are looking for a convenient electric saw that you can use without having to limit your mobility, then this Hooyman cordless saw is the perfect tool for you.
This saw runs on a battery so you can take it along with you on your hunting expedition. If you are going into dense forest areas, the best electric saw to cut tree branches will help you trim, cut bushes and create shooting lanes. This is an 8-inch saw that makes it convenient to cut even larger branches without much effort.
The saw comes with an ergonomic grip that helps you stay comfortable even when you use it for prolonged hours. This is a foldable saw and it comes with a carry bag, making it the ideal portable battery-operated chainsaw you will find in the market. If you are a hunting fanatic, then this is the perfect saw for you based on Amazon reviews. It is also a budget-friendly saw which makes it a great buy.
Pros
Compact design
Portable
Lightweight
Cons
Delivers only 70-minutes runtime
Sun Joe 10-inch Multi-Angle Pole Chain Saw
When looking for the best electric saw to cut tree branches, one of the major factors to consider is the price of the saw. This Sun Joe electric chainsaw is a budget-friendly saw that has customers raving about how amazing it is. While it is an affordable saw, it delivers more than most high-end electric saws.
This is one of the most amazing tools to cut trees that comes with a telescopic pole that helps you reach a height of up to 14 feet with ease. It is powered with a 4amp monitor, helping you cut trees at a faster speed. It has a ten inches thick saw bar which can but branches up to 9.5 inches thick. You can angle the saw head from zero to thirty degrees for ease of use.
This electric saw comes with a safety switch to prevent an accident. This product has sold a lot on Amazon and the positive reviews help assure you that this is a good tool. This is a quiet saw and this plays a big part in keeping your neighbors happy.
Pros
Extendable telescopic pole
8amp powerful motor
Multi-angle head
Cons
The saw cannot run for more than fifteen minutes at a stretch
WORX WG309
WORX is considered as the best tool for cutting tree branches you will find on Amazon. This product has over 600 four and a half star ratings which make it a people pleaser. This budget-friendly saw is a 2-in-1 electric pole saw and chainsaw, making it a multi-functional tool to invest in. You no longer need a ladder to climb to chop the upper branches.
All you need to do is attach the eight feet extension pole and you will be able to chop the topmost branches without moving from the ground. This pole is easily detachable so converting it from a chainsaw to a pole saw won't take long.
This saw also comes with an automatic pool pre-chain tensioning system and a level indication for an oil change. This is a low maintenance saw that lasts a lot longer in comparison to the different types of saw in the market. It has versatile features which include pruning, cutting, trimming and chopping. This ten-inch saw comes with a rotating handle that is ideal for pruning gardens.
Pros
Extended bar and chain life
Rotating handle
2-in-1 saw
Cons
Pole extends only to eight feet
Sun Joe Electric Pole Chain Saw
Sun Joe is back with yet another amazing electric saw to cut tree branches. This is a tool that is pocket-friendly and perfect for home gardeners. The 6.5amp pole chainsaw comes with an adjustable head making it easy for you to rotate the blade in the direction you wish to cut. This is a bar and chainsaw which comes with an auto oiler to keep the bar and chain lubricated continuously during use.
The saw can cut up to 7.5 inches of bark with ease. It has an eight-inch thick blade that is easy to control even for beginners. The amazing telescoping pole that comes with this saw extends up to 15 feet so you can get to the topmost branch even when you are at ground level. The safety feature is an added advantage as it prevents the saw from starting accidentally.
This saw also comes with a comprehensive two-year warranty. This saw is multipurpose and can work well to cut overhanging limbs and thin logs as well as bushes and shrubs.
Pros
Lightweight and compact
Easy to use
Two-year warranty
Cons
Handling the saw when fully extended can be tricky
Remington Electric 2-in-1 Pole Saw & Chainsaw
The Remington range of 2-in-1 pole saw and chainsaw is a budget-friendly electric saw to cut tree branches. The saw comes with a 10-foot telescoping shaft and a 10-inch bar that works effectively to trim and prune trees. This 2-in-1 detachable saw does not require any tools to attach or detach the telescopic shaft.
The 10-inch bar and chain help to conveniently trim and prune trees, even at a height. If you are looking for a powerful device then Remington is a great option since it comes with an 8amp electric motor. This is one of the highest-rated products on Amazon and is also the most popular. The pole comes with easy flip and lock clamps making it easy to secure the pole length.
You can reach up to 15 feet above the ground using the pole. It also has an anti-rotation pole design which gives you a firm and comfortable grip. This is a powerful and quick electric saw.
Pros
2-in-1 chain and pole saw
Adjustable upper and lower pole with flip and lock clamp
8amp motor
Cons
The pole is not as sturdy as you would like
Frequently Asked Questions
What is the best tool to cut tree branches?
If you are looking for the best tool for cutting tree branches then an electric saw is highly recommended. While there are various kinds of saws you will find in the market, electric saws are more convenient to use because they do not pollute the environment as they do not consume any fuel. They are also compact and lightweight in comparison to the other saws available in the market.
How do you cut tree branches?
To cut branches off a tree, you need to get hold of a good saw to cut tree branches. If you want to make sure you are cutting the tree effectively, you need to begin the process as follows:
Always make three cuts. The first being the notch cut which will be about 2 or 3 feet away from the trunk. This prevents the bark from splitting. Secondly, you need to make the relief cut which will go completely through the branch taking off the excess weight from the branch. Lastly, it is the final and the most important cut.
This is where you target the branch collar which is the swollen bump you need to get rid of. To cut the branch collar effectively, always work in the manner of a slant.
Handy tip: If you can't work your way from top to bottom, work your way from the bottom up.
When can you cut branches off trees?
Once you get a hang of a good quality tree trimmer, the next thing you need to figure is when you can start cutting off branches. Certain trees, for example, ones that bear fruit or flower, should be pruned once they are done blooming.
Conclusion
Your gardening tool kit is incomplete without a good quality saw to cut tree branches. This saw not only helps to prune or trim branches but it also works well on grass. Every garden is unique and you need to figure out what kind of saw will suit your gardening needs perfectly before you invest in one. Take your time to read the above-mentioned reviews before narrowing down your selection and pick out the best electric chainsaw for your garden.