Electric scooters gain more and more popularity at the moment. They are convenient and easy to maintain and use. That's why they are so popular. As we live in an advanced era, all roads are pretty good so we can use electric scooters everywhere. Sometimes you are going to need to ride them on hills or some slopes and not every electric scooter will be able to handle that. So, one thing that you may ask yourself is which ones are good for going uphill. Yes, there are some especially good for hills and today we are going to review them. Searching for the best electric scooter for climbing hills? Let's see electric scooters compared and also the reviews.
[wpsm_comparison_table id="1″ class="center-table-align"]
Best Electric Scooter for Climbing Hills Review
NANROBOT D4+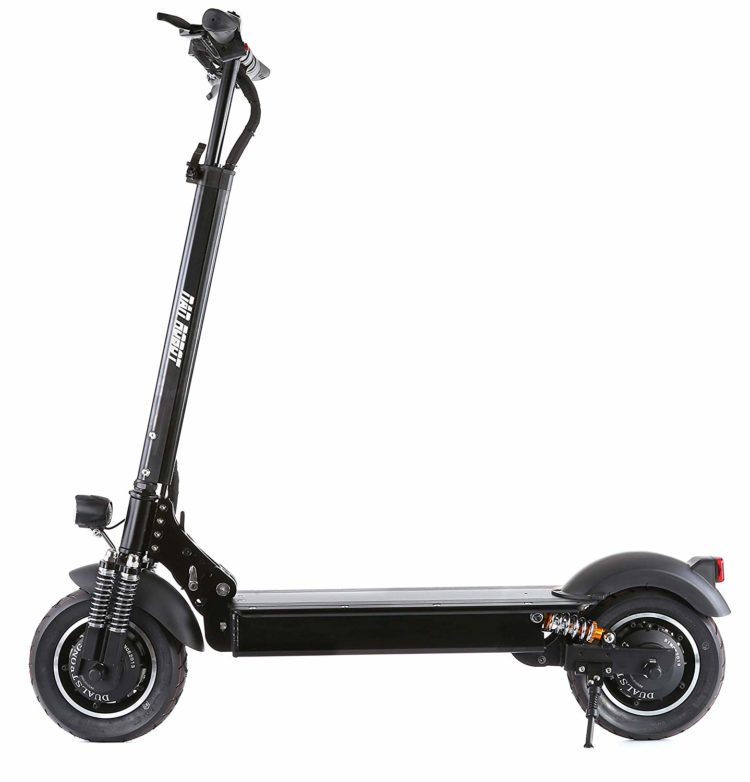 This one is the best bet if you are planning to ride on some slopes or hills. We like many features which this electric scooter offers and we will start with the inclination. The maximum inclination which you will be able to ride without issue is 45-degrees. That should cover almost all roads. The dual 1000w motors are what makes this scooter powerful. Those motors can hold up to 330lbs so that you don't need to worry about the power when you encounter a high hill. The maximum speed which this scooter can reach is 40mph and the 23.4Ah 52V lithium battery will last up to 45 miles. This time is shorter, of course, when you ride uphill.
Both motors make this scooter all-wheels to drive thus more power is obtained and you have more traction control. This version comes with the standard front and rear EBS brakes. The braking is stable and in an emergency situation brakes smoothly. The D4+ can adapt to different terrains which make the riding comfortable. All this is because of the shock absorbers and the pneumatic tires. The bumpiness is reduced, the stability increased and the driver comfort is on the highest level. This electric scooter is convenient because of the folding design. It's portable and it fits in all cars. The headlight is bright so you don't need to worry about safety while riding at night.
---
Dualtron Raptor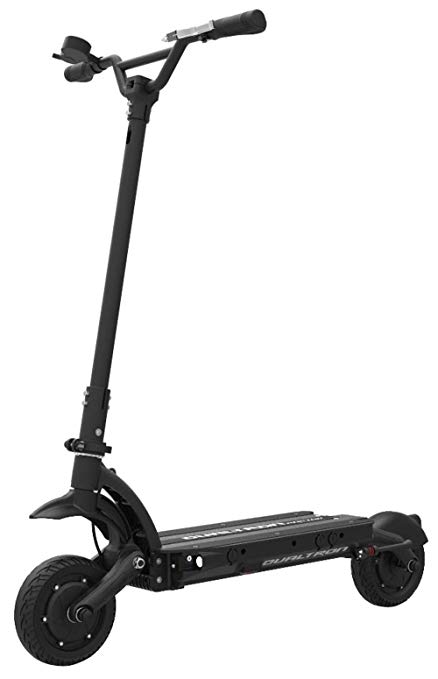 This electric scooter is another great option for you because of its performance. It's really fast and you can ride it around 45 miles with just one charge. We rode it and we have only good stories to tell. The superior motors are totalling power of 2600W. Each motor has 1300W which makes it best electric scooter for climbing hills. Just like the dual motors, this electric scooter offers a dual braking system for your safety while riding it. The top speed of this electric scooter reaches up to 35mph which is not a lot comparing to the other electric scooters on the market currently but hey, 35mph is more than enough.
You can ride it on different terrains as the suspension is not far away from superior. You can ride it at high speeds and feel no fear. The tires' size is 8 x 3″ and the inside of them is solid so you shouldn't feel worried about flat tires or getting left on the road alone. The 1-year worry-free warranty is included but just if you are from the United States.
You can't see this electric scooter as one which you will easily pick up and take on public transport often but it's worth every penny of the price. You can have fun, commute, ride long way just from one charge or even ride fast. That's why we highly recommend Dualtron Raptor to anyone who finds himself doing all that.
Speedway 5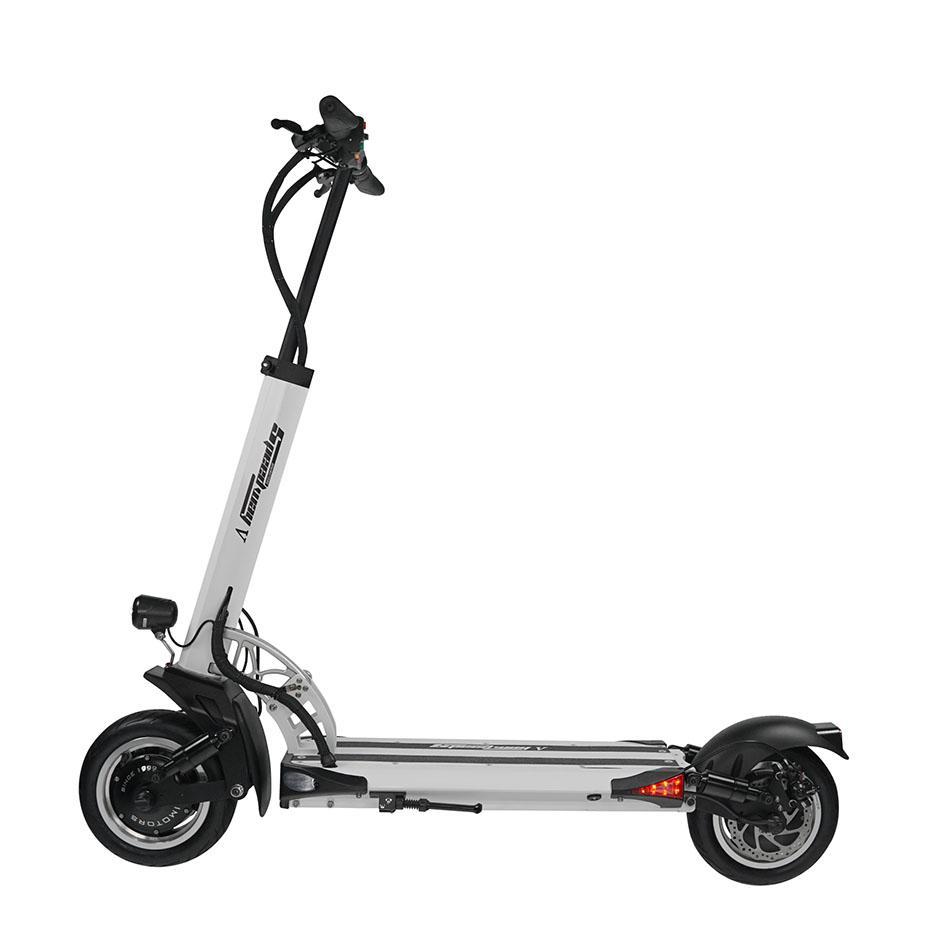 Speedway 5 is the first electric scooter which has implemented a dual-motor drive system. That's especially good because you get more power. The peak power of this beast is 3600W which is double from its brother Speedway 4. The front suspensions are upgraded and now it's far more stable as they are hydraulic. The tires are tubeless and their size is 10 x 2.5 inch. That's the reason behind the unbeatable riding comfort. With the high performance 1385Wh Li-ion battery pack, you can ride it maximum 75 miles. The maximum speed you can reach with this electric scooter is 40mph. That's pretty good number having in mind that we are reviewing the best electric scooter for climbing hills.
It has a 3rd generation and fully detachable hub motor. This allows you easy replacement and maintenance as it can be completely separated. The new EYE throttle system is simply amazing. Equipped with dual front lamps, headlights, rear-side lamps and turn signals makes the ride unforgettable. The risk of accidents is reduced, the visibility increased and the ride is instantly funnier – all this just because of the newly introduced logo mood lamps. Want to ride it at night? No problem. The Speedway 5 also has Dual LED headlight, front light, taillight, brake light & turn signal. Do you need anything more? We don't think so. If you are looking for the best electric scooter for hills than this one should fit your needs.
QIEWA QPOWER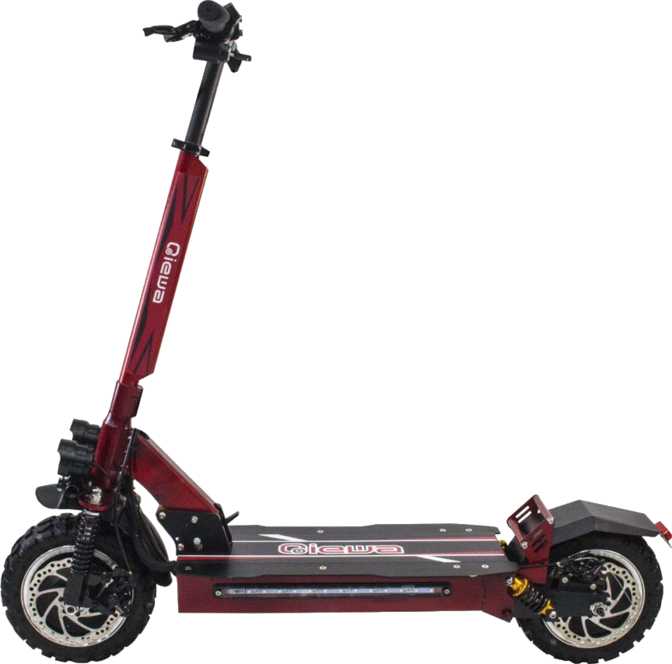 Great power comes from great motors. This electric scooter is one of the best electric scooters for climbing hills. You may ask yourself why. It's simple. The dual-motor drive offers no more than 3200 watts power from 1600W on each one. There is an option for switching to ride with single or double motors. Maximum driving distance with one charging is 50 miles. The highest speed which you can reach with this crazy good electric scooter is 53mph. The weight is 81lbs which will be a little heavy for some. Not that portable for kids because of the weight. So, this is good to have it in mind when buying. The tires are 11 inches and off-road type which makes it ready for riding on different terrains. The brakes are hydraulic and on both wheels, making the safety great.
Variety of features are available on this scooter. Power saving mode is one. We like especially that feature. The total amount which can be loaded is 660lbs which is quite a big number. Another feature which is amazing is the 2 seconds instant folding. What's better than quickly getting into the car or the bus when you are in a hurry? Well, you don't have to worry if you buy this electric scooter. You can ride it under wet conditions as it is waterproof too. Different weight or different road will affect the distance and speed differently.
Ecorider E4-9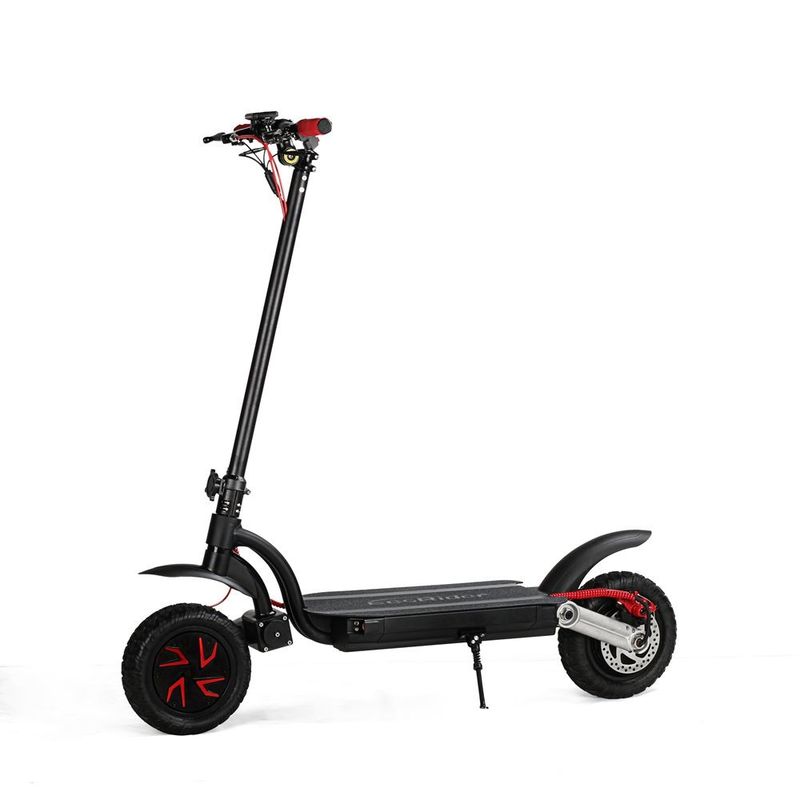 This electric scooter is another good option. The maximum speed is 43mph and you can ride it from 50 to 60 miles depending on the load or inclination. This version comes with a dual-motor drive system and dual braking system as well. With 3600W brushless hub motor, the power is guaranteed. The motor also allows customization, so great for those who want to take this scooter on the next level. The maximum load which this scooter can handle is 330lbs. What we really like is the design which is really cool and modern with the appearance of little science and technology sense.
With 10 inches off-road vacuum tires, this electric scooter is born to be wild. The weight is around 66lbs which is not perfect. The body is made from strong aluminium alloy, which makes the construction rock solid. The charging time is from 6-8 hours. A cool feature which we like is the colorful smart display with USB charging port. Nothing more is left to say. A good option for the money, perfect for fun and fits every need. If you are searching for the best electric scooter for climbing hills than this one is a great option for you. On top of that, you can ride it off road as well.
There were some rumors about this electric scooter. That was quite long ago and it was for the first version. This one has nothing to do with that version. It's good to know that and we are responsible to give you every possible information.
Buying Guide for Electric Scooter for Climbing Hills
If you are looking for the best electric scooter for climbing hills then you guess it, you need an electric scooter which supports higher climbing angle. The highest climbing angle offered here is 45° but that's not all. When riding on a steep path the power, the motor and the battery suffer the most. So, you need a scooter made from quality and durable parts. The Qiewa QPower and Ecorider E4-9 offer the highest climbing angle and yet they are not placed on the top of our list. The best electric scooter is made from quality parts, is durable, strong and you don't have problems riding it on different terrains.
The motor's strength and the battery's durability are the most important things you should look for when buying an electric scooter for hills. As we said previously, the motor suffers the most when you ride it uphills often. You should better reconsider the maximum distance offered in the specifications because every distance is measured on a flat surface, not uphills. The battery is wasting much faster when driving uphill so you should have that in mind. If you live in a higher place in the city the range will be shorter. Another thing you should consider is the weight which the scooter will be ridden with.
Most of the comfort while riding comes from the suspension. If you want a comfortable ride you should opt for good suspension. The weight is differently distributed on the scooter because of the suspension so when riding uphill the suspension will balance the weight thus you will get a better experience. There will be times when you will go through some uneven surface. This is where the suspension comes into play. Read: Black Friday Deals Electric Scooter | Buying Guide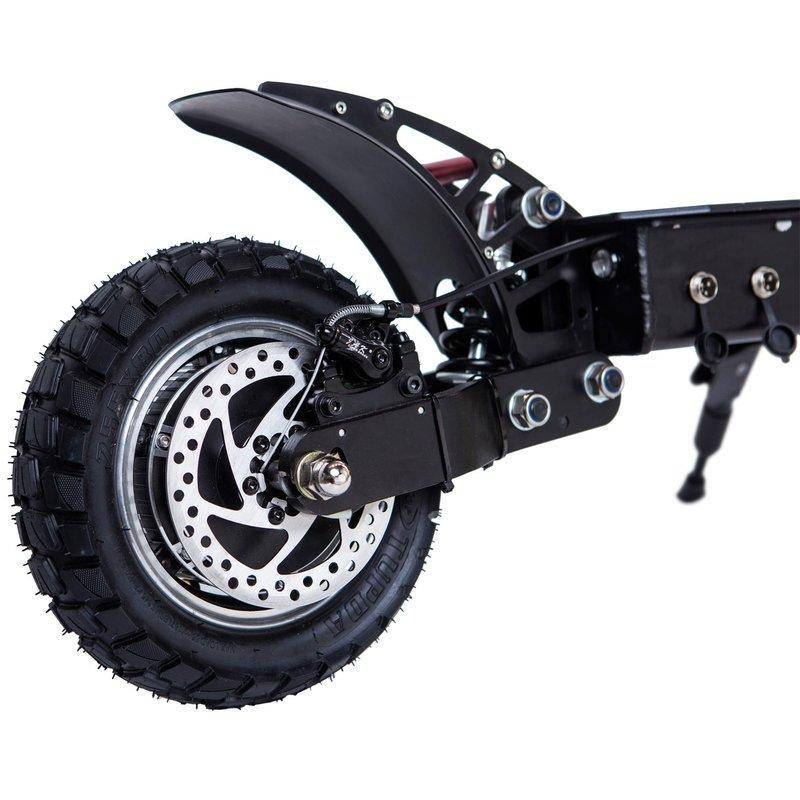 Good tires are a must. Can you imagine smooth ride with bad tires? I can't. Another benefit is turning. With good tires, you can turn easily and smoothly. If you ride in dirty or sandy terrains you are one step ahead if you have quality tires. If you ride under rainy or wet conditions, you are in danger if your tires are not in good condition. When going uphill they can lessen the suffering of the motor by creating more friction power.
A portable scooter means more useful scooter. Although the scooters we have reviewed are heavier than regular ones, they can be foldable or not. They are heavier because they are more powerful. In that case, Dualtron Raptor is lightest and it is foldable which means if you need portability, the winner is Dualtron Raptor.
The portability is important because sometimes you can't ride it and still you need to carry the scooter with you. You can go to the bus station and then on the bus. Or if you are encountered with a rough surface. You can't ride it, you don't want to ride it. So, easy, a foldable electric scooter is the best option when it comes to portability.
The heavier the weight – the slower the ride. But, these are ultra-powerful scooters so you don't really need to worry except if you are planning to load them with really heavy weights. The capacity mostly depends on the power of the motor but that's not the only factor. These are the best electric scooters for climbing hills, the normal weight shouldn't be a problem. Just expect the scooter to be way slower than the described speed when you ride it with heavy weights on high uphills.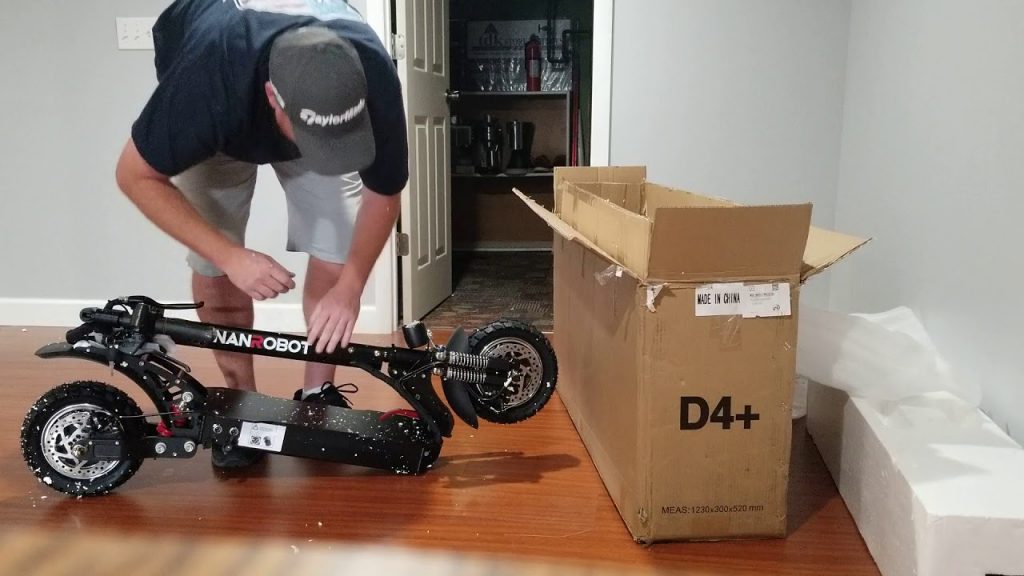 Frequently Asked Questions
Can electric scooter climb hills?
In short, yes they can. Several factors determine whether the scooter can be ridden uphill or not. The most important is the motor power. If the scooter's motor is powerful then you should have no problems riding it.
Does weight affect performance?
Yes, it affects. The heavier the load – the higher the pressure on the motor and wheels. Anyway, if the load is heavy also you ride on hills you should expect way lower performance.
Can all electric scooters climb hills?
No. For a scooter to be able to go uphill it needs a powerful engine. Not every electric scooter is designed for riding hills. However, we have reviewed the best and most powerful ones. So, better check them out.
Conclusion
It's 2020 and many electric scooters came out this year. However, not all are the best for climbing hills. You should be aware of this and not make a bad decision because they are not cheap. We decided to make a review of the best electric scooter for climbing hills you can buy in 2020.
We have done the research for you and pointed out the pros and cons of each electric scooter for riding hills. Don't be lazy and read the reviews along with the buyer guide. Share your experience in the comments below!