Many of us are split between environment and effort when it comes to commuting to work. Most of us have realised the ill effects of gas-powered vehicles on our environment. But walking or cycling to work often means being drenched in sweat by the time get there. And if you drive, you often have to park a few blocks away and still end up walking and sweating. What you need are electric scooters for commuting. And not just any electric scooter but the best electric scooters for commuting.
Commuter scooters come in many shapes and forms. But you can't just pick any random scooter from the rack. Best electric scooters for commuting should be custom fitted to your needs. How far is your destination? Is it for leisure or work? What are your storage requirements? Answering some of these questions will help you find the right commuting electric scooter for your needs.
We have listed the contenders for the best commuting electric scooter below. Understand your needs and pick the right electric scooter for your commuting needs.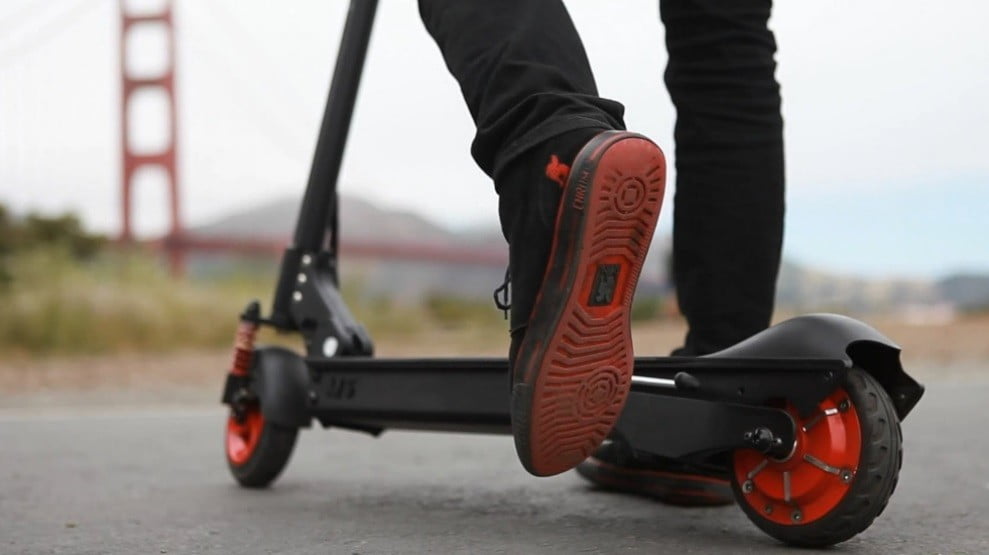 Best Electric Scooters for Commuting
Xiaomi Mi Electric Scooter
We all know Xiaomi as a mobile and electronics brand. But there is much more to this brand. This modern minimal commuter scooter can be considered among the best in class. The design is minimal but striking. It is so impressive that it is the recipient of Red Dot "Best of the Best" Award and iF Design Award 2017. This electric beast comes with a 250 V battery. Which simply translates to the ability to cover a distance of up to 18.6 miles in one single charge. Those who use electric scooters for commuting seldom travel over 15 miles. To be considered the best electric scooters for commuting, the most important factor is the travel time.
The impressive 250 V motor delivers some impressive performance. At the top speed of 15.5 MPH, the Mi Scooter will cut your travelling time by a fifth when compared to walking. But speed does not mean that it is dangerous. The braking power and technology on this machine is very impressive. It sports a combination of disk brakes and eABS technology. This is the kind of tech that is seen in high-end bikes and cars. The Disk brakes ensure quick braking, 13.1 ft to be precise. The eABS ensures safe braking. You don't have to worry about skidding with the assisted braking system.
Best electric scooters for commuting is much more than toy we all grew up with. It needs to be durable, dependable and performance-centric. A commuter scooter should be able to deliver the same performance with every single day of the week.
Macwheel Electric Scooter
Macwheel Electric Scooter can be described in just 3 words, "power-packed performance". The scooter comes with top of the class 350 V motor. This extra 100 V power over most other commuting electric scooter pushes its performance to the next level. The scooter easily powers up a slope that many of its counterparts would struggle with. Riding over small obstacles is hardly a challenge for this commuter scooter. The power performance places it in the top tier of the best electric scooters for commuting. Especially for the ones who use it daily to commute to and fro from work. There are no perfect roads. If you have to start walking when you hit a tough patch, what is the point of a commuter scooter?
The big motor also comes with a big battery. The 270 W battery keeps going for up to 18.6 miles in favourable conditions. All of this with just a 4-hour charge. That means you can get your office, place it on charge and you are good to go in the evening. Best electric scooters for commuting will rid you of all our worries so you can just enjoy the ride.
What draws most people to this scooter is the reliability of tires. A flat turns you from a rider to a porter in no time. Not to mention, the replacement or repairs are expensive and not easy to come by. This is where Macwheels outshines the competition. The foam-filled 'air free' technology will liberate you from flats forever.
Hiboy MAX Electric Scooter
HiBoy is a gadget for the tech boys. It gives all the information that you would like about your electric scooter directly in your app. All the stats are a click away. All you have you have to do is connect the scooter to your android or iOS device via Bluetooth. You can just look into the app even before you start riding. You will know in advance if there is enough charge to deliver to your destination.
The riding modes available with this app make it one of the best electric scooters for commuting. You have options like cruise control in this commuter scooter. Just select the preferred mode and you can effortlessly glide to your destination. A lot of information like the speed, rising modes etc. are displayed on the LED panel mounted on the handle.
But the tech can be only as effective as the hardware in a commuting electric scooter. The Hiboy also comes fitted with a 350V motor. The motor is capable of delivering speeds close to 19 MPH and over 20MPh on a downslope. It does a great job going up the slope as well. This commuter scooter can handle elevations of up to 15 degrees with a lot of ease. This is the best electric scooters for commuting for grown men. The wider foot base with anti-slipping peddle makes it comfortable to stand on and reassuring to ride. The 8.5 inch solid tyres secure you from flats and you easier to ride in tougher terrains. The breaking is on par with the best in the industry.
XPRIT 8.5″ Electric Kick Scooter
When you look at a commuting electric scooter, it does not instil a lot of confidence in many grown people. It just looks so small, one wonders if it will support your weight, let alone carry you from point A to B. This is where the build quality comes into play. The best electric scooters for commuting will have more metal than plastics. When you ride an Xprit, you know it will not crumble under your weight. The scooter is just 27 lbs but it can support a weight of up to 220 lbs. That is almost ten times its own weight.
The 8000 mAh Lithium ion battery fully charges in under 3 hours and you are ready to go. It comes fitted with a 250 V motor that easily achieves speeds up to 15 MPH. There are also driving modes. If you are in a hurry you can switch to the power mode. But when you are out in your neighborhood, you can switch to battery saving mode and enjoy your surroundings.
Safety is another major concern while using a commuting electric scooter. You are fully exposed if you get hit by another vehicle. It should be easy for the other cars and bikes to spot you or on the road can. If not, it can very dangerous. There are safety reflectors for those darker patches on your route. That's not all, it also comes with flashing break lights, much like a car. If safety comes first for you than Xprit 8.5 is one of the best electric scooters for commuting.
NANROBOT Electric Scooter X4
We have saved the biggest 'baddest' motor for the last. The Nanrobot electric scooter comes with a 500 W motor. Doing speeds up to 20MPH is a piece of cake on it. This massive motor is powered by 48V 10.4AH lithium battery that lasts for up to 20 miles in just one charge. A battery this size takes only 4 – 6 hours to completely charge. The aluminium frame makes the commuter scooter light and quick.
With so much speed and power, safety becomes a genuine concern, but not with Nanrobot. The rear hub brakes are good for quick breaking. But this does not mean jerky breaking that could lead to skidding or screeching. The scooter comes mounted with a large 'headlight' which is a combination of LED and LCD. This gives a 75-degree field of light that is wide enough to illuminate the darkest of roads. This makes Nanrobots best electric scooters for commuting at night time. You can easily keep track of all the number and stats with a conveniently placed LED display even at night. From millage to the gear position, all the information is literally at your fingertips. Easy to charge, ride and store make it the perfect urban transport option.
Conclusion
All the scooters listed above are great choices. Every last one of them has a USP. If you need speed there are a couple of great options and if you are looking for long battery life and quick charging, there is a choice for that as well. If flat tires are the bane of your existence, you can change that in just one click here. Read: Best Electric Scooter for Climbing Hills | Top 5 Picks for 2019
Those who have owned a scooter in the past know what they need form the new one. The newly initiated can just go through all the features from our pick for the best electric scooters for commuting. You should not find it difficult to zero down on your expectations from your new commuting electric scooter. We have left no stone unturned to get you the most featured packed options. The best electric scooters for commuting is an individual choice. It has to cater to your specific commuting needs.