Many people consider installing a radiant baseboard heater or plug-in free-standing heater to avoid the hassle of instalment. This might not be ideal for cooling needs. Modern fan-based wall heaters are not just a breeze to install but provide much more effective heating over the traditional radiant style heat. An ideal choice for not just a bathroom but any small to medium-sized space like a living room or an entryway. If you want to choose the best electric wall heaters for bathrooms then read on. You came to the perfect place.
Electric Wall Heaters Buying Guide
An important factor to consider is the location of the electric wall heaters. The room's size and the heating capacity of wall electric heaters have to be compatible. If it is too low than the room will never reach it's intended temperature. If it is too big for the room, especially if there is no built-in thermostat, it could get too hot and uncomfortable. A simple equation to calculate heating needs is 10 Watts = 1ft2
If you are looking for electric wall heaters for a bathroom 10ft*15ft room (150ft2) you will need a minimum of 1500 watts electric wall heaters for bathrooms.
Installation and Electrical Needs
When looking for the best electric wall heaters for bathrooms, understanding the installation and electric needs are paramount. The best electric wall heaters would be the surface mount. The ones that need to be recessed into the wall are tougher to install an often need professional help. On the electrical end, relevant information will entail 2 things. 120 volts or 240 volts connection and does it need to hardwire or can you plug it into an outlet.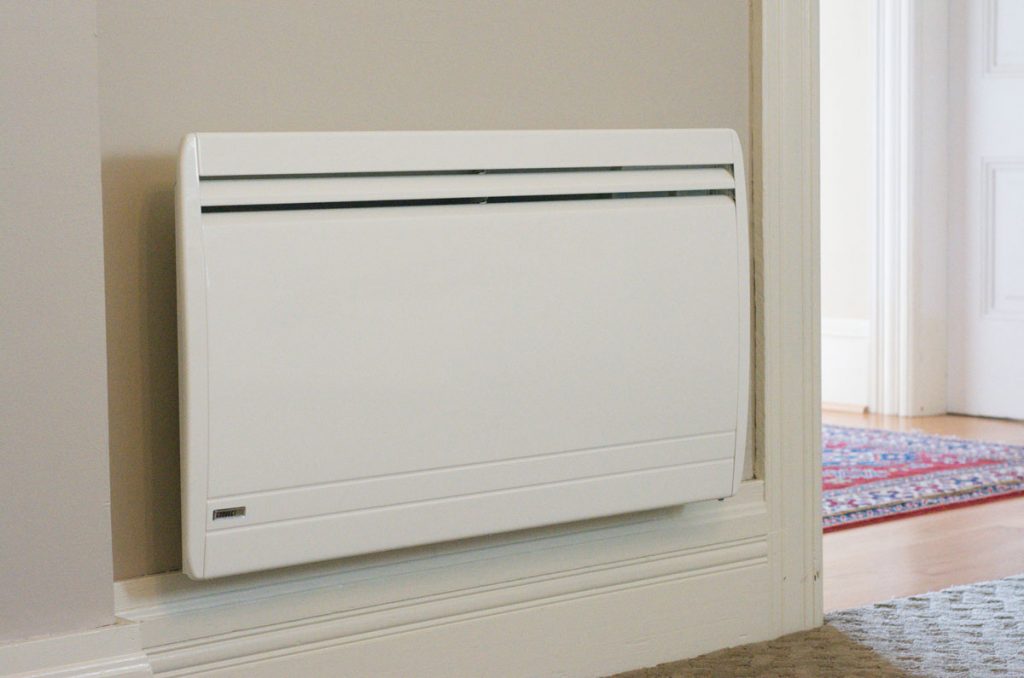 It is a common misconception that all-electric wall heaters for bathrooms are unsafe. This could not be further from the truth. What you need to look out for is the high limit shut off safety heater. The older models without this feature are deemed unsafe. The best electric wall heaters for bathrooms might not have the reset button. This often means that these modern bathroom water heaters have a built-in feature with automated reset instead of manual. Truly intelligent heating. Another important safety tip, always leave 3ft in the front and 2 feet on either side and top from any drapes, furniture or combustible items.
It is often easy to acquire the best electric wall heaters for bathrooms. But for it to stay the best it has to maintained well. The built-up of dust over time will lead to lower performance, rattling and even bad odour. Remove the grill and clean it every six months yourself. Be sure to locate the circuit breaker and switch of the power for safety.
Best Electric Wall Heaters for 2019
Now you know what to look out for when buying yourself the best electric wall heaters for bathrooms in the market. It's time to check out the best electric wall heaters in the market for your heating needs.
This electric wall heater is easy to install and fits neatly on the wall. It's white & aluminium finish is nothing less than a style statement. Though Marley SSHO4004 Qmark is a perfect electric wall heater for bathrooms that's not all. It is perfect for any commercial or residential space that you are looking at. It is a truly dynamic electric wall heater, that is designed to provide dependable heating in all environments. With 5 x 15.8 x 19.1 inches in dimensions and the flat wall mount design is a perfect use of limited spaces like the bathroom.
The Marley SSHO4004 Qmark has a phenomenal heating range of 40°-99°F. A true all winter ally. The built-in thermostat is an absolute boon and this bathroom water heater can maintain temperatures within 1.5 degrees of the settings. For those who live in apartment buildings, the best electric wall heater is always Building Management Systems compatible. And the cherry on top of all these features is efficiency and safety. The built-in system that automatically adjusts the heating and wattage is both a power saver and a light saver.
---
The next item on our quest for best electric wall heaters for bathrooms leads us to this state of the art equipment. This energy-saving heating spectacle has a dynamic heating capacity. It can be customised to all heating needs of a bathroom water heater with an impressive range of 4000 watts to 200 watts.
But the flexibility of this bathroom water heater does not stop here. It can be either wall-mounted or recessed into the wall as per your installation requirements. The one-peace baked animal design makes it more durable than its competitors. It also gives it a clean design that adds to the aesthetics of any room it is installed in.
A permanently lubricated motor, high-quality working parts and thermal overload protector has made them immensely safe and durable. A quality standard that has been accredited by a UL Listed Mark. Broan-Nutone 198 High Capacity Wall Heater is not just efficient but also smart. The auto-adjusting fan speed helps regulate temperature by avoiding drastic fluctuation in the heating.
---
Another fierce competitor for the title of best electric wall heaters for bathrooms is Stiebel and right so. This electric wall heater will take limited space where ever you install it and that makes it best electric wall heaters for bathrooms. This neat, slick and compact unit might look small but don't let that fool you. The nifty 240-volt motor can generate heat that belies its size.
This compact heating unit fits into man roles. It is one of the best electric wall heaters to heat a small area like a bathroom or a laundry room. Sometimes a room the central heating unit is not being able to regulate temperatures as desired. This is where Stiebel is a perfect addition as a complementary heating unit.
Flexibility and adaptability of heating needs are often overlooked. The built-in thermostat can be always set to constantly regulate the temperature. What if you step into the bathroom on a particularly cold morning and that extra boost of heat just to get you going. The booster timer on CKT is how you take control of your heating needs. Once the timer is set it will condition air to your requirements for up to an hour before reverting to the thermostat's temperature.
---
Nest in line for the best electric wall heaters is the mighty Cabet. As the name suggests, this electric wall heater is a pioneer in the space of energy savings and comfort. The unit comes with an inbuilt digital thermostat. It is not just an easy and modern way of controlling your heating it is also reliable and maintains a temperature within a degree of the displayed temperature. It is also known to consume up to 30% less energy in comparison to traditional electric wall heaters. Another way to save heat is to shit to the fan settings to circulate the air around the room.
The intelligent smart energy-saving capabilities of Cabet seem to be limitless. This smart machine is not always on or always of. The smart energy efficiency technology helps it use only as many watts of energy as needed. If it needs more heat or fan to reach the desired temperature it will adjust accordingly. A brilliant balance of efficiency and effectiveness.
Another feather in its intelligent design is its capacity to fit into the same place as the old unit. It auto-detects the voltage and makes installation that much easier.
---
The last but far from the least in our search for best electric wall heaters for bathrooms is the Pulsair 1501TW. The Pulsair's discreet and compact design helps it fit perfectly in any space. It is also known to have one of the quietest fans in the industry only adds on to its discreetness.
It's perfect for tight spaces like bathrooms. It works best where cold air rushes in due to the constant opening and closing or doors. This cold air will always settle at the bottom. The Pulsair is extremely efficient at sucking in this cold air, rapidly heating it and then releasing it back. This leads to reaching desired temperatures very quickly. This very capable unit is also one of the most fiercely priced portable bathroom heater.
To Sum It Up
Every home and every room have its own unique heating needs. Whatever might be your specific needs, one of these electric wall heaters will be a perfect fit.
We have tried to educate you about all the factors that should be taken into consideration before buying electric wall heaters for bathrooms. All that is left to be done is putting our recommendations and the buying guide together. Once you do that, the best electric wall heaters for bathrooms for you is just a click away.