Acne scars can be stubborn and ignoring them doesn't accelerate their disappearance. Having scars on the face or body can be detrimental to one's confidence and self-image. Especially, when your scars are prominently visible and have not been improving at all. There comes a time when you have to do something about your frustrating skin issues. We've all heard the endless benefits of essential oils for our skin, hair, and basically our overall health. If you've had it enough and you're looking for the best essential oil for acne scars, you've come to the right place. This little guide is full of information that will get you started on your skin repair journey. Not only that, but you will also be able to choose the right essential oil for your acne scars from our list of reviewed oils. Let's get started!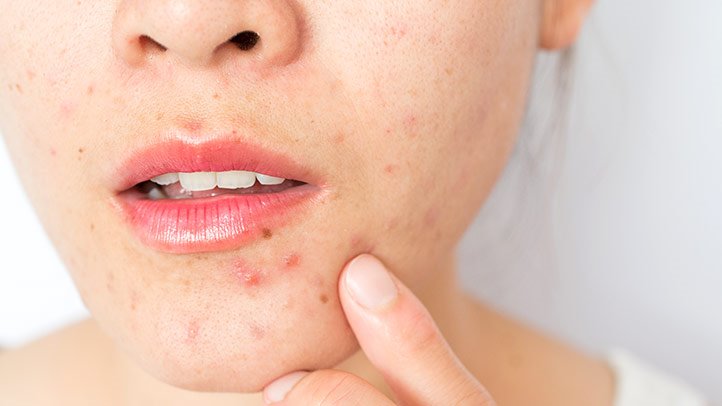 Factors to Consider Before Buying Essential Oil for Acne Scars
The safety
Sometimes essential oils can cause some allergic reactions on your skin. Therefore, it is always recommended that you should not apply them directly on the face, undiluted. Mix your essential oil with comedogenic substances like coconut oil before applying. When you combine essential oils with any fragrance lotion or carrier oil, it will reduce the potential allergic reaction. Before you put anything on the face, test it in your arm, then on your jawline just to be extra careful. The best essential oil for acne scars is one that passes this test without any issues.
Your skin type
If you have sensitive skin, you need to be very careful when looking for essential oil for acne scars. Never use citrus oils like lemon oil, orange or lime oil on your face even if it is in a diluted form. Lime and other citrus component and their oils have chemicals which makes your skin sensitive to sunlight. When you are exposed to the sun's UV rays, these compounds cause a special reaction which is called Phyto photo dermatitis. This can result in the occurrence of rash, swelling or sometimes blisters too. Besides the initial itchiness and pain, these compounds can also cause skin discoloration.
Your acne
Research indicates that essential oils can help with acne because of their anti-inflammatory and anti-microbial effects. This will help in stopping the formation of pimples. Acne forms when skin bacteria proliferate using the sebaceous oils of the follicles of hair on the skin. And this is the key player in pathogenesis. The bacteria cause inflammation all around the follicle and the area becomes red and angry. Essential oil for acne can help this situation, but you need to pick the right ones.
Combining essential oils
Wondering if you can combine essential oils with other acne scar treatments to come up with the best scar treatment? Well, it is not good to combine any essential oil with any acne treatment. Mixing up the cream with essential oils can develop the risk of side-effects such as redness or skin peeling. If one is using an oral acne treatment, one should definitely consult a dermatologist before using any essential oil with them.
Best Essential Oil for Acne Scars
PTKOONN Scar Repair Oil
Are you looking for a magical potion to get rid of your acne scars? You've stumbled upon a great one and that too at a very reasonable cost. This scar repair oil is a blend of several natural and herbal essences.
Its natural formula makes it a safe option for restoring and renewing all skin types. You can use this on scars or wounds on limbs, body, as well as the face. It only helps with your scars, but also your stretch marks and loose skin.
This scar cream has a light consistency, so it absorbs quickly and there is no leftover residue or smell. If you are using it for surgery scars, it is advisable to start using it as soon as possible. That's because it has been known to work best when the scar site is still healing. It is one of the best essential oils for wound healing.
Rosehip Seed Oil by Kate Blanc
The benefits of rosehip oil for our skin are hidden from none. Kate Blanc brings these benefits to you in the most affordable form possible. This cold-pressed, pure, hexane-free rosehip seed oil is one of the best essential oil for acne scars in this price range.
You can reduce your fine lines, acne scars, stretch marks and skin dryness using this oil. This is also a good one for people battling with eczema and dermatitis. It works as a facial toner and provides an anti-aging effect since its rich in essential fatty acids.
The feather-like consistency of the oil lets you apply it under your makeup for an enhanced glow. The formula is completely organic and paraben-free. Other than its scar lightening properties, it can also be used as a hair growth serum and a moisturizing lotion.
Aria Starr Rosehip Seed Oil Cold Pressed
Are you tired of the scars on your face or body and want something that really works? Well, Aria Starr has got the right product for you. This is a 100% pure rosehip seed oil that is one of the best essential oils for old scars. You can expect to see a reduction in your skin discoloration, dark spots, blemishes, under-eye bags, stretch marks, etc. with regular application of this oil. Additionally, it also helps you smooth out your wrinkles and even out your skin tone. The oil bottle is made of dark glass that limits the oil's exposure to sunlight, which is an intelligent design. It also comes with a dropper, so the application is super easy.
Tamanu Oil – Pure and Cold Pressed
This essential oil by Tamanu is for those looking for more than just a scar reduction oil. It is pure nut oil that is considered one of the best essential oils for internal scar tissue. It works great for getting relief from eczema, toenail fungus, insect bites, acne scars, psoriasis, and sunburns. Its antimicrobial and antifungal properties have been backed by the latest research. It is pure and cold-pressed oil that is sure to soothe your skin and pour life into it. The production process is designed in a way that the active substances in the oil are not lost during processing.
Pure Tamanu Oil Organic Cold-Pressed Unrefined
Tamanu believes in rolling out affordable, high-quality skincare products. And this all-rounder essential oil is an excellent example of that. The formula consists of a blend of vitamin E, vitamin A, and essential fatty acids. All of these ingredients acceleration the production of new dermal cells which enhances the overall texture of the skin. It has been proven to be effective in reducing rosacea, eczema, acne scars, rashes, skin scaling, and similar skin issues.
This can safely be considered as one of the best oil for scars after surgery due to its analgesic properties. It also provides sun protection and can be used as a sunscreen as well as mosquito repellent lotion. This multipurpose oil can even be used for pains stemming from neuralgia, bug bites, arthritis, gout, sores, and sciatica.
Frequently Asked Questions
Which one is the best essential oil for acne scars?
The best essential oil for acne scars is rosehip oil by Kate Blanc. This oil is highly rich in fatty acids and antioxidants, which are integral for dermal tissue and cell regeneration. This oil can also be used as a folk remedy for the healing of wounds, as well as reduction of scars and fine lines. Read: How to Get Rid of Deep Acne Scars | 10+ Quick Tips
Rosehip powder shows a significant reduction in the appearance of the fine lines under the eyes that too after eight weeks of treatment. Research has shown that post-surgical scars can be treated very well using topical rosehip oil.
What essential oils are good for clear skin?
There are many essential oils that are good for clear skin, like Bergamot essential oil, rosehip oil, tea tree oil, etc. Bergamot is useful due to its antiseptic and disinfectant properties. It has an amazing fragrance and a very light consistency. Chamomile oil is another great option for obtaining flawless skin. This oil has the ability to combat irritations, inflammation, infections, and allergies. It also calms the nerves and promotes a sense of ease and rest.
Conclusion
Dealing with some tough scars for years now? Or maybe you have a brand new surgery scar that you don't want to be left to mature. It is never late to start working on your dermal health and planning a farewell for those scars. Essential oils can be a blessing when it comes to improving your skin texture and reducing scars.
Essential oils contain various vitamins and minerals that possess skin rejuvenation and skin-repairing properties. Regular use of these oils can visibly reduce your acne scars, stretch marks, and even your fine lines. However, skin recovery can be a long process due to the slow turnover of dermal cells. Therefore, the sooner you start using these on your problem areas, the better it will be. So, read up on our guide that talks about the best essential oil for acne scars and pamper that lovely skin of yours.