Love the game of golf, but the weather comes in the way sometimes? And your local country club or pro shop is way too far to be visited for the golf simulator experience? Well, every golf lover has had these thoughts at some point and that's why in-home golf simulators are becoming increasingly popular. That also means that they are more affordable and easily available for purchase. These days, you have a wide range of home golf simulators to choose from. And that's not always a good thing because that can make the choice even harder. So are you looking forward to investing in the best home golf simulator, but don't know where to start? We are here to help you with your guide that covers all the things there are to know about buying a golf simulator for your home.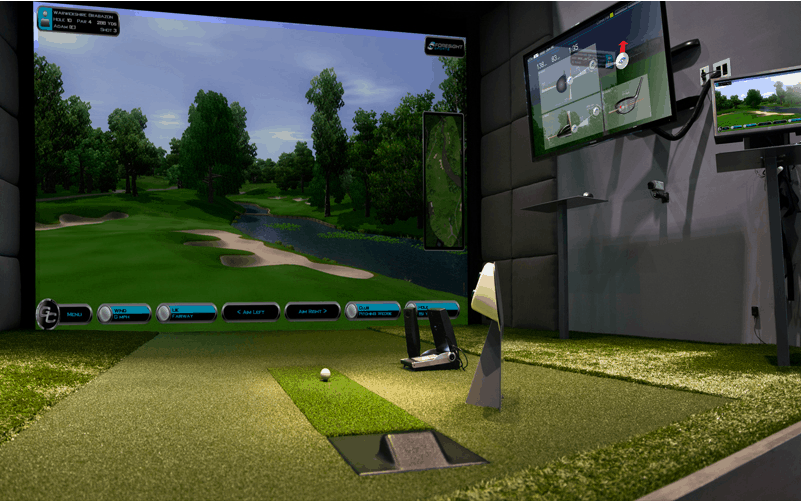 Factors to Consider Before Buying Home Golf Simulator
Before selecting a home golf simulator you should get a sound knowledge of all the different types of golf simulators as well as their pros and cons. You should have a clear idea about your needs as well. The best home golf simulator is one that can be put up easily not only in your home but also at the office, in the basement or the garage.
Material
The first thing to be kept in mind while selecting a golf simulator is the quality of the materials used to make it. The golf simulator setup consists of a hitting mat, a hitting net, and a golf simulator. It has sensors which sense the movement of the ball and the impact of the golf ball after hitting. The sensors also give information about club data and ball data using computer software. Secondly, the hitting mat should be of good quality so that you feel real. Finally, the net should be of such material that it prevents damage to the screen.
Cost
It is advisable that you stay away from cheap simulators available out there. This might look like a huge investment in the beginning, but buying a cheaper one will cause a lot of frustration later. So before buying a best home golf simulator, you should go through the price list as well as the performance.
Portability
Portability is a big one on this list. Your in-home golf simulator must be easily portable so that you can carry it anywhere without a mess. Also, it shouldn't occupy too much space. For the simulator to be more portable, it should be light in weight as well.
Space
As for space, you need to keep a number of things in mind when considering buying a home golf simulator. Firstly, a ceiling height of 10 feet is considered to be a safe distance. This size is known to accommodate most golfers' swing type as well as height. The next thing is the room width, which should be at least 15 feet if you are going to have both left and right-handed golfers. The same applies to the room depth too. It should be minimum of 15 feet for you and your friends to be able to enjoy the game properly.
Best Home Golf Simulator Review
The Net Return Simulator Series
Have you been looking for a full-fledged golf simulator and money is not an issue? Then you have landed at the right place. In a 2000-dollar range, you get one of the best home golf simulator. It is super easy to assemble with push buttons. It is lightweight and very strong, so it is sure to last you for a long time. The floating white HD screen is designed to give you the brightest high definition image for your projector and golf simulator.
The size of the golf bay is very impressive as it can fit in the smallest of spaces. The entire bay is stitched with high impact netting, which can withstand ball speeds of 225 mph. You also get side barriers that ensure that the mis-hit balls always stay in the hitting area. And the best part is that Net Return's every simulator series is handmade.
Carl's Golf Simulator Enclosure
Maybe you have got all the things covered and are just looking for a golf simulator enclosure that doesn't burn down your wallet. If yes, then this one by Carl's is a great one and falls in the 800-dollar range, making it pretty affordable. This product includes a premium quality golf impact screen along with a black nylon enclosure. Other than that, you get 6-inch ball bungees, steel corner fittings for the construction of the frame, and a weight bag. There is also a guide to help you assemble the whole thing properly.
Worried if it will fit your small garage or small spare room in the house? Well, worry no more, this 5-inch deep size is sure to fit limited spaces without compromising the play accuracy. If you've got a bigger space, you can go for their 10-inch option as well.
Zepp Golf 3D Swing Analyzer
In less than 200 dollars, you can get this revolutionary Smart Coach Training System by Zepp Golf. You will have to take a few swings and Zepp will immediately evaluate the areas where you have to improve. It will offer you training programs that are tailored to your swings. You have to just attach the sensor to your glove and Zepp will train you to become the golfer you dream to be.
This 3D Swing Analyzer measures the most important aspects of your swing. These include namely tempo, backswing length, club speed, club plane, and more. These immediate evaluations help you focus on your training in the best way possible.
Rapsodo R-Motion
Looking for an even cheaper swing analyzer? This is the most affordable one of this list. The Rapsodo R-Motion, Golf Club Simulator, and Swing Analyzer are a popular choice among aspiring golfers.
The driving range has a quality turf that makes it possible for you to swing accurately as if playing on a real golf course. This product comes with 15 unique golf courses. You can enjoy a good game without paying membership fees at the local golf club. If you want to play with your family and friends the simulator offers four multiplayer positions. And who doesn't like a fun afternoon with their loved ones? If you have a wide range of golf clubs that you never use, this golf simulator is going to change that for you. It will have you play with different clubs and even enjoy it.
Phigolf Smart Golf Game Simulator
Phigolf is the best home golf simulator that comes with a swing analysis device. The sensor fits into any golf club and gives an assessment of your putting technique and swing. It also gives you information on your tempo, distance, angle, and club speed. The sensor is small and hardly noticeable and it screws into the top of your club. It weighs around 10 grams and does not come in the way of your swing.
Another thing is that the app needs to be downloaded either on a tablet or Smartphone to get the full use of the product. Phigolf can be played on the big screen TV or a smart TV by simply mirroring the app onto the TV. And the best part is that you get all this goodness in less than 300 dollars. How great is that?
Frequently Asked Questions
How much does an in home golf simulator cost?
You can get the best home golf simulator for around $500. The accessory costs like projector mounts and cable could add about $50 – $200 more to the whole deal. You also need to buy a mat that would cost around $100 or less.
What is the most accurate golf simulator?
One of the most accurate golf simulators is the simulator by Net Return. It falls on the higher side of the price spectrum, but it is surely worth the cost. It is a high-quality, weightless and strong golf simulator. You get the brightest image on your projector with the floating white HD screen which also increases the accuracy of this product.
How accurate is a golf simulator?
The accuracy of a golf simulator depends on a number of factors. The golf simulators that use infrared light to retrieve information about ball flight and club head are not very accurate. However, golf simulators that operate using machines like Flightscope and Trackman are known to be quite accurate. They give information about launch angle, ball speed, and spin, which is significant when calculating the ball distance.
What is the cheapest golf simulator?
The cheapest golf simulator that you can get without losing the quality is the Rapsodo R-Motion Golf Club Simulator. It is a popular product since it also comes with a Swing Analyzer in a very affordable price range. The product offers 15 unique golf courses and has a multiplayer option.
Conclusion
There are a lot of factors you need to take into account before deciding which home golf simulator to purchase. And we are here to make the purchase easier for you. So, go through our guide about in-home golf simulators and choose the right fit for yourself.