Are you struggling to lower your handicap? Maybe it's time to try a better golf club. Looking through beginner-friendly equipment, we found a couple of clubs that could suit your needs. As making the right call can be hard sometimes, we figured you'd need some help. We felt it was our duty to compile a selection of the best hybrid golf clubs for high handicappers available.
If you're oblivious of what makes these hybrid golf clubs a valuable addition to your set, don't worry. We'll set the record straight as we explain the best way to choose your golf clubs depending on your needs.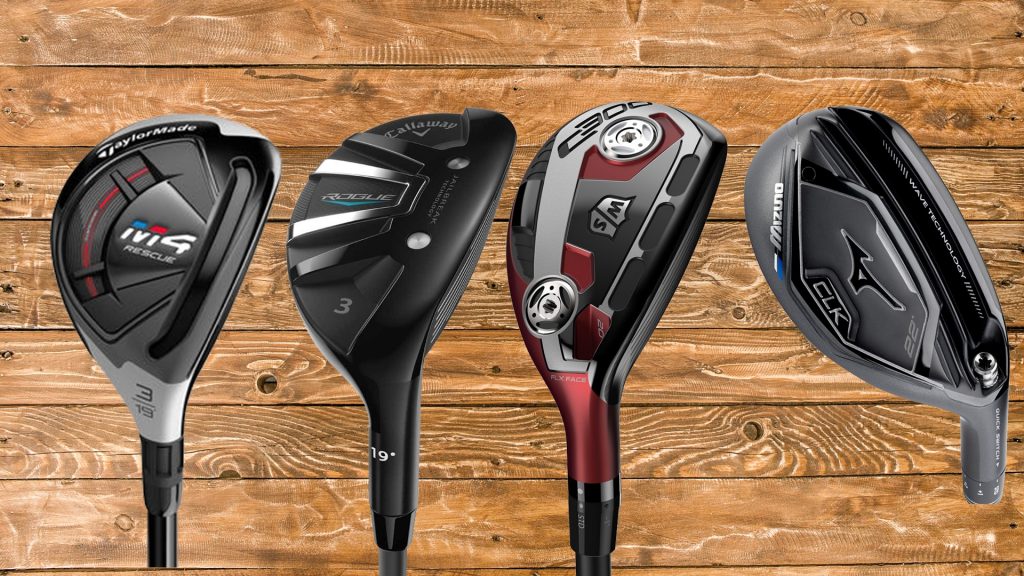 Improving Your Game With a Hybrid Club
Hybrids are a mixture of both woods and irons, commonly referred to as "the best of both worlds". Their great distance and control are appraised by novice players and professionals alike. These golf clubs are also a fair mid-ground for those avoiding the low loft in wood clubs.
If you're adding a hybrid club to your set, you should be mindful of the following:
Choose the right loft
If you're looking for a forgiving club, hybrids provide enough leeway for new and intermediate players. However, it's crucial to pick your hybrid clubs wisely. Although they offer better control than woods, a hybrid club with a low loft will be similarly hard to master.
Your selection has to be made considering the circumstances to find the ideal approach. A hybrid 2H could be a great replacement for an Iron 3 or fairway wood, for instance.
A club to match your style
Every player is allowed to plan his strategy, and selecting your clubs is the first step in that process. Different approaches require appropriate equipment to be carried out satisfactorily.
Your choice depends on your technique and personal style.  When you care more about distance than precision, a lower-numbered hybrid is a great alternative. If you prefer switching to your #4 hybrid as you get closer to the green, that's up to you.
Best Hybrid Golf Clubs for High Handicappers Review
As a non-professional player, it could be hard for you to decide which clubs are best for your style. We've tried many hybrid golf clubs, and these are the ones we commonly recommend to high handicappers:
Majek All Hybrid SW
One of the most annoying things for any player is to spend several shots hitting out of the bunker. For that reason, it's wise to keep a sand-wedge in your arsenal at all times. This hybrid beauty from Majek is a solution to those uncomfortable scenarios.
Although intended for seniors, it's a solid choice for men in general. With its 55° loft and low gravity center, this golf club ensures a simple way to get you out of trouble. If sand traps are keeping you from a lower handicap, this is your best choice.
Pros
Great distance
Lightweight
Very convenient
Cons
Moon Wood MW8
This is another marvel to be considered among the best hybrid golf clubs for high handicappers. This golf club is versatile, allowing you to get out of rough easily and attacking narrow fairways like a pro. The control provided by the shorter shaft was beyond our expectations.
The MW8's clubface is shallow with a low gravity center head, granting altitude to your hits with no effort. With such a large "sweet spot", you'll find this club being more forgiving than similar alternatives. A great alternative for both men and women.
Pros
Great control
High-flight
Clean contact
Cons
Thomas #1plus Hybrid Iron
These hybrid golf clubs for high handicappers come in handy as you approach the green. Although they're better at short distances, the control they provide is remarkable. To go over the water or maneuver around tight spots, this is the best hybrid club available.
Another added benefit of the #1Plus club is its beginner-friendly design. The head is shaped in a way that maximizes its "sweet spot", to the relief of fresher players. This grants a consistent performance even in the hands of a rookie.
Pros
Great for beginners
Amazing control
Outstanding grip
Cons
Isn't made for long distances
Adams Pro 20
The Adams brand presents us another alternative deserving of its place among best hybrid golf clubs for high handicappers. This is an aesthetically appealing choice for golf players of any skill level, with a performance that outmatches its competitors. Its 20-degrees loft makes it great for long distances and clean landings.
The sturdy graphite shaft, although somewhat heavy, is well balanced in length and grip, resulting in a powerful swing. A cut-through slot in the head also enhances your aim, providing more forgiving strokes consistently.
Pros
Good for long distances
Very versatile
Attractive design
Cons
Autopilot iRT-5 Hybrid
One of the most well-designed hybrids golf clubs is the iRT-5 by Autopilot. This easy is an easy solution when you're concerned about accuracy and distance. It's a golf club that ensures a nice fly and total control. These come in several lofts ranging from 20 to 32 degrees.
The smart design features 5 rails at the sole of the head that prevent the grass from disrupting the impact. These "machete rails" significantly reduce fat shots and low-right misses, besides adding an exotic appearance to the club.
Pros
Beautifully designed
Beginner-friendly
Clean impacts
Cons
Staff's length is a bit off
Frequently Asked Questions
What is the most forgiving hybrid club?
The most forgiving hybrid club is Thomas Golf's #1Plus Hybrid Iron. It's patented head design corrects the angle of impact to provide good and consistent results for novice players. Read: Best Drivers for a Slice
What is the easiest hybrid to hit?
For an easy hit, the best hybrid golf club available it's the Moon Wood MW8. The shorter shaft and clever head design assure clean contact with little effort. Read more: Best Driver for Beginners
What is the best hybrid for a high handicapper?
Depending on the task at hand, the best hybrids for high-handicappers are:
Adams Pro 20Thomas
#1plus Hybrid IronMoon
Wood MW8
Majek All Hybrid SW Senior
Autopilot iRT-5
Conclusion
Switching to hybrid clubs can help to lower your handicap as you keep practicing to further improve your game. A good hybrid golf club set can make a world of difference when you know how to use them. If you want to take your game to the next level, these clubs' short learning curve is the fastest way.
We presented to you the best hybrid golf clubs for high handicappers, but the choices are up to you. If you can include these clubs in your bag, you'll agree with our picks as your technique and scores improve.