Larger breed puppies grow at a significantly fast rate. And proper growth can only be ensured by a proper diet. Undernourished puppies tend to develop a plethora of health issues as they transition into adulthood. Therefore, it is imperative to choose the right food for them. However, finding the best large breed puppy food can be a pretty challenging task, especially if you are a new pet parent. There are several dog food brands out there claiming to be the best. So, how do you know which one to choose for your fur baby? We have compiled some great information to help you through this purchase. Let's check it out!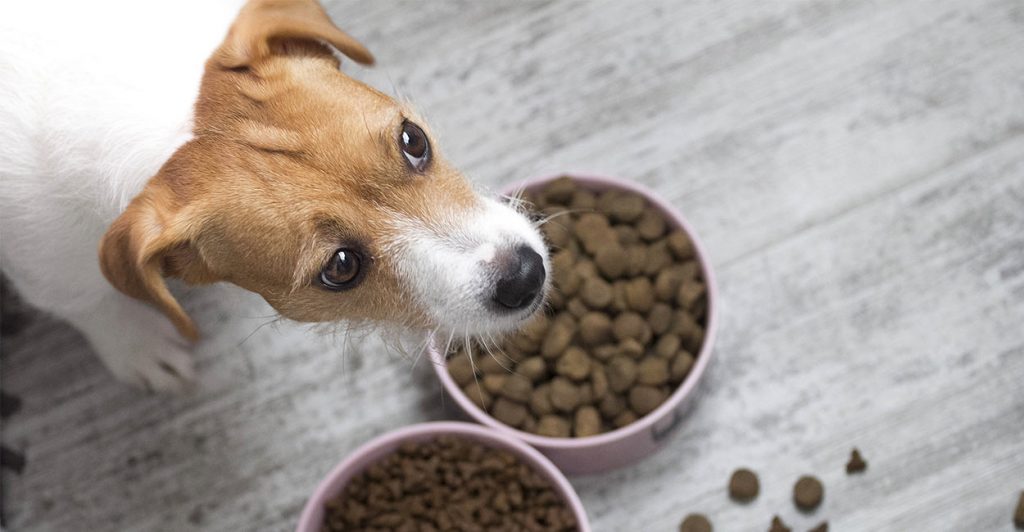 Factors to Consider Before Buying Large Breed Puppy Food
In order to have a healthy physique, your dog needs a high intake of protein. The most preferred source of this protein for dogs is muscle meat. This meat can come from pork, chicken, duck, and pork meal. A chicken meal that consists of dry meat concentrates contains up to 30% more protein than fresh meat. Chicken fat is another important ingredient which you should include in your dog's diet. The high content of linoleic acid in the fatty cuts of meat are essential for your dog's skin and coat.
Your puppy's food should contain high levels of DHA/EPA. Including fish oil in your puppy's daily diet can bring in these essential nutrients. Fish oil has a rich content of omega-3 fatty acids that work to keep your dog's brain and internal organs healthy. Make sure your dog's food also has chelated minerals and a complete spectrum of vitamins.
There are some ingredients that should be avoided when looking for the best puppy food. Sodium hexametaphosphate is one such component that has no nutritional value. It is a man-made polymer and can be found in dog food products from unreliable brands. Cornmeal is another ingredient that is not preferred for dogs. Cornmeal is usually used as a filler in pet foods and has a very high amount of carbohydrates in it. Too many carbs can make your dog lethargic and cause internal inflammation. Other than that, it is always wise to avoid additives or artificial colors, which can result in allergies. Read: Best Dog Food for Border Collies | Buying Guide 2019
As for the macronutrients, just like humans, the dogs also need a healthy composition of proteins, fat, and carbohydrates in their diet. Protein intake is essential for the paced growth of your puppy. However, too much protein can lead to an imbalance in phosphorus and calcium levels in the body, so stay mindful of that.
Large breed dogs need more calcium since they have heavier bones. The calcium intake recommended for larger breeds is around 1.5% which is 3 grams/1000 kcal. The calcium to phosphorus ratio should be somewhere between 1:1 and 1:3 to bring about a good absorbance rate.
Puppies are prone to bone diseases like Panosteitis, Hypertrophic osteodystrophy, and elbow dysplasia. Improper bone growth during the developmental period affects bone blood vessels and this leads to inflammation. To prevent all these ailments, make sure that your puppy gets ample amounts of fat through edible oils and fatty cuts of meat.
Another important factor to be considered while you are buying food for your large breed puppy is the safety standards. Makes sure you check the label on the dog food that mentions its FDA approval. Cheaper brand dog foods are usually not passed through many safety checks. So you might want to avoid those.
Best Large Breed Puppy Food Review
IAMS Proactive – Chicken
IAMS provides a healthy and nutritious dog food option for large breed puppies that are recommended by most veterinarians. This dog food is made with all-natural ingredients with the major one being chicken. Other than that, it contains wholesome grains, fruits, beet pulp, and vegetables. The most important part is that it contains over 22 key ingredients that are present in a mother's milk.
This best large breed puppy food gives a robust and strong immune system to your puppies. It has added omega-3 fatty acids and DH to help with the development of healthy bones and muscles. And the best part is that you get a 38.5 lbs bag of this puppy food for a very reasonable price.
Hill's Science Diet – Chicken Meal and Oats Recipe
If you are on the lookout for a balanced calorie diet food for your large fur baby, then this is the right choice for you. In this dog food, there are controlled levels of calcium for optimal bone and teeth development in puppies. It also contains various essential vitamins, antioxidants, glucosamine, chondroitin, and fatty acids.
The taste of real chicken and oats are a treat and will be loved by your dog. Your puppy's brain and eyes are sure to stay healthy with the DHA that this food is rich in. This has been rated as one of the best large breed puppy foods by several happy customers.
Blue Buffalo – Chicken and Brown Rice
Are you looking for a high-protein dog food brand that doesn't drown your wallet too much? Blue Buffalo has a great deal for you. In less than 40 dollars, you get a 30lbs bag of high-quality natural dry dog food. This one contains defined chicken, chicken meal, brown rice, oatmeal, and barley. It is a grain-inclusive puppy food that helps in the growth and development of all puppies including large breed.
This product gets the lion's share of its meat protein from chicken and chicken meal. The dry matter label analysis indicates that the recipe contains 29% protein, 17% fat, and 46% carbohydrates. This results in a fat-to-protein ratio of about 58%, which is pretty impressive.
Taste of the Wild – Venison & Bison
Looking for a dog food option without chicken? Feed your canine companion with the best large breed puppy food offered by Taste of the Wild.  This grain-free recipe is made with novel proteins including buffalo and bison, roasted venison and beef for lean nutrition to help support strong muscles.
This contains vitamins and powerful antioxidants from real fruits and vegetables that support overall health. The omega-3 and omega-6 fatty acids in this food work towards keeping your puppy's fur shiny. This nutrient-rich and highly digestible recipe contain no wheat, corn, fillers, artificial colors, flavors, or preservatives.
Blue Buffalo Wilderness – Chicken
This is the most expensive dog food option on our review list and will interest those who are looking for a premium-quality product. Blue Wilderness has rolled out the best large breed puppy food in its class. In less than 50 dollars, you get 24 lbs of natural puppy food that is grain-free. It has ingredients like bison, quail, venison, rabbit, halibut, etc.
To preserve the potency of this dog food, it is cooked at a low temperature. It contains added DHA, ARA, vitamins, choline, etc. which are essential for proper growth. Your puppy's cognitive and retinal health is taken care of by the fatty acids in this food.
Frequently Asked Questions
Do large breed puppies need special food?
Large breed puppies do need special diets to avoid certain health risks. Large breed puppies have more aggressive nutritional requirements as compared to smaller breeds. Their food should be high in animal meat protein and fats. They also need a considerable amount of calcium to fight any bone abnormalities during their growth phase. Read: Best Dog Food for Pitbulls | Top 5 Picks | Buying Guide
How long do you feed large breed puppy food?
Large breed puppies should be fed dry food for 9 or 10 weeks. As your puppy becomes 4-6 months old, you can decrease the feedings from four to three times a day. If you continue to feed large breed puppy food past the point of maturity, it could result in weight gain and obesity. Obesity has been known to cause various health issue including cardiovascular ailments.
What is the best dry food for dogs?
The best dry food for dogs is the one sold by Blue Wilderness. They believe in all-natural puppy food that enhances the overall health of the dog. This product by Blue Wilderness is a grain-free option for dogs that are allergic to grains. Its ingredient list includes meats from bison, quail, venison, rabbit, halibut, etc. Not only that but it also contains added DHA, ARA, vitamins, and minerals.
What is considered a large breed puppy?
In order for a dog breed to be considered a large dog breed, the dog should weigh at least 50 pounds and have a height of around 24 inches. Officially, any dog breed which weighs between 50-100 pounds is considered a large breed.
Conclusion
Our dogs are a crucial part of our family. And their nutritional requirements need just as much attention as those of our children. However, choosing the best large breed puppy food can be daunting since their health depends on it. Worried if a certain dry dog food has all the nutrients that your puppy might need? Worry no more! Our brief guide is here to clear all your doubts and help you keep your furry friend healthy.