Chairs commonly used around the house serve a basic function. Too much time on such chairs could escalate lower back pain problem. Selecting the best living room chair for lower back pain has to be an informed decision. A good living room chair has to be relaxing while providing ample lumbar support. Sturdy built is equally important. If the joints become weak, you will soon find yourself sitting in odd postures.
Buying the best chair for back pain relief is a long term commitment. The choice of fabric or material used plays a vital role. It must feel good and last long. Cushions are the sole of a living room chair. They must be perfect when you buy them and stay that way for a long time. Here are our top picks for living room chair for lower back pain with a through break down.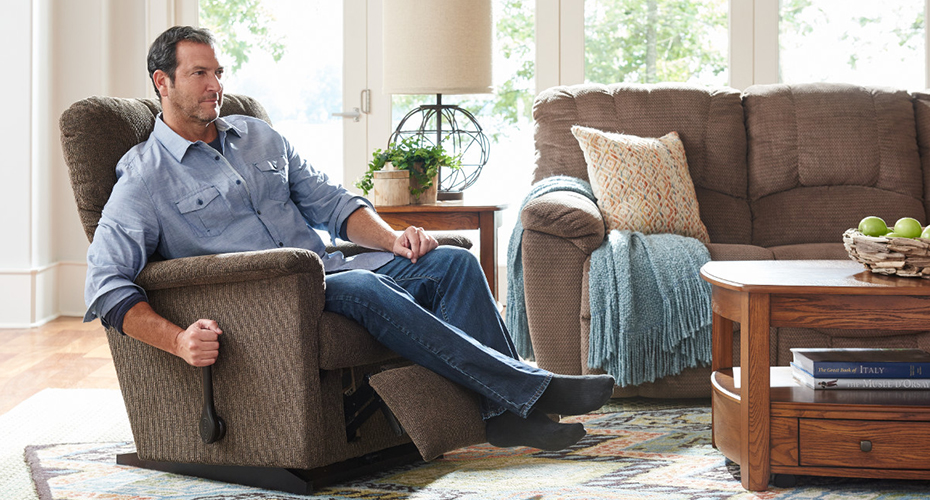 Best Living Room Chair for Lower Back Pain Review
Human Touch PC610
This is one plush chair. A zero gravity sitting posture is essential to qualify as a best living room chair for back pain sufferers. It decompresses the spine, creates more room in the lungs and improved blood flow by elevating the legs. It almost sounds like medical aid. It's the superior build and high-quality materials will make it the pride of your living room. The structure is hand-carved out of Hevea Brasiliensis wood. Feels great to touch. The nickel-plated glide rails are effortless and built to last thousands of glides.
This chair is truly premium. The upholstery is crafted out of Human Touch premium leather. Large head support, adjustable arms and extended armrest take sitting from an act to experience. One of the best living room chair for lower back pain with a little extra.
Pros
High-quality materials
Adjustable lumbar support
Smooth Nickle gliding
Cons
Golden Technologies PR-505
The PR -505 oozes luxury from every angle. It offers a full chaise pad seating for maximum comfort and lumbar support. There is no gap between the leg rest and the base. As expected, it provides a great zero posture sitting position. But you don't have to do it physically. Just press the button on the controls attached to the chair and you will glide into the infinity posture effortlessly. That is real relaxation. The choice of upholstery used to cover this chair is both premium and easy to maintain.
Top-quality cushions provide balanced support and will maintain their shape over time. It offers multiple postures options. Whether you are entertaining guests or just kicking back in front of the TV.
Pros
Programmable hand control
Multiple design options
Cons
A heating option is not available
Mecor Massage Recliner Chair
The type of recliner is essentially known as the "lazy boy chair", only this one is made for grown-ups. The recliner can commit to the zero-gravity posture effortlessly with just a pull of a lever. But it gets better and better. The best living room chair for lower back pain needs massagers. This one comes with 8 massage points. These are available with 5 massage modes and individual control of each of the 8 points.
Back and joint pains tend to get worse during winters. This recliner has you covered with its internal heating system. It rocks and it rotates, comfort for every mood and direction. It has a lot of conveniently placed storage for your magazines, cups and remote. Just kick back and relax.
Pros
Inbuilt massager
Heating function
Convenient storage
Cons
Relaxzen Reynolds
The best living room chair for lower back pain is beyond comfort, it's about luxury. Despite the common misconceptions, a recliner's form factor creates room for some remarkable features. This timeless design elevates any room it is placed it, may it be the living room or the study. The faux leather upholstery is easy to maintain and feels great against the skin. The comfort foam cushions pride great support and maintain form for years on end.
The eight motors, 9 nodes and 5 mode massaging capabilities put a modern touch on this retro recliner. Heating capabilities are also on offer to tackle the winters better. All this can be managed with the single touch of the controller. Even with all the tech turned off, it is still the perfect chair to relax in after a long hard day.
Pros
Memory foam cushions
9 massage nodes
Cons
Could be too large for some rooms
HomoCom Ergonomic Armchair
All the other Living room chairs on the list have a large form factor. Not ideal for sitting straight at times. The best living room chair for lower back pain does not have to be a lounger. Support for lower back pain is also needed while sitting straight. Many people tend to work in their studies or living room. Just place a table in front of it and you are good to go. When you are ready to relax, place the ottoman under your feet and lean back. This is good for office use as well.
It provides the angular range of 90° to 145° that can be locked in place as desired. The PU leather upholstery looks opulent and is easy to maintain. This is wrapped around 24D high-density foam for optimal comfort. A truly comfortable and versatile armchair.
Pros
Straight sitting posture
Perfect for office and home use
Cons
Does not provide zero gravity posture
Frequently Asked Questions
What is the best sitting position for lower back pain?
There are a few positions that help with lower back pain. But most of them would not be perceived as relaxed. But after a long day of work, the pain escalates and there is an urgent need to relax. The best chair for back pain sufferers should imitate a zero-gravity posture. A perfect combination of support and relaxation
Can recliners be good for the back?
Yes and no. A run of the mill recliner could be detrimental to your lower back condition. But a carefully crafted chair with right sitting postures and proper support can do wonders. Zero gravity posture can be easily achieved with a recliner. Though, the cushions mustn't sink in over time. Read: Best Mattress for Side Sleepers With Back Pain
Conclusion
Lower back pain is a serious problem that needs proper care. Most of your waking hours in the house are spent on one chair. Getting the wrong chair could aggravate the problem further. The quality of foam and range of sitting postures are the essentials of a good living room chair. The best living room chair for lower back pain is the one with an edge. Bringing the modern and the retro together.