Getting the correct riflescope will depend on the hunting location and the game that you are targeting. This buyer's guide will not only help you get the right riflescope but will also allow you to acquire the best long range rifle scope for the money. It has to provide high-quality images when used, has the versatility needed in low-light situations, easy to adjust in both stationary and moving positions, and many more.
So if you want all of these features and are searching for a long range scope on a budget, then stick around because this buyer's guide will list not one but five riflescopes to choose from. Each riflescope's feature will be highlighted and then you can decide on what scope to get.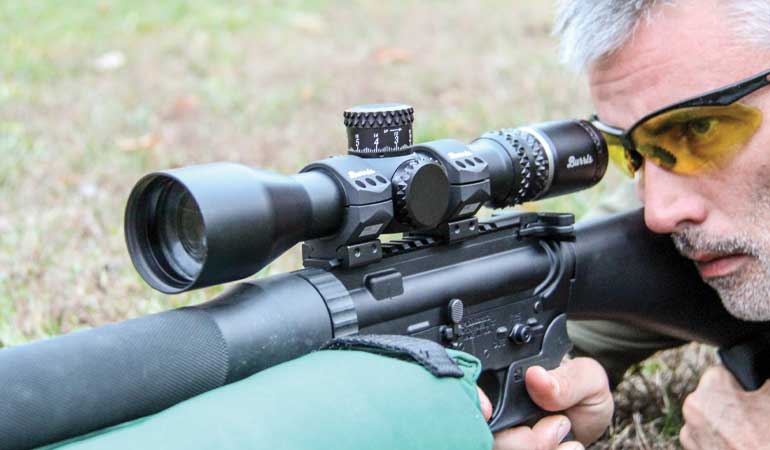 Best Long Range Rifle Scope for the Money Review
Nikon Buckmasters II, 4-12x40mm
Dubbed as one of the best scopes for hunting rifles, the Nikon Buckmasters II is a rifle scope that most deer hunters trust. It is a nice upgrade from an earlier version because of various improvements like enhanced image clarity, improved brightness due to its multicoated lenses, eye comfort and protection, and of course, Nikon's BDC reticle. This long range riflescope is the hunters' choice for hunting deer.
It is good to know that the scope's eye relief is generous enough to keep your eyes and brows safe even from the heaviest recoil. Finally, because it is nitrogen purged, the scope is shockproof, waterproof and fog proof.
Pros
The Nikon BDC reticle heightens accuracy levels
Multicoated lenses allow superb performance even in low-light conditions
The reticle is easy to adjust
Cons
Some people need to adapt to the reticle itself
Nikon 6729 ProStaff 4-12 x 40
When shopping for a long range rifle scope, one of the most important features that you need to assess is its magnifying power. With a 40 mm objective lens and adjustable magnifying levels, any hunter can stay on target whatever the situation may be. The multicoated lens that the scope has will make sure that you have enough lighting when you zero in for the kill. Other features include a BDC reticle, a generous amount of eye relief, and is made from aluminum.
Pros
Produces high-resolution images
Works efficiently even in low-light conditions
Adjustable and versatile magnification levels
Cons
Not all people would appreciate its crosshairs
Vortex Crossfire II 4-12×44
The versatility of a long range riflescope is what most people look for so if it has different configurations especially with its magnification levels, you know that you have made the right choice. This Vortex scope has a Dead-Hold BDC reticle that helps in raising a hunter's accuracy whether he is hunting or just practice shooting.
Acquiring a target is made easy without any worries that your eye might get injured because of its long eye relief. In addition, since the scope has a multicolored lens, the view that you see when looking through the scope is clear and bright.
Pros
The dot design eliminates any windage corrections
Reticle size does not change when adjusting the magnification levels
Applicable for shooting or hunting purposes
Cons
According to some users, they needed to do adjustments on the scope from time to time
Hawke Riflescope Vantage IR
Looks can be deceiving. A simple-looking scope like this one will leave you unamused but if you give it a try, you will see that it's more than meets the eye. Scopes use multicoated lenses for enhanced images even in low-light conditions. Now, imagine having 11 layers of those lenses on your scope. The result is an excellent and superb quality of images.
This is definitely one of the best long range rifle scopes for the money because it has a glass-etched reticle that has 2 colors of illumination: Red and green. The reticle itself is called Rimfire .17 HMR and only this Hawke scope uses it.
Pros
The reticle is designed for the .17 HMR caliber cartridges
The illuminations can be adjusted to 5 different levels
Nitrogen-purged so it's waterproof and shockproof
Cons
Some users say that the scope can't hold zero
Nikon 16451
Another riflescope that uses the BDC reticle and more. It uses an open circle design so that it will not conceal the line of sight and helps to make the acquisition of moving targets easier.
The scope is also equipped with an Anti-Reflective Device which removes any glare from the objective lens. Because of these features, this Nikon scope is one of the best rifle scopes for 100 to 500 yards.
Pros
Easily adjustable Zero-reset turrets
Clear images due to high-quality glass material
Applicable in many rifle models
Cons
A user said that it can't compete with other reticle types
Frequently Asked Questions
What is the best long range rifle scope for the money?
If the basis for the answer will come from the 5 rifles reviewed above and from various user outputs, it will be the 2 scopes from Nikon. Sure, each scope has its own features and each feature gives more value but in the end, it will be the users who can provide an exact answer since their opinions depend on the situation where the scopes were used.
What's a good scope for 1000 yards?
Any scope that has a magnification level of 10 and up can enhance shooting accuracy at 1000 yards. In addition, if it has a 1.5 to 2 MOA, then you will not have any troubles shooting at this distance. Related: Best Scope Rings for Long Range Shooting
What is better FFP or SFP?
This will entirely depend on the style of the hunter. After all, the main difference between the two is that the Second Focal Point reticle appears the same size even if the magnification levels change. The First Focal Plane operates oppositely.
Conclusion
That concludes this buyer's guide and hopefully, you now have an idea on the best long range rifle scope for the money. Choosing one from the list can be difficult since each one of them is the best in their own right. In any case, through the reviews, you should find one that will suit your needs and shooting style.