If you are an adventure junkie and love spending time out in nature, then one of the smartest things for you to do would be to invest in a good quality off road camper trailer. While a lot of people believe that camper trailers cost a lot of money, we are here to check out the best off road camper trailer under $10,000.
Camper trailers are less expensive in comparison to an RV and they can be hooked on to an SUV or a pickup truck and be taken places. You don't have to invest in a separate vehicle to own a camper trailer. These trailers are flexible and you can unhook them from your car if you plan on going sightseeing once you have reached the location.
Factors To Consider When Buying Off Road Camper Trailer
Let's now take a look at some of the factors that you should consider when investing in the best off road camper trailer under $10 000.
Soft Floor Camper Trailers
A soft floor camper trailer is similar to at tent. It is lightweight and can be folded when not in use. It does take a longer time to setup and there are fewer amenities. It comes handy when you travel in larger groups because it gives you more space to sleep.
Hard Floor Camper Trailers
This camper trailers pop out of a caravan and the roof can be raised to extend the living space. It takes a few minutes to set it up.
This camper trailer is sturdy and stronger against extreme climatic conditions and has better features in comparison to a soft floor camper trailer. You get basic amenities inside this trailer but it comes with less floor space.
Towing Limitations
Once you have decided what camper trailer you want to buy, you need to determine whether the weight capacity of the trailer is equivalent to the vehicle you drive. This is called the towing capacity.
If you have a small vehicle, you will not manage to tow a large camp trailer. This is essential because if you end up investing in something too heavy, you might get stuck in the middle of the road because the vehicle suspension will give way.
Best Off Road Camper Trailer Under $10,000 Review
Now that you have a basic idea of what you should look for when investing in the best off road camper trailer under $10 000, let's take a look at some of the most popular models you can invest in.
Oregon Trailer Do-Drop
If you are looking for the best off road camper trailer under 10,000 then this trailer is just what you need. You will have to cut down to the basic minimal necessities while camping but this will also help to bring your price rate almost down to half your budget.
It comes in two configurations depending on how much space you need but there isn't too much that you can customize considering the overall floor space. This trailer can fit about two people and is easy to take even on narrow roads.
Pros
Compact size
Budget friendly
Lightweight
Cons
Very basic sleeper trailer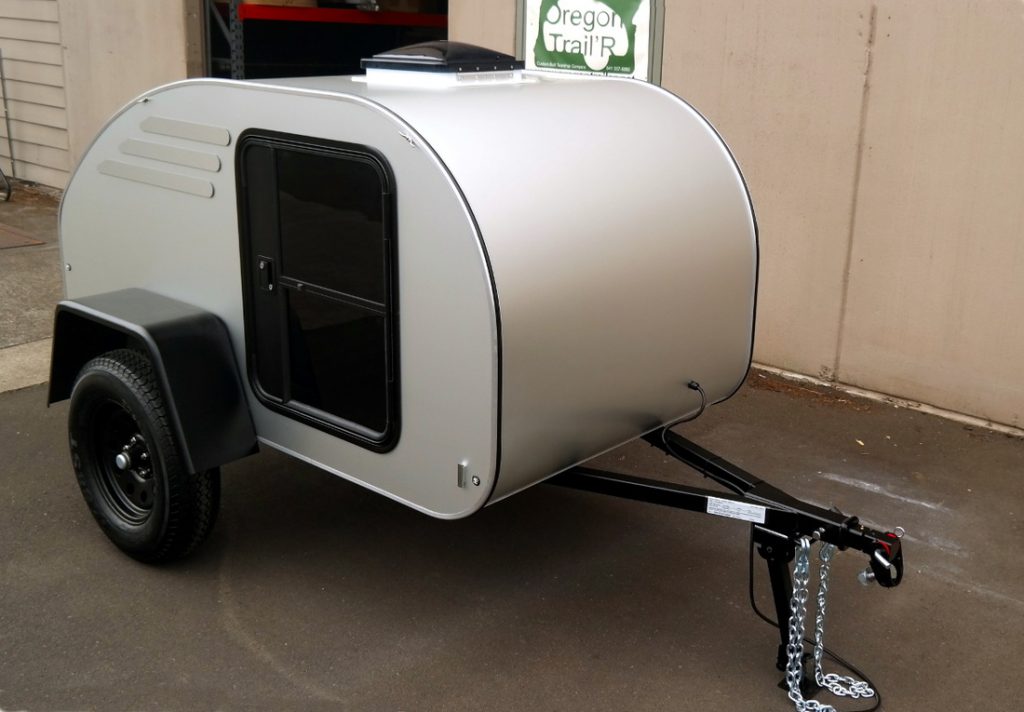 Kakadu BushRanger 200XT
If you are looking for excellent engineering and something that can withstand extreme climatic conditions, then this sleeper trailer is exactly what you need. Made from solid steel, the trailer has enough space to add some amazing amenities such as a kitchen, a cooler, luggage and additional gear.
The trailer can conveniently accommodate up to a family of 5. It is made using reinforced PVC floor and welded weatherproof seams. This is an amazing off road camper trailer that you can benefit from in more ways that you can imagine.
Pros
Ability to be fully equipped
Designed for larger families
Weatherproof
Durable
Cons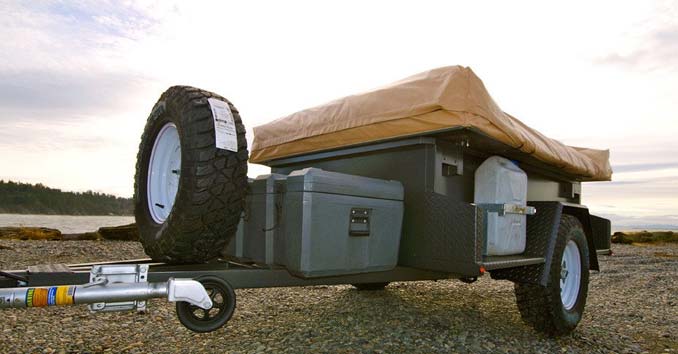 CVT Off-Road Trailer
If you are looking for a minimalistic design that allows you to carry more gear then this off road trailer is just what you need. While it does not come with the sleeping arrangement, it has a roof top tent that enables people to sleep in it.
It has some heavy duty tires that allow you to do off road adventuring with ease. It also comes with a number of upgrades in case you are willing to flex your budget a little.
Pros
Heavy duty tires
Perfect to carry extra gear
Budget friendly
Cons
Can only accommodate one or two people
No sleeping option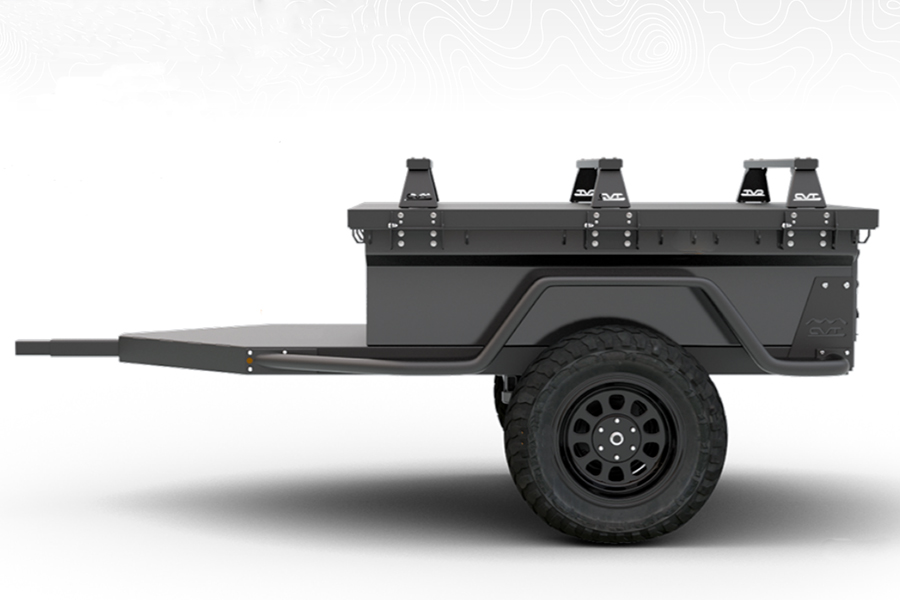 Manley Orv Explore
The Manley off road vehicle is design for heavy wood camping and can save you a few dollars. Coming in at an affordable price, it has an amazing design and features that will help you enjoy your adventure like never before.
This is one of the camper trailers that come with a complete roof top tent, all terrain tires and a removable aluminum lid, all fitting within your budget. It is easy to connect this trailer to your vehicle and take around.
Pros
Budget friendly
Loaded with good features
Equipped with roof top tent
Cons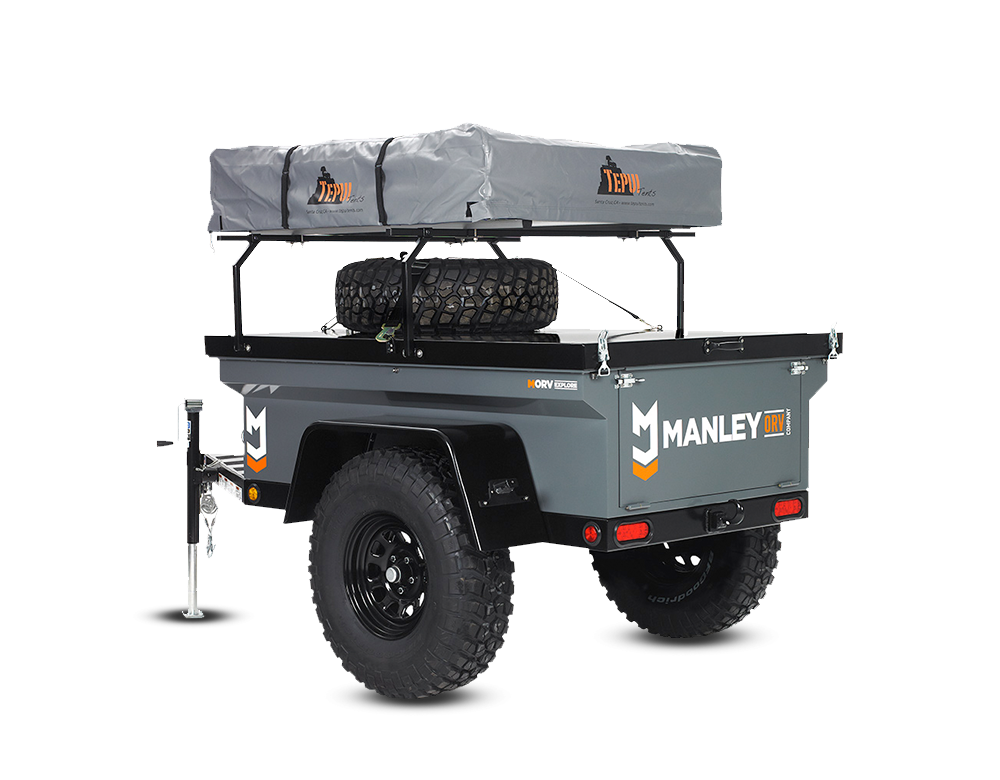 BCT Moab Gobi Trailer
If you thought that it was impossible to get a budget friendly trailer with amazing interiors, sleeping and storage arrangements then you need to check out the Gobi off road camper trailer. This tiny sleeper is a luxurious offering that comes with a comfortable sleeping area, an exterior pull out kitchen, a fully functional sink, and dual burner camp store.
You can now prepare a hearty wholesome meal at the campsite without worrying about having to light a fire. You can also upgrade this trailer to suit your requirements.
Pros
Fully equipped
Comfortable sleeping arrangement
Comes with a kitchen
Cons
Less moving space
Fits only up to three people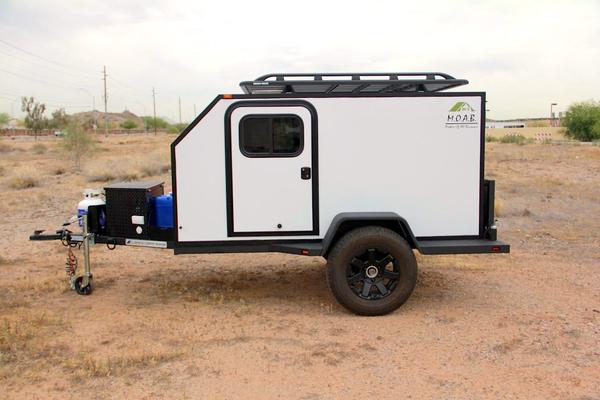 Frequently Asked Questions
What is the best off road camper trailer?
There is a vast variety of different types of camper trailers you can invest in. However, it is essential for you to understand your budget and the features you are looking for. It is also important to understand the different terrains you will cover in this.
While certain camper trailers turn out to be the best for some people, there are others that look for very different features in order to define the best camper trailer for them.
What is the best brand of camper trailer?
There are few good brands that you can invest however it always makes more sense to compare the features, budget and sustainability in order to determine which the best brand is for you.
Conclusion
We have given you a list of some of the best camper trailers that you can pick and we sincerely hope that you can enjoy your adventures with the best off road camper trailer under $10 000. Happy camping!