Teeth grinding or bruxism is caused by a clenched jaw muscles, and may occur while you're awake, but more commonly, during the night. The greatest number of patients don't even know they have this condition. The only thing they know is they wake up with a headache, facial pain, teeth pain… They are happy if someone can tell them what they do at night to solve the mystery and quickly ask for help. It is used to be said that grinding happens because of jaw or teeth misalignment. Nowadays we know some people have the tendency to be grinders and stress, anxiety, alcohol, caffeine or certain medications are a disastrous combination of factors. React right away and separate top and bottom teeth by trying out some of the best over-the-counter mouth guards for teeth grinding listed below.
There are two types of product:
You just open up the package and put it into your mouth. These products are not fitted to your teeth, so we gave the advantage to the second type in our list.
They are called this way popularly. The mouth guard should be placed in a boiled or hot water and then placed in the mouth so it can conform to the shape of the teeth. This is a way better solution because mouths are individual and your protection firstly needs to be comfortable in order to help.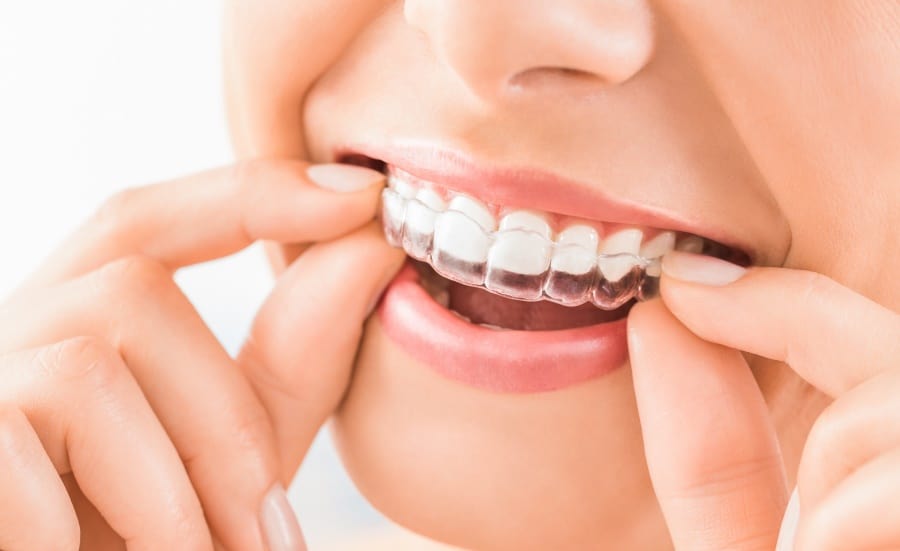 Best Over-The-Counter Mouth Guards for Teeth Grinding Buying Guide
Comfort
Teeth grinding is already making you feel discomfort, so this piece should snuggle and be unnoticeable while you're wearing it.
Durability
If the product is going to be effective, you shouldn't be able to chew through it or damage it in any way.
Material
The material should be high-quality, without any BPA or latex.
Cleaning
A mouthguard should be easy to clean by simple washing. Prefer the ones with a little storage box in a package.
Best Over The Counter Mouth Guards for Teeth Grinding Review
J&S Dental Lab Night Guard
If you find out you are a teeth grinder, there is something you can do quickly at an affordable price and on your own. You may place an order for this kit. It is one of the best over-the-counter mouth guards for teeth grinding. You will get a kit to make an impression for your mouthguard, just like your dentist would do. It will take you 5 minutes. You can make upper or lower teeth mouthguard. Users are really satisfied with this product and there are no returns even though money back is guaranteed.
People say that they need about two nights or a week to get used to it. Soon afterward, the pain goes away and life gets better. This product is totally worthy of the investment, but it is also not that big of investment anyway. The point is that it solves your problem without troubles as there are no teeth or gums irritations. This night guard is made of high-quality material and you can customize a thinner or thicker version. The company provides quick support if you have any questions. The softest, thinnest version is recommended for average grinders and day use. This product is a real-time and money saver.
Lorious Mouthguard
This product is not only for people who have got the problem with teeth grinding and clenching but additionally for boxers, footballers and people who want to straighten their teeth. Lorious make one size that fits all. Pieces are trimmable. Material is soft plastic and can be used nightly and daily. You can as well use this product for teeth whitening, you can apply gel or bleach and do the whole process. Even dentists recommend this product!
There are 6 mouthguards in a package, so it is almost a lifetime supply and you don't have to worry if it doesn't work for the first time. It is very easy to make: you boil water, take it off the stove and put these in 18 seconds and that's it. And you should use the mirror for better precision. Mouthguard comes with a nice blue case. It's really soft, comfortable but thick. It won't bother you during sleeping. People testify that it is much better than the ones dentists make because it fits like a glove and doesn't feel like cheap plastic. This product is great because of the positive reviews of satisfied customers, luxurious package, the number of mouthguards included and all the money saved.
Neomen Professional Dental Guard
Lack of sleep can cause numerous problems in your life. Combine them with pain and you'll get the recipe for hell. Again, you don't have to go to the dentist and spend hundreds of dollars to find a professional mouthguard. This is an equally good solution for your problem. The guards mold to the shape of your mouth. These products are well-constructed and made of safe materials. You can send it back if it doesn't work.
You form it once and then just wash it after every use.  Avoid using toothbrushes because it can damage the soft material of dental guard and let bacterias grow in those cracked surfaces. Instead, buy "dental type" cleaners and soak them. Put them in the blue box after the cleaning. There are 8 pieces in a package with 2 sizes that can fit perfectly whether you're a child, young or adult. The product is remouldable. You will immediately get used to it because of the soft material. One piece of the dental guard can last for months.
Reazeal Dental Guard
This is a 3-in-1 product for teeth grinding, teeth whitening and athletic mouthguard. It is made of polyvinyl material which is taste-free. There are 4 large and 4 small pieces in a package and a storage case to keep them safe. One piece should be used at a time. You really get a lot for a small price. It is easy to shape them.  You can be sure your buying is smart because this product does exactly as advertised. Those who have used many different ones say that these fit perfectly and so far are the most comfortable. They are maybe too thin for boxing or football, but surely you can use them for other sports.
You shouldn't cut them before molding. Even though they look too big, they will shrink after dipping in hot water. This is the same quality or even better than those dentists make, but is thinner. It's impossible to chew throw them, no matter how hard you clench. Unlike other guards, you don't cool it down in a bowl of cold water. You air-cool it instead and put it in your mouth. If you fail to do it right the first time, they can be shaped again. This is a quick and economical solution, the best over-the-counter mouth guards for teeth grinding.
The ConfiDental Mouthguard
This is advertised to be 4-in-1 mouthguard for: mild to moderate teeth grinding, aggressive teeth grinding, athletic mouthguard, and a teeth whitening tray. It is made from soft thermoplastic that can be remolded. The pieces are 3mm (smaller) and 6mm (larger) thick. The pieces of 3mm thickness are for everyday protection, and those two larger are for heavy-duty protection. The product comes with an anti-bacterial case and an instruction manual. The process of molding requires less than 20 minutes.
Customers say that they do the job and feel like biting a very thick jelly. There are many good reviews from people who are into contact sports as the guard is thick, bulky but it feels like cushion between your teeth at the same time. This is an ideal product for wrestlers, fo example. You don't need time to get used to them. You can wear them right away as long as you want. It is easy to fit and comfortable to use. A big downside is there are no possible refunds with this product. All the chances are that you wouldn't need that option anyway. One more perk? Package includes 6 cleansing tablets from Purifident.
Frequently Asked Questions 
Are mouthguards good for teeth grinding?
You should definitely use a mouthguard for sleep as the best over-the-counter mouth guards for teeth grinding. A barrier is going to relieve tension in your jaw muscles from hard clenching.
How do I stop grinding my mouthguard?
Combine mouthguard protection with some methods of relaxation. Give yourself at least an hour before bed to soak yourself in a warm bath or give yourself a massage. Go jogging, dance and create new self-care habits. Avoid coffee and alcohol and get more calcium and magnesium.
How much are mouthguards for teeth grinding?
It will take you an average price of $300-$700 and a few doctor appointments to get a mouthguard. A mouthguard itself costs less than $200, so you are actually paying the dentist to take a mold of your teeth. This is the most expensive option there is.
Conclusion
If going to the dentist is too much money and time-consuming for you, go for these solutions as the best over-the-counter mouth guards for teeth grinding. Even professionals will advise you to do the same.