Scuba diving has been considered one of the liveliest experiences when it comes to adventure sports. Looking at the creatures of the water so closely brings certain joy and satisfaction that is hard to put into words. But it can be just as dangerous if you don't have the proper scuba mask or the snorkel mask on you. Finding a mask that fits your face correctly is a challenge, especially for people with small faces. Have you been looking for the best scuba mask for small faces and have had no luck so far?
We are here to make it easy for you. Our extensive guide on scuba masks will equip you with all the information that you need. We have also reviewed the top five scuba masks for small faces to help you purchase the best one. You are sure to find your favorite pick in our list. Let's dive into the review!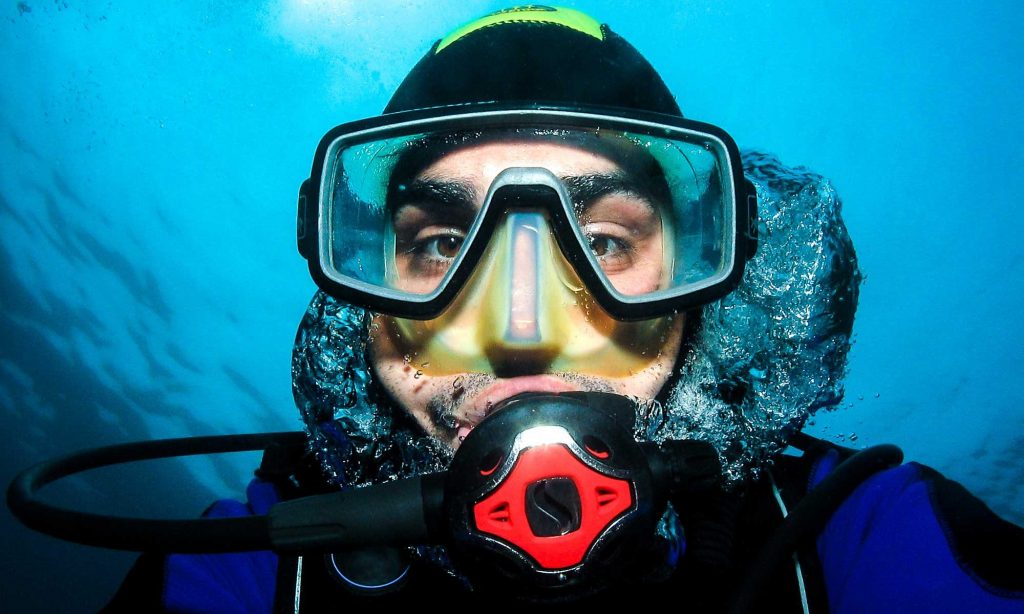 Factors to Consider Before Buying a Scuba Mask
Looks are secondary
Dive masks do look really appealing when you see them in the dive store. But if it doesn't fit your face, it's not the right mask for you. If you feel uncomfortable with the mask when you try it on, imagine once you will wear it inside the water how would you feel.
The material
All masks are made up of silicone. The thickness and suppleness of the silicone vary from mask to mask. These two properties determine if a mask skirt will suit your face. Some skirts mold to your face like a second skin, creating a comfortable, watertight seal while some don't. The best scuba mask for small faces is the one that fits like a second skin.
The color
Clear skirts allow a lot of light in, creating an open and airy at-depth effect. Black, however, has the tendency to block out any reflective glare. So, what should you get? Clear skirts can be a real plus for divers who feel claustrophobic or when you're diving in murky or green water. However, when diving in bright tropical waters over a white sand bottom, the light can be blinding.
The view
The best scuba mask is supposed to optimize your view, both horizontally and vertically. Different masks differ in how much you can see side-to-side and up and down when you're looking straight ahead. A good downward view is nice to have. After all, when underwater, you look down to find your gauges, buckles, D-rings, BC pockets and weight-ditch handles. Also, if you feel at all claustrophobic when trying on a dive mask, you may find selecting a mask with oversized lenses can help you feel less hemmed-in.
Mask volume
Mask volume is basically the air space inside the mask. Like a clear skirt and expansive field of view, a high-volume mask can make it seem as if you're viewing the underwater world through a giant picture window. The downside is that they take a little more effort to clear. But if you mostly dive in situations where you can take your time you may prefer a high-volume mask. Low-volume or low-profile masks are closer to your face and can be quickly cleared of water.
The Best Scuba Mask for Small Faces
Cressi Youth Scuba Diving
Are you in search of affordable scuba masks for your kids? If yes, then this one by Cressi is one of the best scuba mask for small faces that you can get under 30 dollars.
This mask is made of 100% silicone which makes it long-lasting and snug. This is a favorite among many since its frameless and offers greater comfort. Your kids can use this one for the pool, open-water diving, snorkeling, and similar fun activities.
It is easy to make adjustments with the push-button swivel buckles of the mask. The lens is made with high-quality anti-fog tempered glass that offers a wide range of vision and a clear view.  It is recommended to avoid diving into the water headfirst while wearing this mask to prevent injuries.
Bare Duo Compact
If you have a thin or a small face, finding the right scuba mask can be a tough task. Bare Duo understands that that's why they have rolled out their Duo compact mask for kids and ladies.
The mask has a double edge skirt that fits snug on narrow faces. The push-button wide strap on the buckle makes it very easy for you to adjust and readjust quickly. This is essentially a low volume mask, so it allows you to have a wide view with easy clearing. The twin-lens, being made of tempered glass guarantees high reliability and safety.
Other than that, the nose pocket is provided at a one-hand reach. This makes it super easy for you to carry out ear equalization even if you're wearing thick gloves.
TUSA M-111 Mini Kleio II
TUSA mini scuba mask is specifically designed for folks with narrower faces and those who like their scuba mask to fit really snug. In the 60-dollar range, you get one of the best scuba mask for small faces.
The round-edge skirt of this mask is designed in a way that offers maximum fit comfort. The single-lens design is always a good thing as it offers great clarity of vision. Worried how you're going to adjust it underwater? TUSA has a quick-adjust buckle system installed in this scuba mask, which is just amazing. Various customers have reviewed this product highly due to its perfect fit for small faces.
Oceanic Shadow and Mini Shadow
Have you been looking for something that's premium class regardless of the cost? If yes, then this Oceanic Shadow mini scuba mask is the most expensive scuba mask on this list. It is one of the best scuba mask for small faces in this price range.
This mask is made of 100% liquid silicone, with the skirt attached directly to the glass lens. Oceanic has offered one window style in this mask to provide you with a larger view. This makes it a great choice for photographers as well as hunters. A low volume mask with a frameless design, Oceanic Shadow is incredibly comfortable.
SEAC Salina MD S/KL
Scrolling down to find the cheapest scuba mask on the list? Here you go! SEAC, one of the oldest and most trusted brands offers one of the best scuba mask for small faces in a 20-dollar range.
This mask has the single-lens design and the lens is made of tempered glass. The skirt construction is specifically done for narrower faces. You get an easily adjustable buckle system in this make which comes handy when kids are wearing it.
Happy customers have stated that the logo does not block the field of vision in this mask. Also, there is no leaking or purge valve on the nose. So all in all, it is a great deal at this cost.
Frequently Asked Questions
What's the best scuba mask?
Cressi Youth scuba diving mask is one of the best scuba mask for small faces. It is a frameless mask that is loved by many snorkelers for its comfort and low profile. This mask can be used for open diving, recreation, and more. It is made up of 100% silicone, which is a better and longer-lasting material than plastic. You can easily make adjustments with the help of its push-button swivel buckles.
How do I choose a diving mask?
The first thing to consider when looking for the best scuba mask for small faces is the fit. People with narrower faces tend to find it difficult to find the perfect fit. Look for low volume masks since they tend to fit close to the face. This kind of fit prevents leaking and discomfort. Another thing to be careful about is the lens design. The lens should be high-quality tempered glass and should offer a wide range of vision. The logo should not be getting in the way of your vision.
Are full face scuba masks safe?
If your snorkel equipment is well-designed and tested, it is safe to use. The manufacturers of full-face scuba masks have taken this into account and designed masks accordingly to ensure supreme safety. Full-face masks are divided such that there is a breathing part that seals the mouth and separates the viewing part.
Is full face mask better for snorkelling?
A full face mask for snorkeling is really a boon for the beginners. There is no learning curve or getting comfortable breathing through your mouth. Even if you are not a beginner, these masks are great if you have issues with sore jaws or mouth from holding onto the snorkel.
Conclusion
You want your kids to experience the magic of scuba diving, but you are also afraid of the danger it poses. The good news is that if you have the right kind of scuba mask, your kid will safe. The standard scuba masks do not fit the smaller faces perfectly and can cause extreme discomfort. Underwater diving can be dangerous without proper equipment. Therefore, it is very essential that you make your choice carefully. You can check out our guide to choose the best scuba mask for small faces.