When you have oily scalp and dry ends it usually means that you had oily hair, tried to do something with it and failed. What is the solution? Find a shampoo for everyday use and use all kinds of masks and conditioners you can get? Don't fool yourself, you'll only get lost. Instead of panicking, listen to dermatologists to find the best shampoo for oily scalp and dry ends. It may take a while, but you can't go wrong with some suggestions we made for you. Take a calendar, take a pen and write what changed. Something well is certainly going to happen. Just make sure that the product is natural, with no silicones and solves the no.1 problem – oily hair.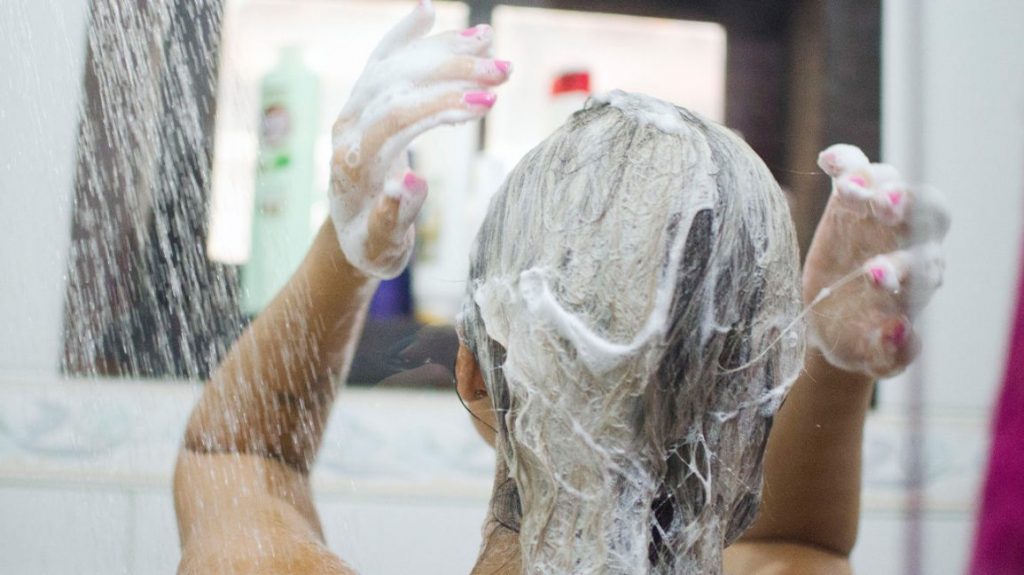 Best Shampoo for Oily Scalp and Dry Ends Review
Apivita Propoline Shampoo
Contains organic extract and essential oil that provides a solution for any hair problem while, at the same time, provides cosmetic care. It is different from other lines because it offers gentle and effective cleansing while respecting the physiology of the scalp and hair.  It is antiseptic and sebum regulating. Rosemary infusion has replaced a water in the formulation.
The line has got various shampoos for dry, normal, oily and very oily scalp. There are also shampoos for hair loss or better volume. Shampoo for oily hair contains rosemary and propolis. It really helps with oily and itching scalp. By using this shampoo you don't have to wash your hair every day. When you have an oily scalp, you should go as natural as possible using only the best shampoo for oily scalp and dry ends, condition carefully avoiding hair roots, brush every day and clean your brushes. Apivita propoline is going to make your hair clean, soft and manageable.
One person's hair can go from extremely dry to very oily, so if you have a problem like that, it means you are using the wrong products and it may take several weeks for this product to help. Apivita propoline is the perfect shampoo for greasy hair and dry ends. It is maybe a higher cost, but is worth every penny. Some people stopped using conditioner after this shampoo and started to wash hair only twice a week.
Truss Equilibrium Shampoo
This shampoo is a special shampoo for people who have got greasy hair and dry ends. This is a very common and extreme problem. Natural, organic elements in it access inside of the hair fiber and cuticles. It repairs and hydrates the cuticle, so further splitting and breaking are prevented. It is designed for daily use. It brings back the softness to colored hair or chemically damaged hair in general and helps recovering split ends. Truss Equilibrium Shampoo also adds an extra layer of protection so it promotes shine. It is good for any hair type, length or texture.
It prevents the root to absorb oil. It takes a lot of responsibility to recommend a shampoo that can solve such a difficult problem with oily scalp and dry ends, but you can trust Truss Equilibrium Shampoo to control and balance excess oil and dryness. It only sounds impossible. Although it would never cross your mind to put oils on oily hair, this shampoo contains some oils, such as argan oil and avocado oil that can help in reducing oil production in your scalp.
Some women often complain about weigh down styles. The formulation gives hair volume, and it is weightless at the same time. This shampoo often creates instant customer loyalty because it delivers what has been promised and the results are noticeable from the very first application.
Honeydew Natural Oily Hair Shampoo
Regular shampoos are harsh and can make your hair remove precious natural oils that protect your scalp and hair. If you try out this shampoo and think your hair becomes even greasier, think again. Your poor hair is going through detoxication. It doesn't make you feel the way you want, but it is necessary. This is the best shampoo for oily scalp and dry ends for both men and women available. After you make it through a stressful transition period, your hair will become thicker, shinier and will start growing really fast.
Your shampoo should be just like this: sulfate-free, paraben-free and cruelty-free. It's completely safe for you to use it every day, though it is not necessary. But, if you prefer a bit less oil in your scalp, add apple cider vinegar as a rinse. And remember not to use too much shampoo – only about nickel size. This shampoo won't dry out your hair. The shampoo is formulated to work on all hair types. It provides moisture balance for your scalp.
Cells are renewed, keratin strengthens hair strands, many oils hydrate hair so itchiness is quickly removed. You will feel relief after only a few washes because that long it takes to recover your scalp. Your hair will have a nice scent of natural essential oils and be soft. It is the best shampoo for oily hair and dandruff.
Amaze Oily Hair Shampoo
This one is also considered to be the best shampoo for oily hair and dandruff. It contains essential oils and botanicals, vitamins and minerals and these are the ingredients that will keep your hair free from oiliness, itching, and flakiness.
It prevents hair loss, acts as antiseptic and antimicrobial, revitalizes hair, heals roots and scalp and improves hair follicles. It doesn't smell nice, but it's all-natural. Once your hair is dry, the smell is gone. This is the best shampoo for oily thin hair that can't go more than one whole day without washing. The irritated scalp will calm down immediately even after the first application leaving your hair weightless, easy and clean.
Shampoo may not initially solve all of your problems, such as dandruff, but it is very soothing. It helps even with very oily hair but dry scalp. Get rid of flaking and add body to your hair! This product has an all-natural formula. The only downside is that consistency is quite runny.
Degrease Moisture Control Shampoo
It has got one of most gentle formulas and is the best shampoo for oily scalp and dry ends being a multi-purpose hair product. It balances the oil levels, strengthens the hair, removes dandruff and soothes the itchy scalp. It is formulated without any fragrances, dyes or other harmful chemicals that could damage the hair in the long run. It is rich with antioxidants and vitamins which revitalizes the hair.
The price is also great in comparison to the quantity. This product seems like a miracle-worker as it solves all the hair problems. Some buyers call it "shampoo for oily scalp and hair loss" because it stimulates cell renewal and increases circulation. It is safe for color-treated hair. Rosemary is the main oil in this shampoo. It is ideal for both men and women. The smell is woody, not pleasant. It does nothing in the beginning, as many buyers said. It takes time for miracles, and this product helps a lot. It helps the skin first, and after that hair recovery can start.
You can use it every day or on a less regular basis. It's antibacterial, so irritations will disappear. This product strengthens hair and promotes a healthy ph balance. There are some impatient people that combine this product with other shampoos and oils in separate bottles, but it is really not necessary. For most people who suffer from oily hair, this is the best shampoo for oily scalp and dry ends.
Frequently Asked Questions
How to maintain oily hair during the summer?
Use dry shampoo instead of every day washing, especially during summer, when you sweat a lot, so your hair looks greasy all the time.
Should I wash my hair every day?
Wash your hair every 3 days no matter workouts or events you've got during the week. Style it differently every day.
How do I stop having oily hair?
Change your diet and start drinking more water. Unhealthy habits affect skin conditions.
Should I use oils for oily hair?
Choose antibacterial oils, such as rosemary, lavender and lemon oil. Maybe your skin produces extra oil because you used the products that made your scalp dry. Using oils may help. Avoid coconut oil.
Am I washing my hair properly?
Don't over-shampoo and over-massage and don't put conditioner on your scalp. Doing all three of this is a big mistake. Too much shampoo makes hair dry and it produces oil as a defense mechanism. Hair-massage causes oil production. Put conditioner on the second half of your hair.
Conclusion
We hope we helped you to find your best shampoo for oily scalp and dry ends because these two problems are the opposite but go together and are hard to solve. Give each shampoo on the list a few weeks and try not to wash your hair every day. If you have to, put some baby powder on your roots to freshen up and change your hairstyle for that day. You don't want to cause hair loss. Try not to judge fast and give a chance to each of these great products.