Your life habits are going to decide what kind of look overall and skin condition are you going to have as you are getting older. It is still important to exercise regularly, have enough sleep, eat whole foods and drink plenty of water, but skin care in your 40s is going to evolve drastically. You should know what are the best skin care products for 40-year olds. If your fashion style is not the same as it was back in your 20s, why would it be otherwise with your skincare?
You have probably started to notice fine lines around your eyes and lips, some dark spots, dryness, sagging skin, open pores and loss of plumpness. It happens because of hormonal alterations. Your skin takes longer to heal now, so you need to take extra care of it. There is no more fun in the sun, literally.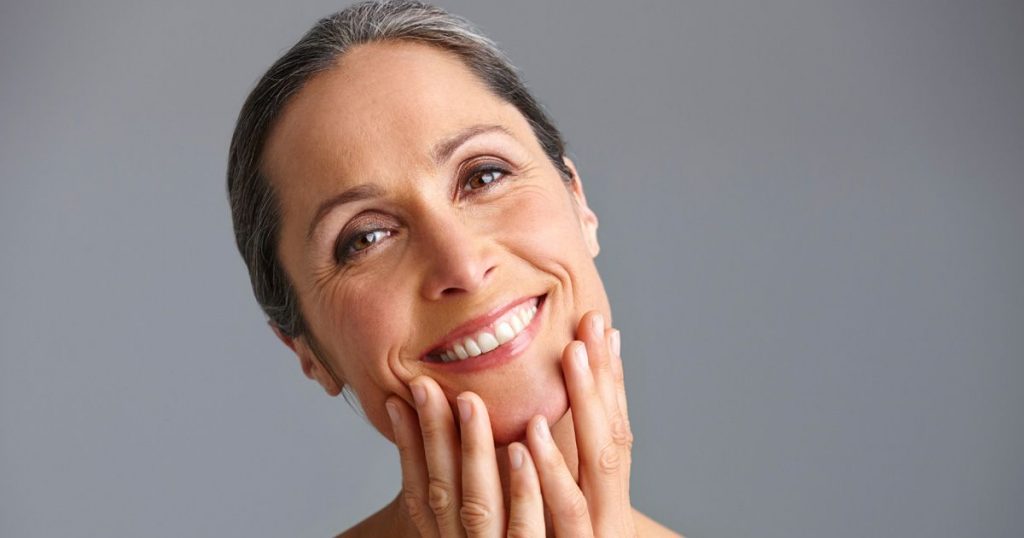 There are some skin care products such as retinol, vitamin c, exfoliators, and moisturizers that can help you establish the best skin care regimen for 40-year olds. Dermatologists shared some of their best anti-aging tips and claim that you can have your best skin in your life in your 40s.
The 40s are the right time to include new skincare product in your daily routine. This article is going to teach you how to look after yourself properly from now on. We are going to talk about the skin cleanse, keeping the skin hydrated, exfoliation, night rituals, the importance of spf, antioxidants and other secrets.
Best Skin Care Products for 40-Year Olds Review
Olay Regenerist Cream
Olay Regenerist cream is mostly reviewed and has the highest marks. It is one of the best skin care products for 40-year olds. If you are looking for something more than a simple moisturizer, this is the perfect product for you. It guarantees fast results and can be used every day.
It is the best anti-age cream to fight wrinkles with its brand new reformulation. They have a big claim to make you 10 years younger in just 4 weeks. It has the same ingredients as in the previous version, but with more olive oil. Jar packaging is perfect, you can use every drop of the product. It's not greasy, and becomes very smooth once it's dry. It does feel like it's micro-sculpting and lifting your skin. You can use it in the morning or evening. It causes surface turning over dead skin cells, and it's only an illusion of drying. Skin becomes softer, firmer and lifted with fewer wrinkles.
You can see the previous version was just a good moisturizer. Women who thought there isn't anything for aging were pleasantly surprised as they saw the result from just a 3 day of using. And it's simple – wash your face and put it on. Use it especially during the winter because of its density.
Aztec Secret Mask
If you want something completely natural, something you can use on a weekly basis without having to read and lookup on Google for package ingredients, remove dirt from your skin with practical product all women should have.
Aztec Secret – Indian Healing Clay provides deep cleaning, so strong that you can feel your face pulsating. Don't let it dry completely if you have sensitive skin. You can mix it with water or apple cider vinegar, tea tree oil, and glycerin and rosewater for dry skin.  With this product, you are doing "earthing" – when your feet touch the ground and you become one with the Earth.I t takes out all the toxins. You can drink it, just don't mix it with a metal spoon because it is going to impact the electrical charge and won't be as much healing. It reduces inflammation on pimples, it's good for baths, insect bites…
This product detoxes the entire body. Aztec Secret is 100% natural, it's one of the best skin care products for 40-year olds. It comes in powder, so it never runs out because you add liquid to it. You can get numbers of facials, more than the box says, so it's a good deal as for the price. You also get little spoons with it and other tools, even a brush. It is a very good diy mask. There is no redness after 30 minutes and the skin feels clean and soft. You can moisturize it afterward.
Neutrogena Gel-Cream
Your sensitive skin needs to be moisturized, but it's hot outside and you don't want to make it too much oily. Doctors recommend hyaluronic acid for your skin age. What to do? Then, the best skin care products for 40- year olds are some that have HA inside of a package.
Neutrogena cream is for dry skin and fragrance-free for the ones who like larger sizes. When you put it on, it glides on like a gel, is a bit sticky, but that feeling quickly goes away. It smoothes out, blends out and feels like a cream. It has a bit of cooling sensation as a gel but it spreads out and feels like a cream. It's not too heavy on your skin. It's highly recommended for sensitive skin. You can use ideally during the summer.
There are two formulas; one for dry and one for extra-dry skin. It works better if you apply it on wet skin or immediately after the shower to capture moisture. However, this product is the best for normal/oily skin because it will not clog pores, but it doesn't provide enough moisture for dry skin, even if you use extra-dry skin formula.
LilyAna Retinol Cream
When reaching 40s, products that contain retinol should be used frequently. The ones are better than the others, and the best skin care products for 40-year olds with retinol are surely the ones without fragrance and, could it be – organic?
LilyAna Retinol Cream is very popular on Amazon. Retinol is amazing. You can start using it right after you're 30-years old. Product gives luxurious feeling. Even though it is thick, absorbs really quickly. It causes no redness or dryness. The product causes only major changes. This cream can be used as daily or nightly skincare.
Retinol takes about 3 months to show results when you use it, let's say, twice a week. You can use it as a night cream, but rinse it off entirely the next morning. Also, you are going to need a good moisturizer after it. It is not tested on animals and is fragrance-free. You can apply it with your fingers. It can also be a one-hour lasting mask, it can give tone to the skin and it helps with sun damage, spots, acne, scars and even stretch marks. LilyAna Retinol Cream  is almost organic, which is rare for a retinol cream.
Merlot Night Cream
If Neutrogena Gel-Cream doesn't fit you because you have normal or oily skin, you should use Merlot Moonlight Radiance Night Cream and make it part of your best skincare routine for 40s. As always, when you put a crème on your face, it should be as light as possible, particularly if your face doesn't need so much oil. Above that, spf is something you should seriously consider when you are in your 40s. Merlot formula helps thickening and toning your skin. It helps your skin to produce collagen and elastin. The best skin care products for 40-year olds are able to do that.
It is meant for nighttime, but it is often used during the day as well and it leaves the skin perfectly balanced and it is perfect under makeup.
It comes with SPF 15, which is common for these types of product. It's a great product for people who have normal or oily skin. It sinks into your skin, doesn't feel heavy at all, like you are applying water and it gives your face a nice glow. It saves money and comes in a big container. It's anti-wrinkle, but younger women use it, too. You just put a couple of small dots, spread it over your face and feel your skin becomes soft.  It's not tested on animals.
Conclusion
Mentioned products are essential for aging skin. There are steps in a good daily skincare routine, and we reviewed products from the main categories: anti-aging cream, mask, hyaluronic acid, retinol and night cream. There are almost no cons to using these products. Effectiveness may vary from skin type to skin type. Some cream may be great on certain skin, and on others may cause damages or show no results. But, these products are a good fit for most women.
Anti-aging cream is a must for skin lifting in a most pleasant and cheapest way possible, masks are used from early teenage years, hyaluronic acid is recommended after the age of 35, just like retinol and night creams. You can't exactly overuse cosmetic products. It's always good to try them out and find the perfect ones because if the skin is not used to proper care, the difference in before and after photos will be greater. For better, of course, but do not put yourself in that position. Choose consistent care instead of transforming your skin.
Usually, women would change a small thing or two, such as fragrance or color. But, they are overall happy with the best skin care products for 40-year olds because they do what they are supposed to.