Camping is fun because it's about the experience and not the material things. And those who camp often understand the significance of a good night's sleep during camping. Your camping experience can be quickly ruined if you are not well-rested on your trip. And the prime way to ensure you get proper rest is for you to get a relaxing sleep. That's when sleeping pads come in for the rescue. Are you a side sleeper looking for the best sleeping pad for side sleepers for your next adventure? Our compact guide has all the right information to help you make the right purchase.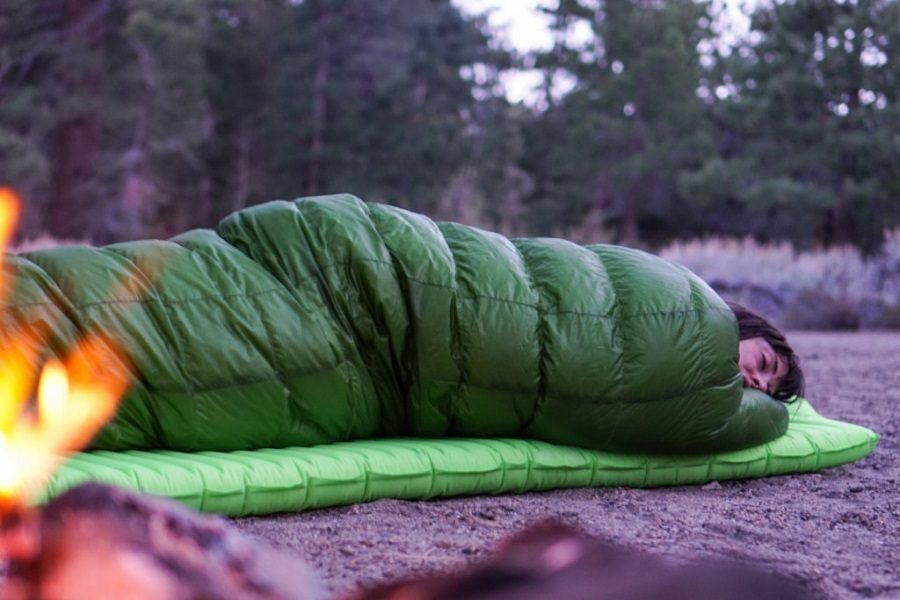 Factors to Consider Before Buying Sleeping Pad for Side Sleepers
Car camping
When you are not limited by size and weight, you can choose a thicker, larger mattress for better comfort. Often these are less expensive than their lightweight counterparts. Self-inflating pads are an ideal choice when looking for side sleepers sleeping pad.
Instead of blankets and bed sheets, a large inflatable mattress is another option of a sleeping bag. However, these mattresses are relatively heavy and bulky and they lack insulation, so they're best for mild conditions only. A pump is required for proper inflation. Read: Best Sleeping Positions for Digestion You Can Try This Night
Backpacking
Those who prefer good sleep comfort when backpacking (touring by bike, canoe or kayak) can choose self-inflating air pads. These offer a variety of thickness, durability, insulation value and weight. Optional chair kits let your self-inflating sleeping pad do double-duty as a comfortable seat, complete with backrest. This can be a lightweight luxury for backpackers and turns out to be the best camping bed for side sleepers.
R-Value
R-value measures the capacity of your sleeping pad to resist heat flow. The higher the R-value, the better you can expect it to insulate you from cold surfaces. The R-values of the pad are provided by the manufacturers and range from 1.0 (minimally insulating) to 11.0 or more (very well insulating). The best sleeping pad for side sleepers is one that has a high R-value.
Weight
Less weight and a small pack size override all other factors. An ultra-light air pad is probably going to be your best bet. Many insulated full-length air pads now weigh less than a pound. Be sure to look at the packed sizes of your pad options when in the store and factor that into your decision.
Thru-hiking
Here, low weight is important, but durability for the long haul is also worth considering. Closed-cell foam pads can be a fantastic option. Make sure to look for the best foam sleeping pad to avoid developing back pain. Mostly hikers pick a "short" or "3/4 length" foam pad to save weight. You can lay your empty pack or extra clothing under your feet for a bit of insulation if required.
Winter camping
Camping on snow obviously requires more insulation than normal. Research on this recommends the use of two pads: an insulated, high-R-value air pad or self-inflating pad atop a closed-cell foam pad. It can be a little tricky to find the right sleeping pad for side sleepers when planning a snowy trip.
Insulation
Even in summers, insulation is important to get a good night's sleep because you lose body heat to the ground. To counteract this, most air and self-inflating pads now have a layer of synthetic insulation inside. Make sure you don't ignore this factor when searching for the best budget sleeping pad since cheaper pads are usually not well insulated.
Best Sleeping Pad for Side Sleepers
WELLAX UltraThick FlexFoam
Are you searching for a sleeping pad that can make your camp mornings perfect? This ultra-thick and compact sleeping pad by Wellax is the best sleeping pad for side sleepers.
This sleeping pad has an UltraFlex memory foam mattress that doesn't let you feel the rocky terrain underneath. This is one of the best sleeping pad for side sleepers since it won't let your wobble when you roll over. The pad comes with an advanced self-inflating technology that consists of two valves so you can inflate or deflate it quickly.
With an R-value of 9.5, it has the ability to reflect radiant heat to the user, so you stay warm and comfy while asleep. It is made of laminated 20D nylon that is tear-resistant and highly durable.
ALPS Mountaineering Lightweight Series
Tired of searching for the best budget sleeping pad for side sleepers? Your voyage ends now. ALPS has rolled out an extremely affordable and high-quality self-inflating sleeping pad for adventure lovers. In less than 60 dollars, you get a long-lasting sleeping pad that ensures supreme comfort.
The bottom polyester fabric of the pad makes it weightless and abrasion-resistant, hence highly durable. ALPS offers exclusive jet stream foam that promotes swift inflation and deflation of the pad. The valves are made of brass, so they are corrosion-resistant and better than those made with plastic. In the fairly compact package, you receive a compression strap, a repair kit, and a carry bag.
Klymit Static V Sleeping Pad
Klymit Static V sleeping pad is a popular choice among frequent backpackers. This is one of the best sleeping pad for side sleepers who like to be comfortable when they are out on adventures.
The product has an R-value of 4.4 which keeps you fairly insulated in times of chill. Klymit Static has incorporated an innovative V chamber design in the product. This coupled with its synthetic insulation keeps the air movement to the minimum and prevents heat loss.
At just 25 ounces, this sleeping pad is surprisingly lightweight and even packs small for easy carriage. In the package, you receive a stuff sack, a limited lifetime warranty, and a patch kit. It is made of 75D polyester which makes it puncture-resistant.
Klymit Insulated Static V Lite Sleeping Pad
Klymit Static has come up with an even lighter version of their V sleeping pad. Who doesn't like a feathery sleeping pad while camping?
This sleeping pad maintains its R-value of 4.4 with an impressive weight of just 19.6 ounces. This might not be the best budget sleeping pad, but it is definitely worth spending on. It can prove to be an incredible pad for side sleepers since it comes with side rails that help to keep you on the pad when you roll.
This product has deep welds that create expansion zones on it helping the bad loft fully. The sleeping pad is designed in a way that is less likely to get flattened after repeated use.
Therm-a-Rest Basecamp Self-Inflating Foam
For exceptional comfort, the Therm-a-Rest foam camping pad is the way to go. This sleeping pad falls in the 80 dollar range and has a sturdy and outstanding feel to it. This is definitely one of the best sleeping pad for side sleepers who don't have any weight preferences.
An easy self-inflation is ensured by the compressible foam core of the pad that expands as you unpack it. This even comes with an XL size compressible pillow that expands big and packs small. You can make the mattress as firm as you prefer without worrying about over-inflation.
---
Frequently Asked Questions
What is the most comfortable sleeping pad?
When you are out for trekking and away from home and you need some comfort at the end of the day, the best sleeping pad is ALPS mountaineering lightweight series pad. The pad inflates and deflates quickly with the jet stream foam and rolls up compactly to fit into the stuff sack.  The bottom of this sleeping pad is polyester taffeta which makes it tear-resistant. Read: Best Sleeping Positions for Lower Back Pain | 4 Pain Free Positions
How long should your sleeping pad be?
Your shoulders and hips need to be fitted in your sleeping pad for the utmost comfort. Regular (typically 72 inches long) and long (typically 78-inch) pads will insulate your legs and feet, which is a big plus during fall and winter trips. A short 3/4-length pad that is usually 47 or 48 inches in size is light and packs smaller.
Do sleeping pads go inside sleeping bags?
Sleeping pads are made to lie underneath a sleeping bag or body. A sleeping pad can be placed inside a sleeping bag to keep the sleeping pad underneath your body. But the sleeping bag must be large enough to accommodate it otherwise you also lose some of the insulation properties of the sleeping pad. Most users claim that inflatable sleeping pads are way more comfortable than foam pads.
Do you really need a sleeping pad?
The sleeping pad has two major benefits: insulation and comfort. These usually work great and will last you for many years without adding much for the weight of your pack. It's just one of the small things that can make a big difference on your night out.
Conclusion
Sleeping pads are an investment, but they are an important and necessary investment. Imagine being on the trip of a lifetime with no rest and a whole lot of back pain? That's what a low-quality sleeping pad can do to your camping experience. There are too many sleeping pads available on the market and picking the right one can be a tough task. Our above-mentioned guide has great information that you must go through before purchasing a sleeping pad.