Spearfishing might be an ancient technique, but the thrill that comes with it is embraced by the modern era as well. It is also preferred by many people as their fishing method since it is extremely eco-friendly. Have you been fascinated by this age-old technique of catching fish? Are you planning to get a speargun but don't know how to choose? Worry not! Here is a compact guide to help you choose the best speargun for beginners.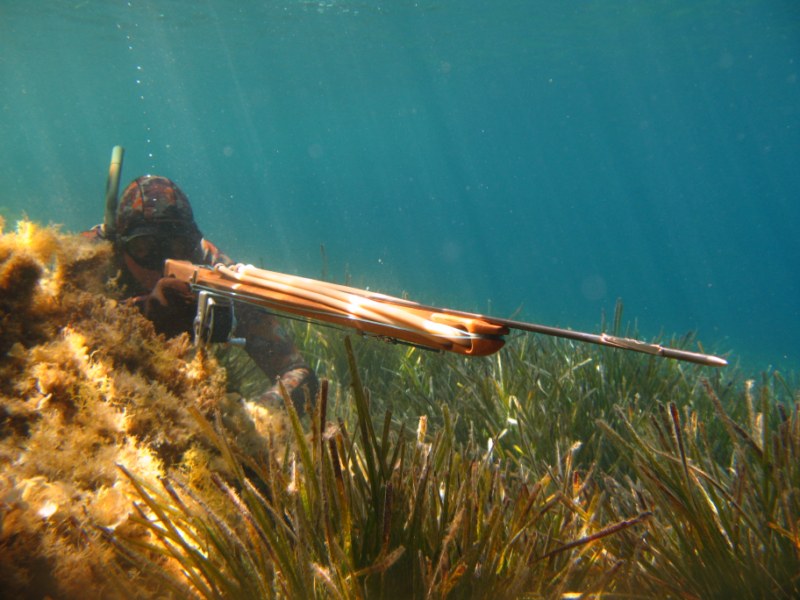 Factors to Consider Before Buying Speargun for Beginners
Speargun length
Generally, shorter guns of 50cm to 75cm (19.7" to 29.5") are useful inside caves and when the visibility is poor. As an example, a 48-inch (122 cm) gun is ideal in many reef hunting situations, while a 60- or 65-inch (152.6" or 165") is better for open water hunting when large pelagic species are being targeted. The three most important factors when choosing speargun length, therefore, are the species being hunted, the visibility of the water and the area in which the diver is hunting.
Shafts or spears
Shafts range from 6mm to 9mm and are manufactured out of stainless steel, spring (hardened) stainless steel or galvanized steel. Stainless steel is the best of these materials for resisting corrosion. But it is also the material that bends with the least amount of force. Galvanized steel is stronger, but even galvanized steel will rust after a short period of exposure to saltwater. The best speargun brands go for hardened stainless steel. Usually, these shafts have a brownish color obtained when the metal is heat-treated. The color of the shaft gets polished and looks shiny just like stainless steel and is less prone to bending.
Speargun tips
Most of the tips are in pencil-nose shape and tri-cut point shape. Pencil-nose points are recommended for more delicate skinned species where only the perforation is needed. These species include yellowtail, trevallies, bluefish, pollacks, mackerels, dorados, etc. A disadvantage of tri-cut tips is the fact that they are more susceptible to damage. They will bend and dull far more easily when compared to the Pencil-nose tips.
Bands
There are two main factors that affect a band's power efficiency which is its stretch and diameter. But all other factors have to be equal like a 9/16-inch band provides less potential power than a 5/8-inch band. By making an addition to bands, it increases the power potential. Bands are frequently made of latex and come in diameters of 9/16-, 5/8-, and 3/4-inch. In some bands, wishbones come already installed. But most of the divers prefer to install their own wishbones according to their requirements and brand preference.
Muzzle types
There are two types of muzzle designs: open and closed. While both open and closed muzzles have their pros and cons, one indisputable advantage to an open-muzzle is the line-of-sight gained down the shaft. Open muzzles also tend to be quieter than closed muzzles. Nonetheless, an open-muzzle gun is more difficult to reload. And some folks say that an open-muzzle is not as accurate, especially on a high-end spear gun. Like many things in this sport, the choice of open or closed muzzle often comes down to personal preference.
The Best Speargun for Beginners
3211 Bandito Bonito Speargun
Have you been looking for a speargun that works for both beginners as well as expert spearfishermen? If yes, then this lovely speargun by Bandito is going to steal your heart in seconds.
This is Bandito's Standard series speargun with an overall length of 34 inches. And you can get this is one in less than 200 dollars. The speargun has closed muzzles, stainless steel shafts, nylon shock cords, screw-on tips, and black anodized barrels. The oversized gun butt offers a comfortable grip and precise shots.
The screw offered on the tip will help you get the Lionfish off the shaft without hurting yourself. The entire hardware is made of high-quality stainless steel which makes it one of the best speargun for beginners.
SEAC Asso C/R Pneumatic Speargun
SEAC is a brand that rolls out spearguns that are known for their versatility. In less than 200 dollars, you get one of the best speargun for beginners that can significantly enhance your shooting experience.
This pneumatic SEAC gun has a regulator that allows you to reduce the rifle power by half. Halving the rifle power gives you great flexibility when going for different species. It has an aluminum alloy cylinder that has a 40 mm diameter. The muzzle is light yellow in color and has an increased number of holes. The holes are there to optimize the discharge of water.
The handle is made of a single material and is ergonomically designed for better form and function. In the package, you receive a carrying bag, steel spear, line, injection, harpoon, and harpoon loader. This speargun is available in a variety of sizes, from 50 cm to 135 cm.
SEAC Bolt Sling Speargun
Are you a complete beginner who has recently been fascinated by the art of spearfishing? Have you been searching for an affordable speargun to try out your hand at it? If yes, then you are in great luck. SEAC has this speargun for just under 80 dollars, which is considered one of the best speargun for beginners.
This speargun is 105 cm in length, which is pretty impressive. The stainless steel triggering mechanism makes sure the triggering is done smoothly. The handle of this speargun has an updated design. It now offers open visibility which allows you to achieve quicker aiming. The muzzle used in this speargun has an amazingly innovative design.
There have been customer reviews stating that the shaft of this speargun is ridiculously thin and prone to easy bending. For better fishing experience, it is recommended that you change the position of the barb to the bottom. You might want to consider these recommendations before going for this product.
JBL Carbine Series Spearfishing Spearguns
JBL has been a trustworthy brand in the field of spearguns for years now and their Carbine series is truly genius. In a 70-dollar price range, you get one of the best speargun for beginners. This is a great option for someone not wanting to spend too much on their first speargun.
This speargun by JBL contains a steel trigger mechanism that comes with integrated safety. The spearhead for this one is sold separately. The shaft is threaded and sharpened to perfection. This series of spearguns by JBL has been considered the best in its class.
The best part about this series is that the products are constructed using aerospace-grade aluminum. This gives the shafts and triggers extra strength and durability, so you get much more than what you pay for.
SEAC New Sting Sling Speargun
SEAC is here with yet another fabulous speargun for beginners as well as experts. This budget-friendly speargun belongs to the New Sting series of SEAC which is popular for its simplicity.
In an 80-dollar budget, you can get a speargun that offers extra power and enhanced sightlines. The tubing of the gun is carefully designed to give you more rigidity and Makaira camouflage. The muzzle is ergonomically designed and lacks the top bridge. This little change in design gives the user better visibility and increased aiming ability. The weightless anti-rust aluminum barrel is sure to impress anyone who  the durability.
The stainless steel polyamide filled trigger mechanism makes the speargun have top-notch functionality. The sling of this gun is made of amber-colored latex material and is 0.63 inches in diameter.
Frequently Asked Questions
What is the best speargun?
The 311 Bandito bonito is the best speargun on the market. It is the perfect spearguns for beginners who want to try their hand at spearfishing. Its overall length of 36" inches makes it the perfect gun to keep with you all the time for those moments where you wish you had a gun on you underwater. Perfect for shooting fish that are rocked up, or in the reef areas. It is the most popular spearguns in the Banditoline.
Can you travel with a speargun?
You can travel with a speargun, but not carry it in the cabin luggage. You have to leave your spearguns at home or you have to place them in your check-in luggage if you are traveling by air. Basically, no passenger should try to carry a speargun on a plane. It holds the same rules which are there for utility knives. Any scuba driver should be well aware of this.
What is the range of the speargun?
The speargun range is a constant conversational topic among spear gun hunters. Its physical and technical limits are only applicable to the range of it under the water. One needs to take this into consideration the acute sense of the fish and its related reflexes. The standard range of a speargun is limited to 3-4kms.
How do you spearfish for beginners?
The first and foremost advice for beginners is to always have a friend or trainer by your side. Shallow Water Blackouts result from a lack of oxygen in the brain called hypoxia. When a blackout occurs you only have about 2 minutes to act before brain damage and death become imminent.
Conclusion
Being a beginner spearfisherman, it can be quite tough to choose the right speargun. You can easily get lost in the plethora of options that are available on the market. Our speargun buying guide is all about helping you navigate your first speargun purchase with ease. So read up on our guide to find the best speargun for beginners.