Upon deciding to take up archery, you need to ascertain the type of bow that you will use. Factors like the bow's length, materials, draw weight, draw length, and your strength will come into play when making that decision. Now, if you plan on using that bow on hunting, the same factors will still apply but you need to have experienced it first through constant target practice. That said, getting the best takedown recurve bow for hunting will help you immensely.
The good thing about recurve takedown bows is that you can easily assemble and disassemble it for easy transportation. You can also make adjustments based on your preference. This means you can adjust the smoothness of the draw and the force that you want to apply when shooting an arrow. That said, this buyer's list will guide you in the right direction when deciding on the recurve bow type that will suit your needs.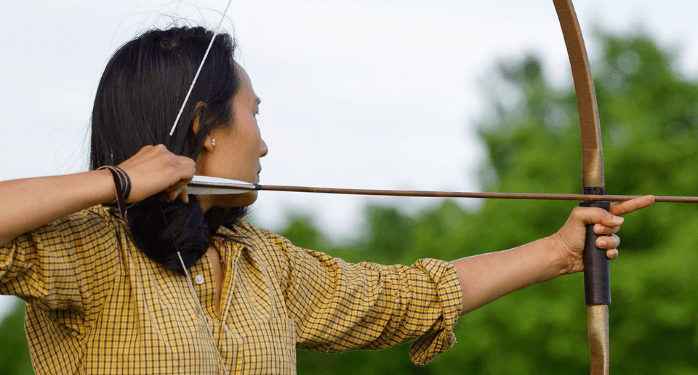 Best Takedown Recurve Bow for Hunting Review
Samick Sage Takedown Recurve Bow
Versatile and durable. Those qualities best describe this bow from Samick Sage. Aside from its 62-inch total length, it has the provisions for any upgrades you might want to do in the future. This is possible through the bow's brass bushings. That way, you can make changes to the stabilizer or plunger.
The bow's limbs are made of fiberglass and maple wood. Should you outgrow the setting that the pre-installed limbs can provide, you can get other limbs so that you can make adjustments on its draw weight and length. Right off the bat, you can make use of its 29-inch draw length but if you want more, you can opt for another type of limb.
Pros
Has upgrade options
Can get other-sized limbs
Doesn't need tools to remove limbs
Cons
Some users want other bowstring types
KESHES Takedown Hunting Recurve Bow and Arrow
There is one thing that best describes this recurve hunting bow: It screams with elegance. Just look at its handle; it's so beautifully crafted that you might just stare at it and not use it. However, when you do use it, you will feel a very smooth, elegant draw while you watch the arrow fly gracefully in the air. It is very comfortable to hold and can withstand draw pressure whether it is high or low.
In addition, this bow is perfect for beginners and expert hunters because it has different draw weight options. It also has the takedown feature which means you can assemble it and disassemble it for easy transport and storage. The bow is also adjustable so you can make changes to the draw length and weight as you progress.
Pros
Upgradable
Adaptable to hunters of any level
Adjustable draw weight and length
Cons
Some users say it's quite fragile
Toparchery Archery 56″ Takedown Hunting Recurve Bow
If you are looking for that looks simple but has a lot of features, then this bow is for you. When you first see it, you will think that it is just a simple-looking bow but also looks strong at the same time. This is because the limbs are made of fiberglass. Also, you have the option to change the limbs should you outgrow the limbs that came with the bow or if you wanted to have someone use it but has a different draw strength than yours.
This can very well be one of the best takedown recurve bows for hunting because of its adaptability. It can adapt to any hunting style and can be used by different types of people. The bow is also lightweight partly because of the riser being made of aluminum. It is also versatile in a sense because one can use it either for hunting, sports or target practice.
Pros
Has different draw weight and length options
Lightweight, yet durable
Use different limbs to your liking
Cons
TOPARCHERY Archery Takedown Recurve Bow
Hunting with a recurve bow needs skill so technically, the bow must complement the hunter and the hunter must be able to draw out the full potential of the bow. In that case, there would be no difficulties doing those things on this bow because of its versatility. When using this bow, there would be no issues hitting a stationary target even in a long-range location.
At first glance, it looks like an incomplete compound bow because of the riser's design. Speaking of the riser, it is made of a metal alloy while the limbs are made of fiberglass which ensures the bow's durability and strength. People who just got into the sport of hunting will love this bow since it is designed for beginners. However, professionals will also like this bow because of its relatively easy and smooth draw.
Pros
Very accurate
Made of durable materials
A nice, entry-level bow
Cons
For right-handed users only
Southwest Archery Spyder Takedown Recurve Bow
A lot of the best recurve bow brands provide the best looking and elegant bows. Take for instance this Spyder Recurve bow. Just by looking at its riser, you know at once that not only that it looks nice but comfortable to hold as well. It's like its screaming for you to hold it.
A great feature of this bow is its ambidexterity; no need to get another bow if you are a left or right-handed person. With an adjustable draw weight and length, a beginner can slowly, but surely learn the basics of archery; progressing up until the time comes that the draw length and weight need changing since the hunter already outgrew his previous settings.
Pros
Ambidextrous bow
Various draw weight and length settings
Beautifully crafted and lightweight
Cons
Some packages have incomplete items
Frequently Asked Questions
Is a recurve bow good for hunting?
Yes, as long as the recurve bow's draw weight is at least 40 lbs. and above. The thing is that if you are just going to do target shooting, using any draw weight on a recurve bow is fine but if you will hunt a deer, for example, then you need at least 40 – 45 lbs. of draw weight.
Can you deer hunt with a recurve bow?
As mentioned earlier, a recurve bow can be used to hunt deer. The best takedown recurve bow for hunting deer is one that has a draw weight of 40 lbs. and more. If you target another animal, you will need a higher draw weight. Related: Best Compound Bows Under $1000
What are the best recurve bow brands?
Basing on this list, all of them deserve to be called the best because of their features. Besides, people have different preferences so the best will entirely depend on the user and how it can cater to their needs.
Is recurve better than compound?
Both bows have their own features and will depend on the needs of the user. Recurves; for the most part, are easy to transport and store, have lesser weight, and easier to fix or maintain. Compound bows, on the other hand, is much stronger due to its higher draw weight options.
Conclusion
This wraps up the best takedown recurve bow for hunting list. Surely, you have the needed information on what to get and use. Just remember to test them first on a shooting range so that you can have a feel of the bow and to know if it will suit your shooting style.