Tan accelerators are a blessing for those who tend to go pale as a ghost during the cold months. These products expedite the natural tanning process of the skin by stimulating the production of melanin in the skin cells. And before you know it, you've got yourself a gorgeous bronzed skin. Are you in search of the best tan accelerator for sunbeds but don't know where to start? Don't worry, we've got you covered. Check out our extensive review on the best tan accelerators and start prepping your skin for summers!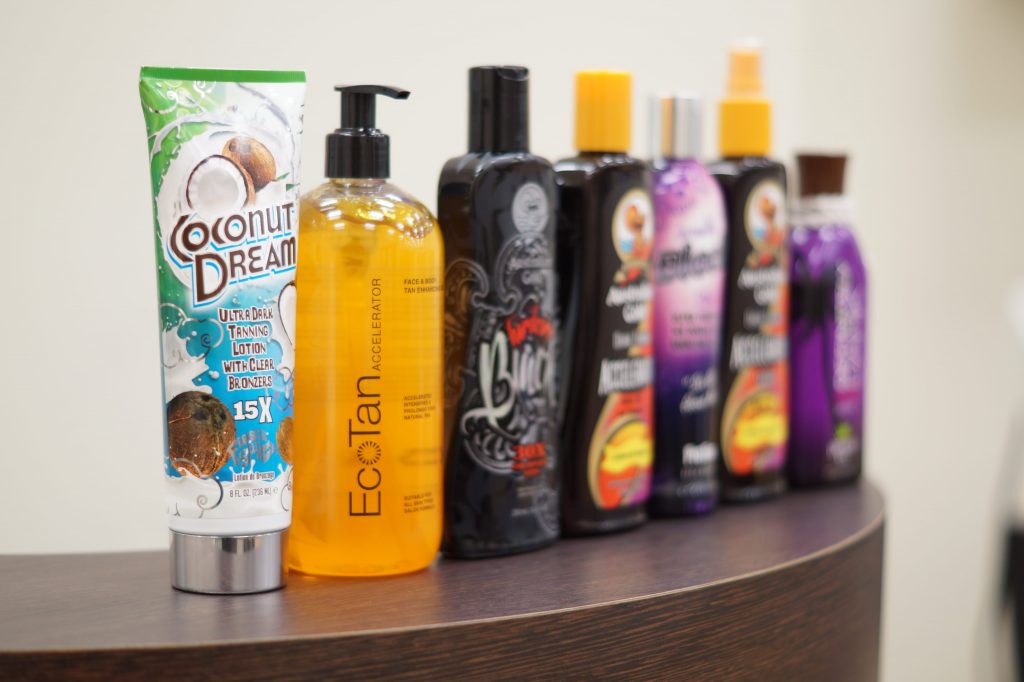 Best Tan Accelerator for Sunbeds Review
Baja Bae Bronze
This one by Baja Bae is the most popular product on our list of the best tan accelerator for sunbeds. And the reason is its multipurpose formula. This not only works as a tanner but can also be used as a glowing daily moisturizer as well as an instant bronze highlighter.
You don't need any tanning mitt to apply this product as it can be easily applied without streaking. It is made using 100% vegan and natural ingredients like jojoba, hibiscus, and agave. It has a mild fragrance and does not have a greasy consistency.
Pros
Smells great
It has a natural-looking color and is not shimmery
It has a creamy consistency, so a little bit of product goes a long way
Cons
It washes off with sweat and tends to come off on towels
Onyx Tattoo Bronzing Intensifier
Looking for the best tanning lotion that doesn't ruin your beloved tattoos? Well, you've found a great one. This one by Onyx contains a potent blend of tan magnifying ingredients that enhance the desired skin color for longer-lasting results.
The innovative Ink Care Formula is such that it protects your black as well as colored tattoos against fading. Not only that but the peach extract in this product keeps your skin at ample hydration levels.
Pros
It is priced fairly for the quantity
It is moisturizing and protects tattoos
Cons
It fades off quickly right after tanning
ProTan Tanning Accelerator
Are you new to tanning? If yes, then this is the best tanning bed lotion that you need to try. This product by ProTan is a fast-acting tanner equipped with an ultra-hydrating formula. It delivers the perfect tan shade while leaving your skin nourished and hydrated.
This product has got advanced double dark tanning accelerators that are sure to give you your desired tan without any hassle. The formula contains sunflower, Aloe Vera and Monoi de Tahiti Oil that provide a radiant glow.
Pros
It has a lovely scent
It is moisturizing
Cons
It does not accelerate the tan as expected
MyTan Boost Sun Tan Pills
Tan accelerator lotions are great, but tan booster pills are even bitter. Here's one such product by MyTan that is designed to accelerate tanning and works great for pale and fair skin. These capsules provide natural building blocks for melanin in an efficient way.
It contains 15 different vitamins, minerals, and other nutrients like L-tyrosine & copper, which is quite impressive. You can try these risk-free as the manufacturer offers a 100% refund if you're not happy with your results.
Pros
It is easier to obtain a tan when using this product
It protects the skin from sunburn and keeps it looking healthy
Cons
It might not make the tan darker for some people
Hampton Sun Sunless Tanning Mist
Tired of tan lotions and tan beds? Well, do not worry! Here is a tanning mist by Hampton that will give you a rich, golden, and gorgeous tan. It is a clear and ultra-fine mist that goes on evenly, works at any angle, and dries within minutes.
This product contains erythrulose that ensures that your tan develops (and fades) evenly and lasts longer. It has an exclusive privet bloom scent and contains aloe vera and witch hazel to hydrate your beloved skin.
Pros
It has a luxurious scent
Doesn't streak or run and applies evenly
It has a very light and silky feel
The product dispenser is non-aerosol
Cons
The spray is too fine and tends to come off on clothes.
Frequently Asked Questions
Do tan accelerators really work?
The best tan accelerator for sunbeds works to stimulate the melanin production in the skin. This, in turn, brings out the natural color of the skin when it is exposed to the sun. Melanin is the magic pigment that gives your skin its color. So, the more melanin your skin produces, the darker your tan will be. Read: Best Tanning Oil for Fair Skin
What tanning bed lotion gets you the darkest?
ProTan has got the best tan accelerator for sunbeds if you want a darker tan. The ProTan Perfectly Tan has advanced double dark tanning accelerators that are sure to give you a darker tan without any hassle. The formula contains sunflower, Aloe Vera and Monoi de Tahiti Oil that provide a radiant glow.
How many sunbed sessions do you need to get a tan?
The sunbed sessions you would need to get a tan really depends on your skin color. Generally, one can develop a base tan in 3-5 sunbed sessions. It is usually recommended to wait for at least 48hrs in between each tanning session. This allows the tan to fully develop.
How long does sunbed tan last?
The topmost layer of the skin sheds and regenerates itself every 28 days. Therefore, if you have a dark and deep tan and you keep your skin hydrated, your tan should easily last for at least 4 weeks. Read: Best Tan Accelerator for Outdoor Tanning
Conclusion
Tanning accelerator products have won the hearts of many with their magical ability to make your skin bronzed and beautiful. These products allow you to enhance your skin year round with a warm and radiant glow. Whether you are a newbie or an experienced tanner, you can't deny the importance of a good quality tan accelerator. However, choosing between various brands and products can be a tiresome task. Do you want that sun-kissed glow but struggling to find the best tan accelerator for sunbeds? Let us help you! Read up on our informational review on tan accelerators and choose wisely.