So ,you have decided to go camping. Or maybe you are a regular hiker and camper with the knowledge that a sleeping bag is one of the most essential things for a memorable camping or hiking trip. Come now,  you really wouldn't feel like trekking another five miles if you have a very heavy load to carry or you have spent the previous night shivering in cold. Chances are that the real culprit to spoil your trip may not be a bad itinerary or bad weather but just your sleeping bag. If you are searching for the best ultralight sleeping bag under $100, you are on the right place. You should read our buying guide before placing any order.
Buying Guide
Well, then how do you pick out the best from the list of hundreds. Here are a few things to consider before you start the selection process.
Budget
This a no-brainer. When You have a budget you have your choices narrowed down in amazon and other e-commerce sites (and shops). However, very often people start with the material or the weight. It's not that you will not find variety at lower prices when it comes to sleeping bags. That's the plus about online shopping. These websites cater to all income groups. If you are searching for the best ultralight sleeping bag under $100, your budget should be not more than $100.
Temperature Rating
As I said earlier, you don't want to spend the entire night trying out the best positions to keep yourself warm after a tiring day. Your sleeping bag's job is to keep you warm and comfortable regardless of the terrain or temperature. A good idea is to buy a sleeping bag with a temperature rating of ten-fifteen degrees lower than the temperature rating you require. If you are expecting a temperature of 50F it is better to buy one with a rating of 35-40F.
However please remember, that despite the given rating you will always need extra padding to keep yourself warm. It is always better to carry extra clothes or sleeping pads. Sleeping inside a tent adds ten more degrees to the given rating. Read:
Weight
You don't want a sleeping bag which adds too much weight to the hiking backpack. Also, it should be foldable and easily fit into the backpack. The weight depends on the shape and material of the bag. While mummy-shaped sleeping bags (others being semi-rectangular and rectangular) are the lightest, down-insulated bags are lighter than synthetic insulated ones.
Features
Some bags will always score higher than others due to certain features. The ones with draft-blocking features like draft-tubes or draft-collars tend to be more popular because these help in further trapping the body heat.
Zipping systems are another factor you can look into. Anti-snag zippers do not make things difficult by snagging or catching onto things when you zip or unzip your bags. In some bags, there are zippers on the outside as well as inside to control the ventilation during warm or cold temperatures. There are bags with zipping at the bottom to reduce the temperature and let your feet it when it becomes too hot. You can also opt for bags with a couple of zipping features where you can connect two bags and sleep together rather than buying an expensive couple sleeping bag.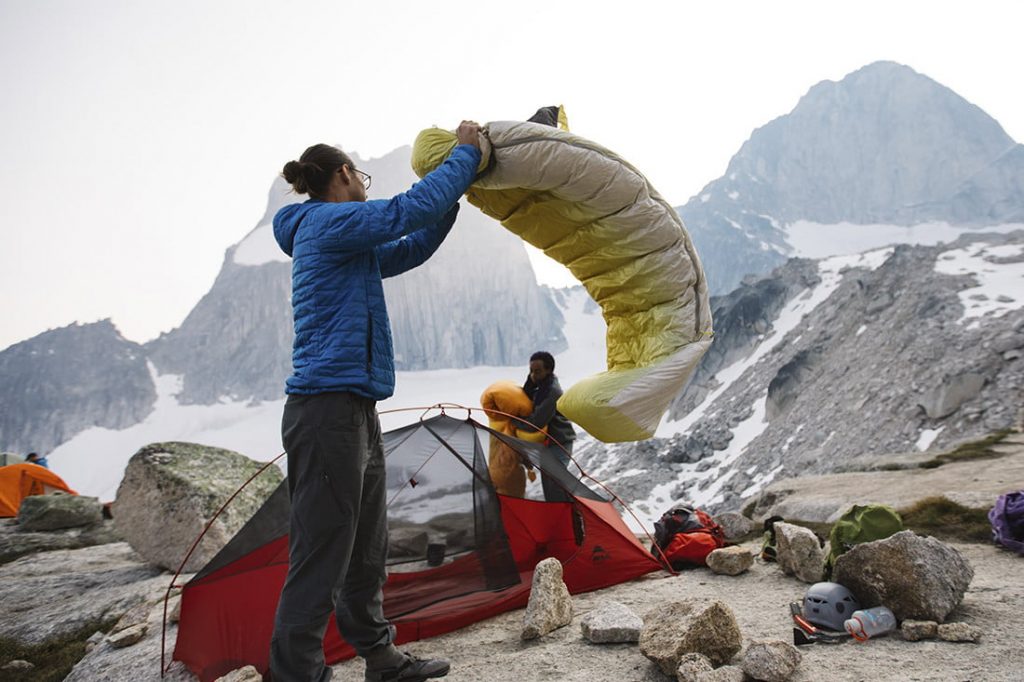 You should also check if your sleeping bag is water-proof. This is important especially if you are visiting humid, chilly places. Whereas the type of climate can be predicted, the weather may often not. In case of sudden rain or damp conditions, a water-proof sleeping bag will always let you sleep peacefully safe in the knowledge you'll be dry and warm. The degree of water-resistance varies from bag to bag.
Size
Size is another criteria especially you've got children. If your bag is capable of fitting in people taller than six feet, you can be quite sure that it's a long-term purchase. Some sleeping bags can even fit in an adult along with a kid. Mummy-styled bags offer a snug fit but are not that comfortable for those with a larger build. For them, the rectangular-shaped ones work better.
Material
While synthetic is heavier than goose down, it is warmer and more water-proof as well as machine-washable. It may not be as durable as the latter but its also inexpensive. In order to have the best ultralight sleeping bag under $100, you should opt for goose feather.
Lining
Bags with nylon and polyester linings are breathable and less expensive. Fleece lining tends to trap more heat and may make you feel too warm even in cold conditions. Cotton lining is best for dry conditions as it is breathable but absorbs moisture. Silk does not have the issue of overheating, it is breathable but expensive and not that durable.
Shells
Nylon and polyester shells are best used for camping in the late spring-early fall period. They are low-cost, breathable and inexpensive. For dry climates, Ripstop is a good choice. For winter camping or back-country camping, Dryloft is the best. It is water-resistant, keeping you warm without letting in any moisture.
Keeping in mind all the above features, we have made a list of best ultralight sleeping bags under $ 100.This list is mainly for those who want a great performing sleeping bag but on the lower side of the budget. Of course, even in this category there are quite a few but we have narrowed it down to five of our favorites for your convenience.
Best Ultralight Sleeping Bag Under $100
Winner Outfitters Mummy Sleeping Bag
This bag has been specifically designed to prevent heat loss. If you are looking for a low budget ultralight sleeping bag for a temperate climate, this bag is ideal for you. Actually. its known to have kept people comfortably warm even during light snowfall (temperatures below 20F). 350T polyester ( both shell and lining )makes it lightweight and compact, portable, and yet providing excellent insulation. The 2 SBS zippers on the front come with a full-length draft-tube which prevents loss of heat through the zipper. For warmer temperatures, you can unzip the bottom for ventilation. This bag is also Water-resistant The 200G/㎡ Hollow Fiber gives additional insulation.
The bottom is box-shaped to give space to move. The bag comes with a compression sack. This means the 87×33 inch piece can be compressed into a neatly folded bundle of 11.8 x 10.5 x 10.5 inches. And yes its extremely easy to carry around.
In case you are wondering, it can't get better than this, it actually can. The bag is machine-washable. Users are extremely happy with this bag especially because it performed above expectations in cold weather. The only complaint has been that the stitches had started coming out after being used only 10 ten times. (However, its just one user). But then, a 100% refund in case you are not satisfied with the purchase takes care of any dissatisfaction you might have.
Product Features
Size: 33" x 87"
Weight: 3 pounds.
HiHiker Camping Sleeping Bag
How many times have your camping nights have been ruined due to sleeping in the same position on to align your head and neck on uneven grounds? Hikers seek to solve this problem by providing an ultra-soft travel pillow. This is one of the best ultralight sleeping bag under $100. The travel-cushion neither adds much to the weight or makes it difficult to pack. On the other hand, it provides a headrest and allows you to sleep comfortably on hard rounds without straining your neck and head. Even on damp grounds because yes, among other things this bag is water-proof. The durable material can withstand frequent washing. Its 86.6"x31.5" is large enough for a 6' adult to fit in comfortably. Yet it is lightweight and quite easy to carry around. This foldable bag fits neatly into the compression bag.
This sleeping bag's heat-resistant technology keeps you warm even in 25F. The double-sided zippers allow ventilation in warm temperatures. Therefore this sleeping bag with a hood can be used in all the four seasons. Moreover, if your new purchase is defective it is immediately replaced with a new one. This warranty is for a lifetime. But there is an almost negligible chance that you will need to replace this smartly-stitched and well-made bag!
Product Features
Size: 31.5" x 86.6"
Weight: 3 pounds.
Temp Rating: 25F
Material: polyester
Teton Sports TrailHead
There are several reasons why this sleeping bag is considered best ultralight sleeping bag under $100. Measuring 22 (H) x 32 (W) x 87 inches (L) (~56 x 81 x 221 cm) when unpacked, this sleeping bag is big enough to fit in a person as tall as 6' 1".  Yet it weighs a mere 3 pounds making it one of the ultralight backpacking sleeping bags under 100$. This is the ideal combination you adventurous people have tried to seek but couldn't find until now, right? It is much sought after by mountain hikers. It is known to perform well in harsh conditions. The micro-polyester lining (PolarLite) insulates it against temperatures as low as 20F.
The shoulder baffle and the mummy hood provides further insulation. But perhaps its most exciting feature is inner pockets, to store your valuables like phones, keys and so on. This bag also consists of anti-snag zippers both inside and outside. It comes with a draft-tube too. It doesn't take too much space in the packing bag. Its tear-resistant, waterproof and machine-washable. There is enough spacing for your feet where you can sleep comfortably with toes pointing up. All in all, it ticks a whole of boxes at a very low price. I can't see why you CANNOT choose this option. And did I mention lifetime warranty? Yes, you can thank me later.
Product Features
Size: 32" x 87"
Weight: 3 pounds.
Temp Rating: 20F
Ecoopro Warm Weather
Now, this ultralight sleeping bag can withstand warm temperatures (about 48 F-60F). The 400T nylon cover makes it lightweight, compact and breathable. Its Premium TC Cotton cotton lining makes it comfortable and breathable and maintains the temperature between 48F-59F. The nylon outer shell and cotton lining makes it water-resistant and durable. Perfect for camping or hiking trips in the fall, spring and summer and humid conditions. It is not meant for winter hikes.
The bag is also provided with a two-way zipper. Even though  83″L x 30″W is spacious enough for a 6-foot tall person it is still ultralight and weighs a mere 1.65 pounds when folded making it the smallest sleeping bag when packed. Goes without saying its extremely easy to carry around. It is great for both indoor and outdoor camping. Sizes available for small children(five and above), and teens as well. Doubles up as a comforter. Keeps you cool, dry in warm climates. Comes with a one year warranty
Product Features
Size: 30" x 83
Weight: 3 pounds.
Temp Rating: (48F-60F)
SOULOUT Sleeping Bag
Filling Material: 400 GSM; It has got 210TPolyester lining on the outside and flannel lining on the inside. This combination provides additional insulation besides making it water-proof, ( prevention of dampness, sweat, condensation) breathable and durable. Designed for cold temperatures as well as warm (32-77F) which means this can be used in all types of weather and conditions and usable in all four seasons.
Its 86" (L) x 29.5 " (W) rectangular shape makes it roomy and spacious for tall (65"' and above) people with broad build as well as people as short as  4'8". Weighs around 4 pounds, meaning its lightweight and therefore easy to carry yet can easily roll up and be stuffed into the compression bag that comes with it (with an adjustable strap). Works well both for outdoor and indoor camping.
It can be used both as a single sleeping bag or laid out to accommodate two people. Adults and teenagers love it. It can also act as a blanket when fully open. It has a drawstring hood which means your head will be kept warm. A zipper at the bottom allows you to put your feet out in warm temperatures. It is machine-washable. Stains can be wiped easily with hands.
Product Features
Size: 29.5" x 86.6"
Weight: 3 pounds.
Temp Rating: (32F-77F)