How to clean a dirty bong? This is something that bothers a lot of people. People often like to smoke from bong with their friends. But, the hardest part is to clean it if you don't know the trick. Well, there are some bong cleaning hacks that can come in handy if you don't know how to do it. It is very easy to clean a bong using alcohol. But some people prefer not to use it. If you are also one of them, the question is how to clean a bong without alcohol. Well, it is not a tough job. You can easily do it if you follow some basic steps. Let's have a look at the process. This is how to clean a bong without alcohol.
How to Clean a Bong Without Alcohol
Soak It in Warm Water
Soaking the bong in warm water is the first thing you need to do. There are two steps involved here. Soak the small parts in a plastic bag so that they don't get damaged and soak the main part in the sink. Keep it soaked for about an hour or two. It will be enough to ease up the process.
Use Dish Soap
Use the dish soap or liquid gel that you use to clean the utensils. It will help you clean the dirty parts. But, make sure you don't use too much soap as it will give a false smell when you use it the next time. Use the right amount of soap; you will get to know after doing it a few times. You can also use dish soap while soaking it in the warm water.
Use Clean Cotton
You can use clean cotton for the edges where the soap has not reached. Rub it thoroughly and carefully in all the parts to clean them.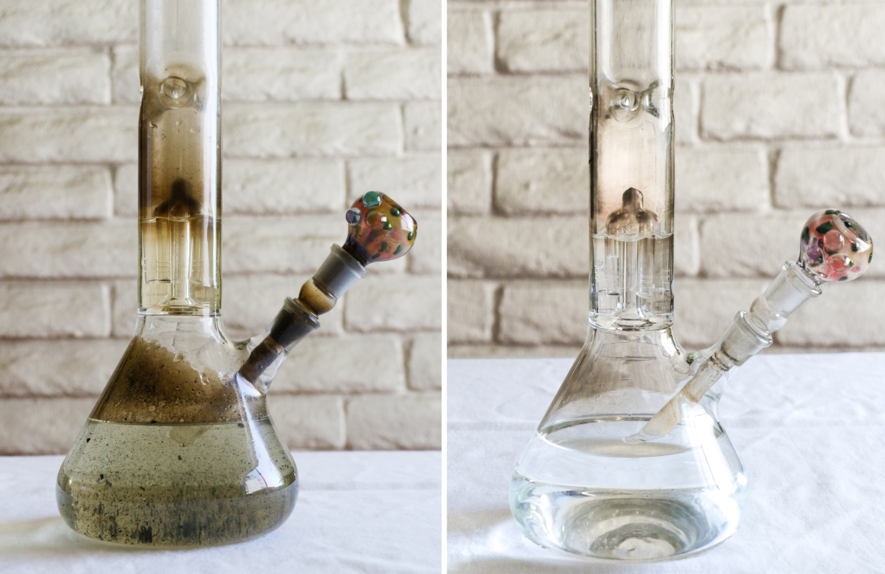 Use Lemon Juice
Lemon juice will help you get rid of the stains that warm water can not clean. It is your best friend in cleaning any utensil as it doesn't leave any false smell as well. By this step, most of the part is done.
Rinse the Bong Thoroughly
This is the last thing that you need to do as it will help you get rid of the soap or lemon juice left in the bong. Do it a few times, and the bong will be ready to be used once again. If it is still dirty, repeat the process, and it will get the job done. Also, make sure that you have cleaned every part properly.